Nicki Minaj Shares First Photos Of Her Baby Boy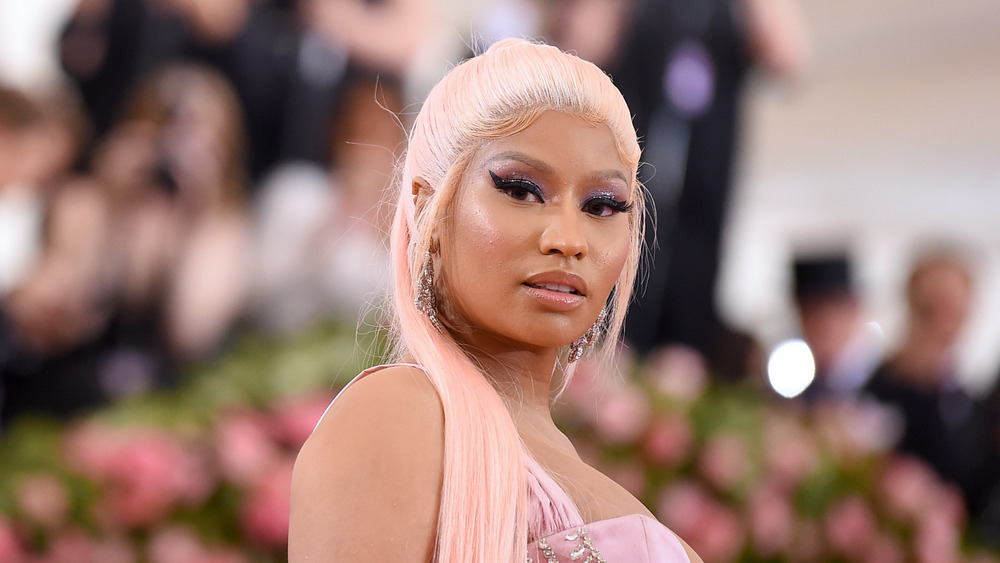 Jamie Mccarthy/Getty Images
We already know some things about Nicki Minaj's new son — he was born in September, it was a natural childbirth, and his dad is Minaj's childhood sweetheart Kenneth Petty. Now, to the delight of everyone who loves a little extra cuteness in their life, we also know what he looks like. 
On January 2nd, Minaj shared a sparkly tweet of her new baby boy smiling, calling him the "Best of 2020," and captioning the video with her son's nickname, "#PapaBear." The tweet has over 300,000 likes and over 50,000 retweets, and it's no wonder — he is unbelievably cute. 
In addition to the tweet, the rapper also took to Instagram to share five more photos of her baby. She shows him sitting in his baby chair lying down in a variety of different outfits — a tiny plaid shirt with matching plaid-cuffed jeans, a Fendi onesie with matching Fendi socks and some baby jewelry, and a little Versace sweat suit, among others. 
Nicki Minaj is giving thanks
"#PapaBear thank you so very much for choosing me to be your mama," Minaj captioned the photos. "Wishing you guys a happy & prosperous New Year. Thank you for your love & support throughout this journey. It's meant so much to me." 
In addition to sharing her gratitude for her son's presence and her fans' support, Minaj also offered a shout out to moms around the world. She called motherhood "by far the most fulfilling job" of her life, and offered these words to other women dealing with their own parenting difficulties during the pandemic: "Sending love to all the superhero mothers out there. Big hugs to all the women who have been pregnant during this challenging time." 
Celebrities jumped in to the comments section to share their support. Kim Kardashian wrote, "beautiful baby boy." Big Sean added, "Sending love to ya family! God Bless y'all!" Halsey chimed in with "Stopppp I would be squishing 24/7 !!!!! Bless y'all!!" Here's to 2021, a year of highly squish-able cheeks and adorable baby outfits.