Candace Cameron Bure Hits Back At Critics Of Family Photo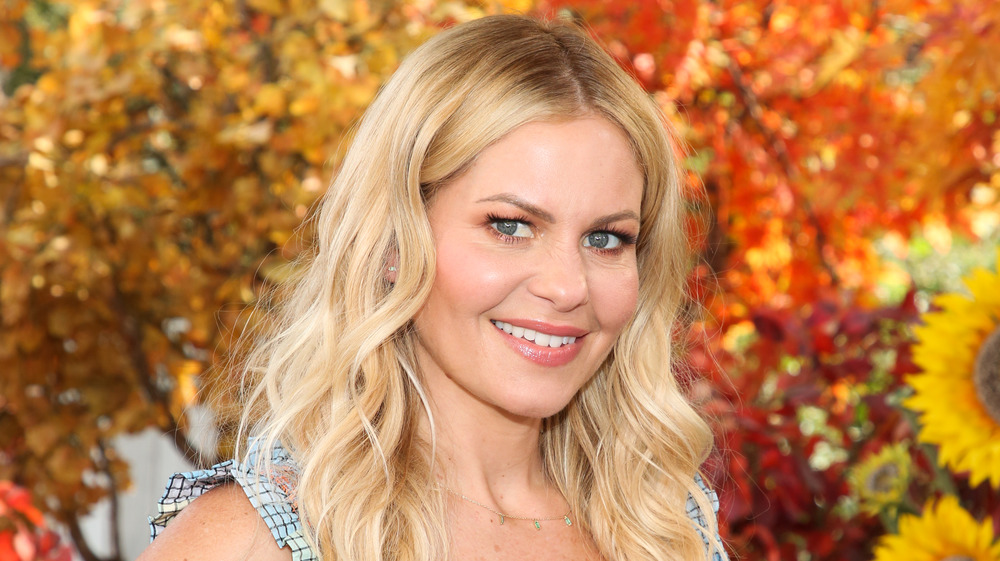 Paul Archuleta/Getty Images
A seemingly-innocent Instagram share by Fuller House star Candace Cameron Bure has called attention to how rude people can be on the internet. The 44-year-old posted a family photo over the weekend, captioning the image, "Happy New Year from the Bures!! Looking forward to what 2021 has in store. I'm praying for unity, grace, humility, compassion and love for mankind. With God, all things are possible Sending virtual hugs and kisses! XO."
The rustic shot featured her husband Valeri Bure and their three grown children, Natasha, age 22, Lev, age 20, and Maksim, age 18 (via People). While there were many positive comments to the post, some turned ugly, with one commenter asking, "What's wrong with Natasha looks like she's photoshopped." Another noted, "Ha the only ones who look happy are the 3 on the left." One more nasty comment noted, "I recognize two of your kids from The Flowers in the Attic books." Yet another had this mean observation about Bure's daughter: "What's a weird pose your daughter's doing?"
Instead of letting the comments lie, Bure took to the comments section and called out the trolls, writing, "Wow — I post a family photo and you all find everything you don't like about it or can make fun of. Do better than that. Please."
Candace Cameron Bure has more to say about the internet's reaction to her family picture
The Fuller House actress took to Facebook to share more feedback for her detractors, writing in part, "I posted my family Christmas photo and sadly, there were so many unkind comments." To those who had mean-spirited things to say about her family, the star asked, "Do you think it's funny to criticize someone's children? To make jokes about them? To critique our poses? The direction in which we are looking? Our physical appearance and facial expressions?"
Bure further noted that her intentions in sharing the photo were good, reminding people about her caption, "I wished blessings upon everyone as I shared it in the spirit of a happy new year, yet so many of you came back with jokes about our appearance and criticism of what you thought would have been a better photo. Shame on you."
The mama bear went on to remind her followers, "It doesn't matter if you're 10 or 90 years old, rude is rude." She added, "If you don't like something, just move on. There are people and real feelings behind every screen."
She wrapped up her scolding of the "haters" by saying she won't ignore them, noting, "There were plenty of well meaning people who thought it would be funny to point out things and share their commentary, 'with love.' Umm... that's not love. That's rude. Try kind. It looks good on everyone."