Why An MLK Anecdote Has Kamala Harris In Hot Water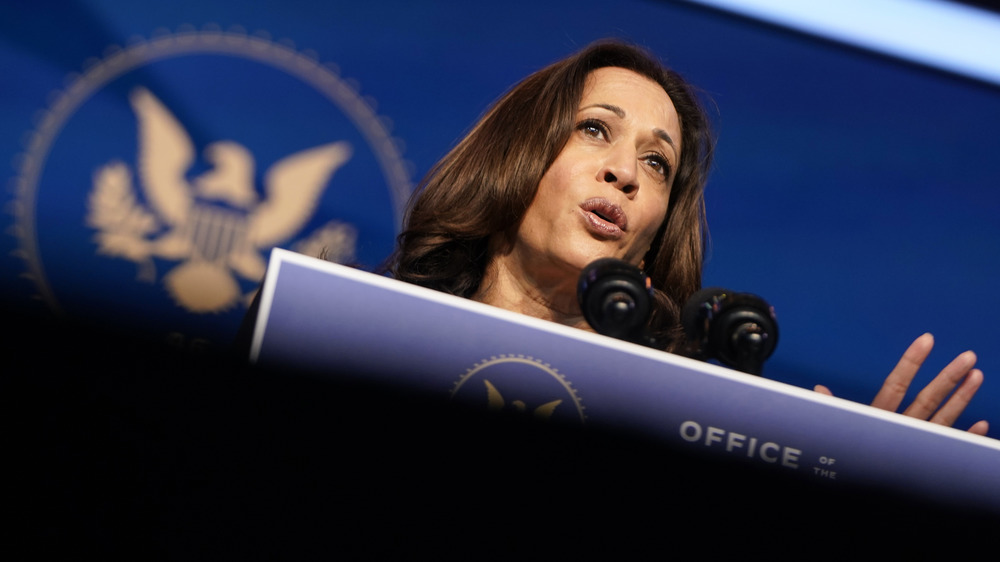 Joshua Roberts/Getty Images
In October 2020, Vice President-elect Kamala Harris gave an interview to Elle magazine in which she discussed fighting for justice. She recounts a story of when she was a toddler, marching in a civil rights protest in Oakland, California, with her family. Harris was in a stroller; she was momentarily separated from her elders after falling out. Harris told the rest: "My mother tells the story about how I'm fussing, and she's like, 'Baby, what do you want? What do you need?' And I just looked at her and I said, 'Fweedom.'"
Overnight Monday, Twitter users resurfaced the story and now Harris faces plagiarism accusations, with some saying her story echoes one told by the late Rev. Martin Luther King Jr. in a 1965 Playboy interview with Alex Haley. In it, MLK recounted a moment he "never will forget." He told Haley, "I never will forget a moment in Birmingham when a white policeman accosted a little Negro girl, seven or eight years old, who was walking in a demonstration with her mother. 'What do you want?' the policeman asked her gruffly, and the little girl looked him straight in the eye and answered, 'Fee-dom'" (via the Washington Times).
Conservative Twitter was quick to point out story similarities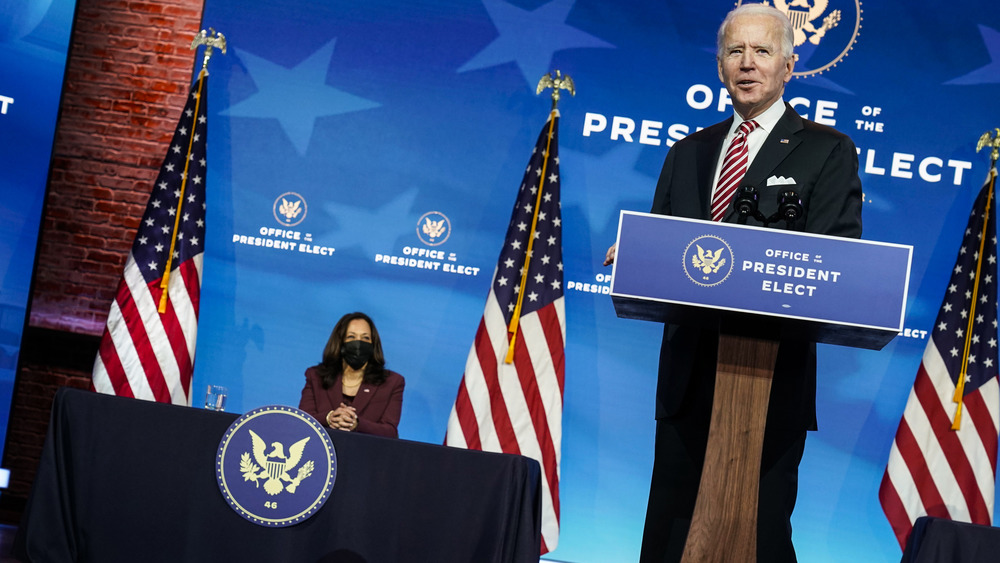 Joshua Roberts/Getty Images
Fifteen days from the inauguration of Joe Biden as the 46th president of the United States and Kamala Harris as the first female VP in U.S. history, and calls of plagiarism have taken over Twitter. As Newsweek chronicled, the comparison between the Harris and MLK "freedom" stories blew up overnight Monday when conservative outlets like Fox News, The Daily Wire, and Daily Caller picked up on the thread. Conservative pundit David Rubin promoted a side-by-side.
Kamala Harris shared the same story in her 2010 book Smart on Crime, as well as in her 2019 book The Truths We Hold: An American Journey (per the New York Post). In the Elle interview, the story caps off a section in which writer Ashley C. Ford begins, "Senator Kamala Harris started her life's work young. She laughs from her gut, the way you would with family, as she remembers being wheeled through an Oakland, California, civil rights march in a stroller with no straps with her parents and her uncle."
Of the moment in Birmingham, MLK said of the little girl asking for "fee-dom", "She couldn't even pronounce it, but she knew. It was beautiful! Many times when I have been in sorely trying situations, the memory of that little one has come into my mind, and has buoyed me" (via the Daily Beast).