How To Make Your Bed Feel Like You're In A Hotel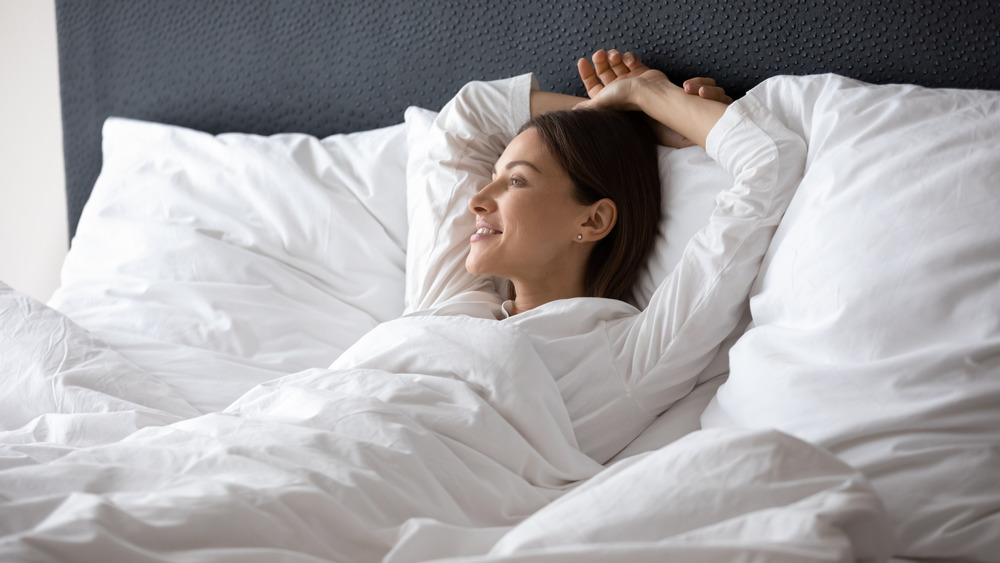 Shutterstock
While many of us miss the glorious feeling of laying down in a comfortable hotel bed, it may be easier to bring that feeling home than you think. From the smooth sheets to the fluffy pillows, hotel beds just seem to bring a new level of comfort. Luckily, there are a few secrets that you can take with you long after you have checked out.
First, start with the sheets. Obviously, the higher the thread count, the better. So, when you are shopping for your next set of linens, Travel + Leisure recommends sticking with Egyptian cotton with a thread count over 300 — likely the kind that luxury hotels use. Plus, the color may have something to do with that relaxed feeling you experienced. The outlet notes that all white sheets promote a sense of freshness, helping you effortlessly drift off to dreamland.
In addition to high thread count and all-white sheets, you should also know that hotels do not use fitted sheets, Travel + Leisure explains. Apparently, using another flat sheet and tucking it in makes for the smoothest surface possible. Tucking the sides in may prove more difficult than you would initially imagine, however, so check out videos on the internet for the tips and tricks you need to make this process work.
Invest in a comfortable mattress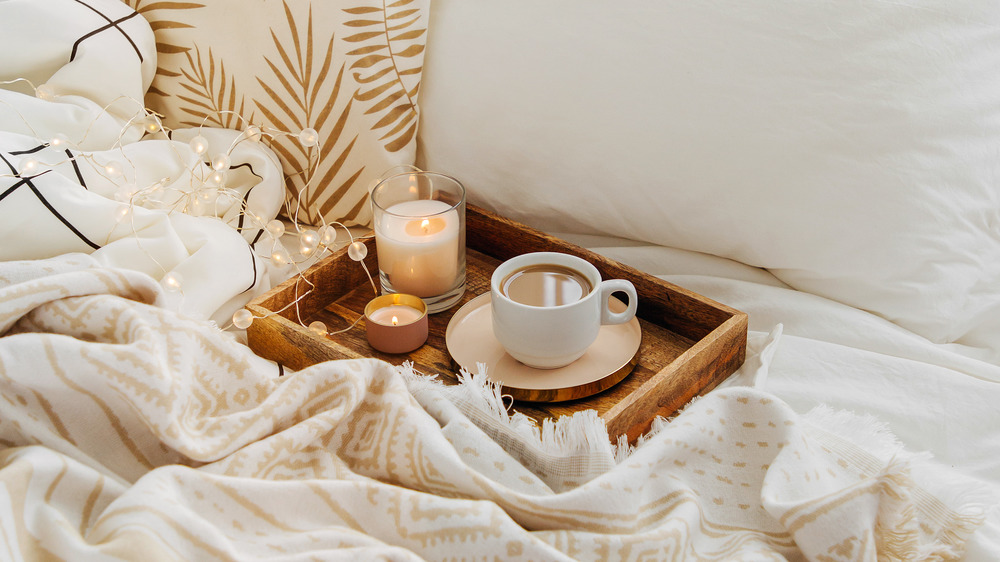 Shutterstock
Obviously, much of your hotel bed's fluffy goodness comes from the softness of its mattress. MyDomaine explains that many resort chains use feather beds with memory foam to achieve the maximum level of comfort for their guests. However, if shelling out thousands for a new bed is not on your agenda, you might want to opt for a pillow-top mattress pad. But what goes on top of the mattress is just as important as what's in it.
From here, look for down comforter options that fit your sleep style. If you are a warm sleeper, find covers that help cool you down — and vice versa if your body runs cold at night. The outlet suggests using a cotton duvet cover over your down comforter to achieve the most hotel-like feel for your linens. Plus, having more than enough pillows makes for a plush atmosphere, especially if they are extra long. 
Beyond your sheets and the bed itself, warm lighting has a lot to do with the high quality Z's you get after spending the night at your favorite hotel. HGTV explains that split-side lighting with two lamps or light fixtures on both sides of the mattress helps avoid overhead lighting that can make things feel less inviting. Look for soft shade light bulbs to add a cozy feeling in your bedroom. After all, a better night's sleep leads to a better morning — invest wisely.