Meghan McCain's Harsh Response To The D.C. Unrest
Like the rest of us in the country and around the world, the daughter of late Senator John McCain, TV personality Meghan McCain was transfixed by the scenes of horror and chaos that unfolded out of the U.S. Capitol on Jan. 6 (via The Wrap). On the day of the riot, McCain took to social media sounding alarmed and angry, tweeting, "This one one of America's darkest days in our entire history."
Her rage was on full display when she went on The View the day after the event, when she called out the rioters. "When I was watching the footage, these bastards are using the American flag as symbols as they are attacking our own republic — the same flag that our veterans at Iwo Jima held after World War II," she said (via People).
"You are not patriots," she continued. "You do not represent America. You are scum of the earth who are using and abusing and bastardizing all that I love and have grown up with for your own sick agenda. And that agenda has been directly — directly — sent by President Trump. And then he didn't disavow it. He didn't send in the National Guard. And then he called them 'special' and said, 'we loved them.' Ivanka Trump called these people 'patriots.' I am a patriot, I come from a patriotic family. I come from a family of service as does everyone on this show."
Meghan McCain places blame on Donald Trump for D.C. unrest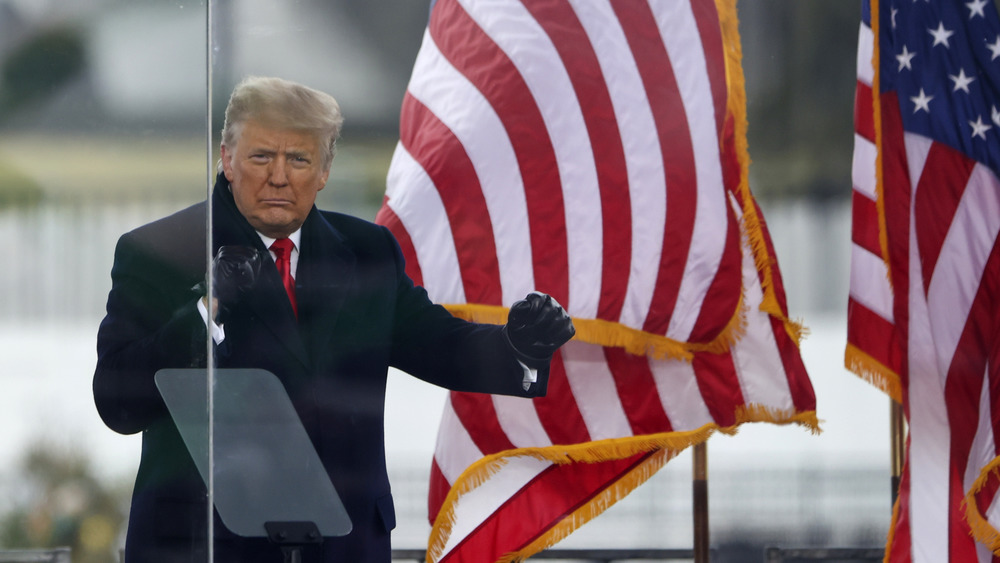 Tasos Katopodis/Getty Images
McCain also had harsh words for Donald Trump, who has locked horns with her beloved father. "I think this is the time to take a very hard look at where we are as a country and take a very hard look at where we are with President Trump, she said on The View (via Twitter). "The bedrock of our democracy and the bedrock of who we are as Americans is the peaceful transition of power. And he is clearly a president who has turned into a mad king." 
The television host called on Republicans and conservatives to use the 25th Amendment to get Trump out of office. The amendment was created to provide a framework that allows for the president to be replaced in the "event of death, removal, resignation, or incapacitation" (via ABC News). McCain finished her monologue on The View with a quote, "In the words of Oliver Cromwell: 'In the name of God, Go.' Go. We cannot take this anymore" (via People).