Who Is Baker Mayfield's Wife, Emily Wilkinson?
Quarterback Baker Mayfield, first overall pick in the 2018 NFL draft, is currently leading his team, the Cleveland Browns, on a four-game winning streak. We know it doesn't sound all that impressive, but if you're a Cleveland Browns' fan, then you are probably walking on sunshine right about now. The team has not won so many games in a row since 2009 (via Inside the Game).
Mayfield's current hero status on his football team and with the fans got us thinking. We all know that behind most heroes is a woman who has their back! Mayfield may be the man of the moment, but we're curious about the woman standing by his side. Here is what you need to know about Mayfield's wife, Emily Wilkinson.
Legally Emily Mayfield (but goes by her maiden name, Emily Wilkinson, on her social media accounts) was born April 4, 1991 in Omaha, Neb. After graduating from the University of Nebraska-Lincoln, she moved out west and started working as a plastic surgery patient coordinator in Los Angeles (via Gossip Cop).
After initial worries disappeared, Emily Wilkinson and Baker Mayfield moved fast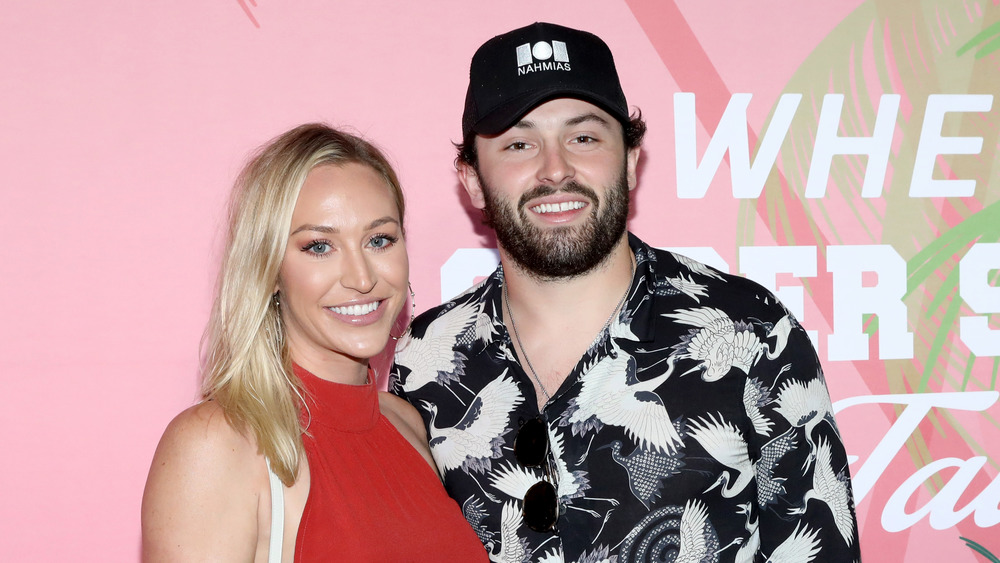 Robin Marchant/Getty Images
Mr. and Mrs. Mayfield moved through the beginning phases of their relationship faster than you can say "touchdown." After only a week of dating, the pair moved in together. At first, Emily Wilkinson was skeptical of agreeing to go on a date worrying he was a "punk football player." "I was assuming he'd be the typical playboy athlete," she told ESPN. But clearly this football player knew how to play it off the field as well. After months of following and unfollowing her on Instagram to attract her attention, Wilkinson finally agreed to grab a lunch together.
Currently, the stunning Wilkinson has stepped into influencer status with 217,000 followers on Instagram. And when not winning football games and posting on social media, the couple manages to find time to co-star in a Progressive Insurance commercial together. Looks like they both know how to play the exposure game!
Wilkinson is her husband's biggest supporter and is quick to shoot down the haters and "fair weather fans" on social media. "Before critics and fans jump to conclusions after an injury, loss, etc. they should put themselves in the athletes' shoes... but let's be honest, they never could because they aren't part of the 1.6%, the best in the world," she quipped (via Page Six).
We're not sure the Browns will continue their winning streak, but we're quite sure Wilkinson will continue to stay by their quarterback's side either way.