Here's How Much Patrick Mahomes Is Really Worth
Jamie Squire/Getty Images
Kansas City Chiefs quarterback, Patrick Mahomes, sure has come a long way from his humble beginnings in Tyler, Texas. And from the looks of it, he's about to go even further in the future. Mahomes is currently in year three of his NFL career, although you likely put a face to the name when he led his team to become the winners of the Super Bowl in 2020.
Impressive, but even more so is that when that final second slipped away in the fourth quarter, Mahomes became the youngest quarterback in the history of the NFL to snatch that Super Bowl ring (via CNBC). He may be excellent at making snap decisions while in the middle of a game, but we're most interested in the business decisions he's made off the field that have caused his bank account to be the size of an NFL Stadium. So, how much is Mahomes really worth?
Currently, Mahomes has a net worth of 30 million (via Sports Casting). But that is set to look like merely the foundation for the brand he's building for himself. Last year, Mahomes signed a record-breaking 10-year, $450 million contract extension. That pen-to-paper moment officially makes him the richest NFL player of all time.
It's Patrick Mahomes' side hustle that is really bringing in the cash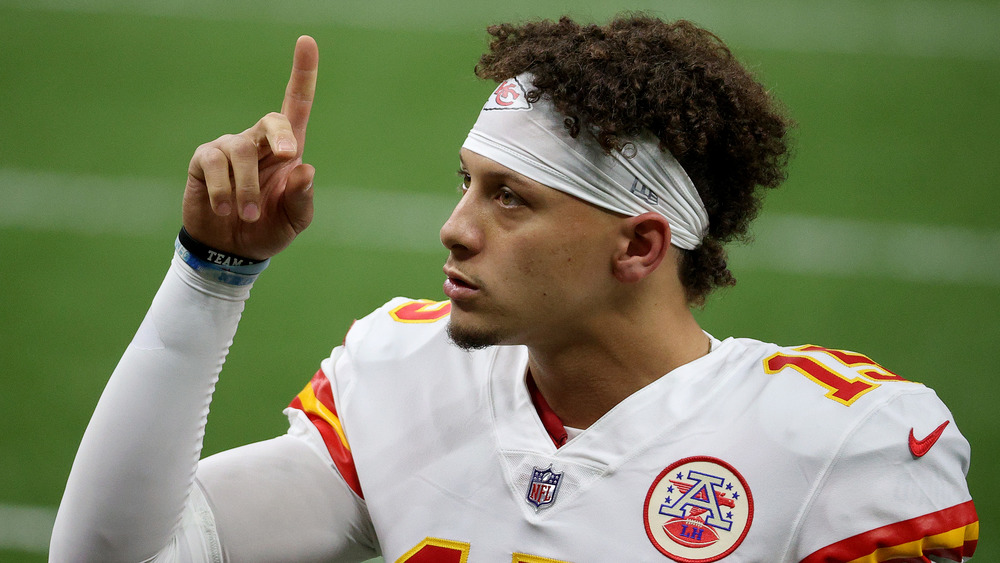 Chris Graythen/Getty Images
Football may be his bread and butter (albeit, fancy bread and gold-plated butter), but it is the side hustle of endorsements that has him set to make an even greater amount of money over the next few years. Scott Rosner, the academic director of the sports management program at Columbia University, explained the perfect position Patrick Mahomes has placed himself in. "Not only has his value gone up, but he has the ability to position himself in a number of different ways from a branding perspective," Rosner said (via CNBC).
Currently Mahomes has signed endorsement deals with the companies: Oakley, Adidas, State Farm, Procter and Gamble, and Air Share (via CNBC). Post-Super Bowl victory, he also inked a deal BioSteel Sports Nutrition. Mahomes has admitted he has studied sports legends like Michael Jordan, LeBron James, and Kobe Bryant's career choices off the field. "I've watched and researched on how they got to where they are at," Mahomes said. "I'm trying to formulate a plan where I can take those next steps off the field," he claimed (via Forbes).
Well, Mahomes, from the looks of it, it appears your research is paying off and you have set yourself up to be on par with some of the greats.