What You Don't Know About Hugh Grant's Relationship With Ex Elizabeth Hurley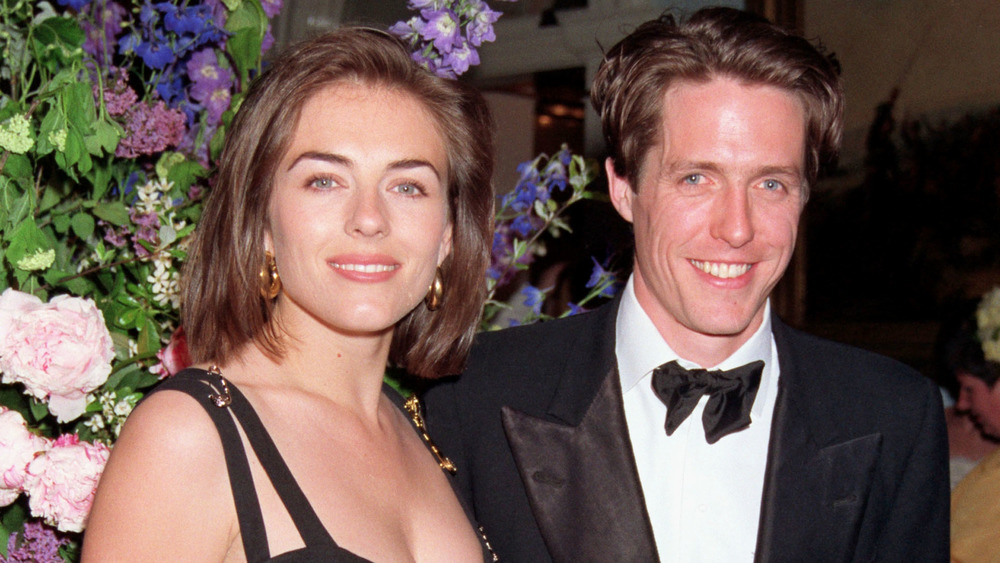 Dave Benett/Getty Images
Especially for those who actively consumed pop culture content in the 1990s (or even those who just appreciate a bit of vintage Hollywood romance), the relationship between actor Hugh Grant and model and actress Elizabeth Hurley was almost to the point of obsession.
The pair first met in 1987 while on set of the Spanish film Remando al viento. This film gave Hurley her first feature role and, eventually, her first high-profile romance (via InStyle). For their next eight years of dating, the pair seemed to be a true power couple, often attending red carpet events in stylish attire. (Can we talk about Hurley's infamous safety pin dress!?). However, their power couple status came crashing down when, in 1995, Grant was arrested after he was caught engaging in "lewd conduct" with prostitute Divine Brown in a public place (per the Independent). "I was just an idiot," Grant told People in a 2018 interview. "I didn't try to say, 'I've got this psychological problem.' I just said, 'I did it.'"
Despite this seemingly large setback, the couple appeared to at least recover from the resulting press about Grant's scandal. Eventually, though, even this power couple lost the spark in their relationship and went their separate ways in 2000 (per InStyle). In the years since their split though, the pair have managed to remain close friends and confidantes.
Grant, Hurley have remained close over the years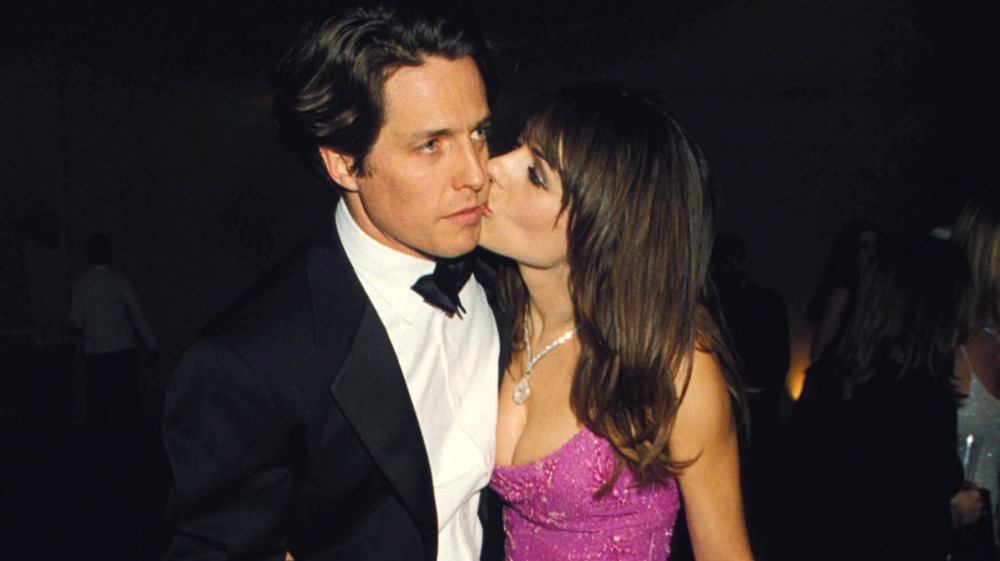 Dave Benett/Getty Images
In 2015, Hugh Grant and Elizabeth Hurley appeared separately on Andy Cohen's Watch What Happens Live and their accounts of the breakup were a bit different. While Grant guessed that the "sex part probably fizzled out," Hurley actually admitted that he was great in bed, but rather "annoying" and grumpy in every other aspect of the relationship (via InStyle).
Nearly 34 years since the start of their friendship, the pair are still close — so much so that Grant is actually the godfather of Hurley's 18-year-old son, Damian Hurley, and Hurley is the godmother to one of Grant's five children (per Hello Magazine). Just this past September, Hurley posted a throwback video of Grant's iconic dance in the film Love Actually to wish him well on his 60th birthday (though it was two days late). "A belated (because it took me two days to work out how to screen record) Happy 60th Birthday to the glorious Hugh Grant – a magnificent addition to the human race- even though he looks like a monkey. ❤️ you forever xxxx," she captioned her post.
When speaking of their current relationship, Grant compares the bond that he shares with Hurley to one that a brother and sister might experience. "We're like brother and sister," Grant told People. "I think it's partly because we went from zero to somewhere together, and we went through terrible years at the beginning when neither of us had any work, living in a tiny flat. It was quite bonding."