The Truth About My 600-Lb. Life's Carrie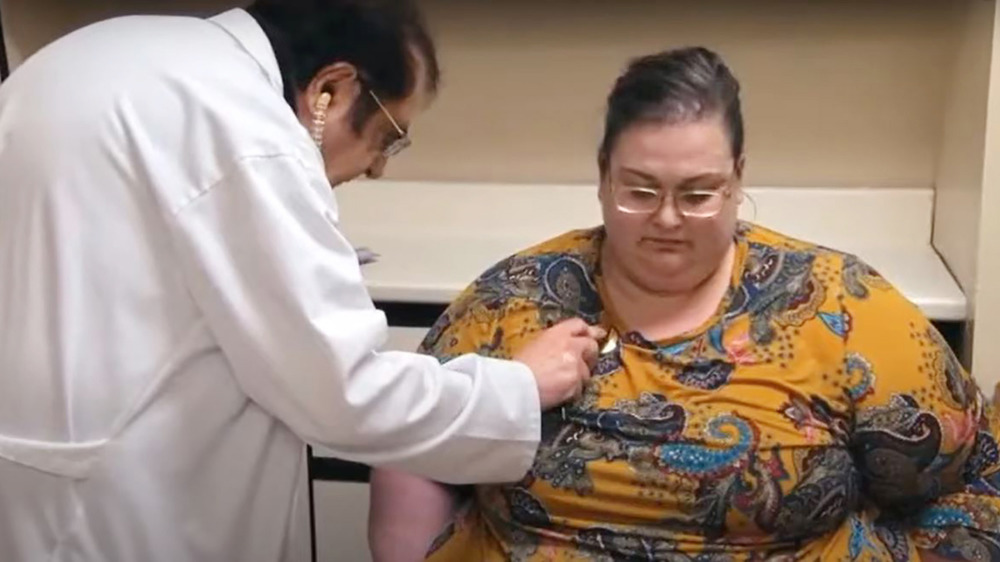 TLC/YouTube
In episode 3 of season 9 of TLC's My 600-Lb. Life, viewers met Carrie Johnson, a 37-year-old Texan who was at last ready to make a lifestyle change, get healthier, and turn her life around, and in the process, help her family, too. Prior to her episode's airing, TLC shared, "Twenty years after her father died as the result of a botched weight-loss surgery, Carrie is on the brink of eating herself to death; she must face the fear and grief of losing her father and end a cycle of toxic behavior with her husband, Chris."
Before her episode, TLC posted a few clips on social media as a way of introduction to Carrie and her family. The Johnsons live in a trailer home in Huntington, Texas; Carrie's family consists of herself, husband Chris, and daughter Haleigh. In a Twitter clip, Haleigh and one of her friends are helping to cook dinner and Carrie, in the voiceover, says that she feels her journey with Dr. Younan Nowzaradan, aka Dr. Now, will benefit not only herself, but her entire family. She tells them, as they eat a sensible meal together: "We're just going to have to start, switching up our plans. I don't think it will be bad. A lifestyle change is always welcomed."
In "Carrie's Story," we learn more about Carrie's struggles day to day and what brings her to her inflection point. As Dr. Now realized after an early follow-up, a key for Carrie's case would be for her to speak with someone.
Carrie had to address her personal issues first
As the official synopsis for Carrie Johnson's episode of My 600-Lb. Life shares, part of Carrie's struggle was her relationship with her husband, Chris. As we see, Chris tends to all of Carrie's needs, helping her to get ready for the day (Carrie holds a steady office job), preparing meals. Chris is devoted but does admit at one point, "Sometimes I feel more like a caregiver than a husband" (via Heavy). Carrie voices her fear that Chris will one day leave. "One day he could just walk out and that scares me to death," she says. But Carrie also knows that her weight loss will lead to more independence, and with that there is the hope that her relationship with Chris can also get back to what it once was: husband and wife vs. caregiver and patient.
As we learn, Carrie weighed about 400 pounds at the age of 18. She then lost her father, dropped out of college, got into an abusive relationship, and lost a child from miscarriage. Carrie turned to food as a coping mechanism, which is why Dr. Now knew that she had to speak with a counselor, too, in conjunction with her commitment to lose weight. When she first met Dr. Now, Carrie weighed 602 pounds, and he explained that she would have to lose 60 pounds in order to qualify for the surgery. Carrie spoke about not wanting to disappoint Now in her early follow-up, but feared that she would when she only managed to lose 12 pounds after three months (per Distractify).
Carrie overcame a slow start to lose 111 pounds
Meeting with a counselor appeared to indeed be the key, with Carrie overcoming a rocky start to meet and surpass her weight-loss goal of 60 pounds. In her next meeting with Dr. Now, Carrie was able to report a loss of 111 pounds, weighing in under 500 pounds (491 to be exact), and qualifying for the surgical procedure. What's more, Carrie's mission for her entire family to change with the help of Now, also saw positive results. Chris, who weighed over 300 pounds when we first met him, also lost 60 pounds (via Reality Blurb!).
At the end of "Carrie's Story," Carrie Johnson weighed 409 pounds, losing a total of 194 pounds and counting. As My 600-Lb. Life watchers will tell, Carrie Johnson has refrained from seeking the reality-TV spotlight, unlike some other people who have appeared on the hit TLC series. Her Facebook does offer some updates though on what she's been up to, including a post from Jan. 12, the day before her episode aired, in which Carrie looks to be having fun with filters, showing off a number of face tattoos and a septum ring.
Her account also shares some lovely couple selfies of her and Chris. In December of last year, Chris sent her the message, "You don't find happiness you make it!! I love you Carrie Johnson!" to which she replied, "I love you too, fella!"