Why Carson Daly Warned Gwen Not To Date Blake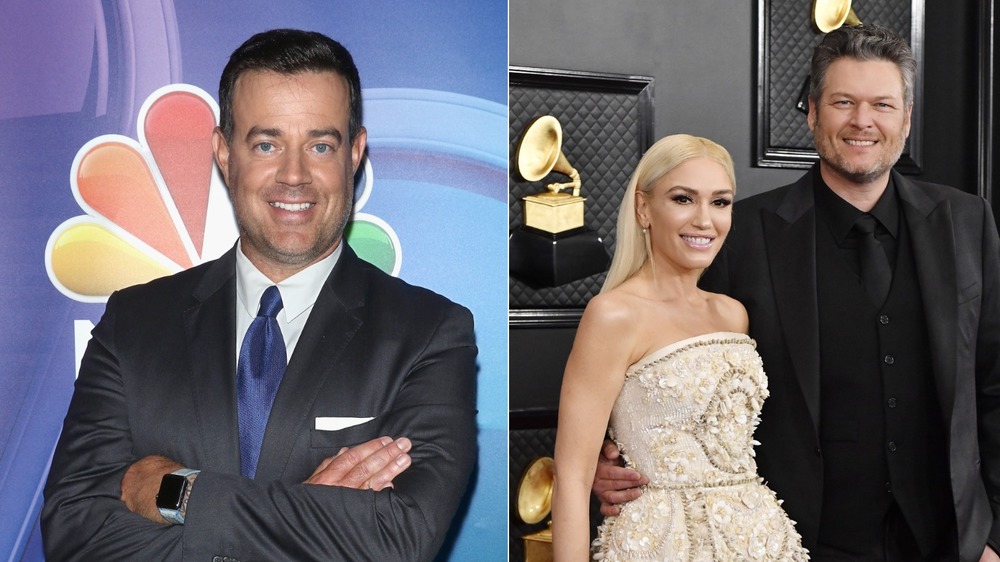 Jim Spellman, Frazer Harrison/Getty Images
When it comes to friends and relationship advice, sometimes it's best to just go with your gut, and ignore the armchair experts that come out of the woodwork as soon as you start dating someone new. As dating coach Connell Barrett explained to Elite Daily, "You'd like your friends to support your relationship. In a perfect world, your BFFs would totally support your love life. But the world is not perfect, and you can't determine your happiness based on what others think of you."
Case in point, when Gwen Stefani first started dating Blake Shelton, her Voice co-host and friend, Carson Daly, tried to warn her away. Thankfully she didn't listen, and now, five years later, she's not only engaged to her best friend, but as she explained in a recent interview with Today, she has "a chance at happiness for a long time to come."
The "Let Me Reintroduce Myself" singer joined Daly and his fellow Today anchors on Thursday morning to discuss new music, and as often happens, the interview got sidetracked with talk of her recent engagement and her life with Shelton. Not about to miss the chance to reminisce with his longtime friend, Daly hilariously recounted the story of how he sat the couple down when they were in the very early stages of their relationship and flat out told them not to date because it wouldn't work!
Gwen Stefani can't say enough good things about Blake Shelton
Rehashing old memories as longtime friends love to do, Carson Daly lightheartedly recalled his relationship intervention from years ago, "Five years ago, when you started to date Blake, you'll remember this, we went back to your house, your old house in LA, and I sat you and Blake down in the kitchen. And I said, 'You guys, pump the brakes. This is not good. This is not going to work.' And I looked at Gwen, and I said, 'You're much, much too good for this guy. You're smart. You're intelligent. You're one of my oldest friends.'" He continued drawing laughs from Stefani and the rest of the crew, "And then there's Blake.'"
While all in good fun, 51-year-old Stefani was quick to reiterate not only how happy she is with Blake Shelton, but how hopelessly she adores him. "What don't I love about Blake," the songstress gushed to Hoda Kotb. Adding, "He's just such a good guy. He's one of the most generous human beings and down-to-earth. It almost sounds generic, but it's just so true." Unable to contain her joy, she continued, "He's so gifted and so unique and talented and he really just is my best friend...It's just a blessing, the whole thing, and it is a miracle. And yes, Carson, you witnessed that."