The Surprising Reason A Kamala Harris TikTok Is Going Viral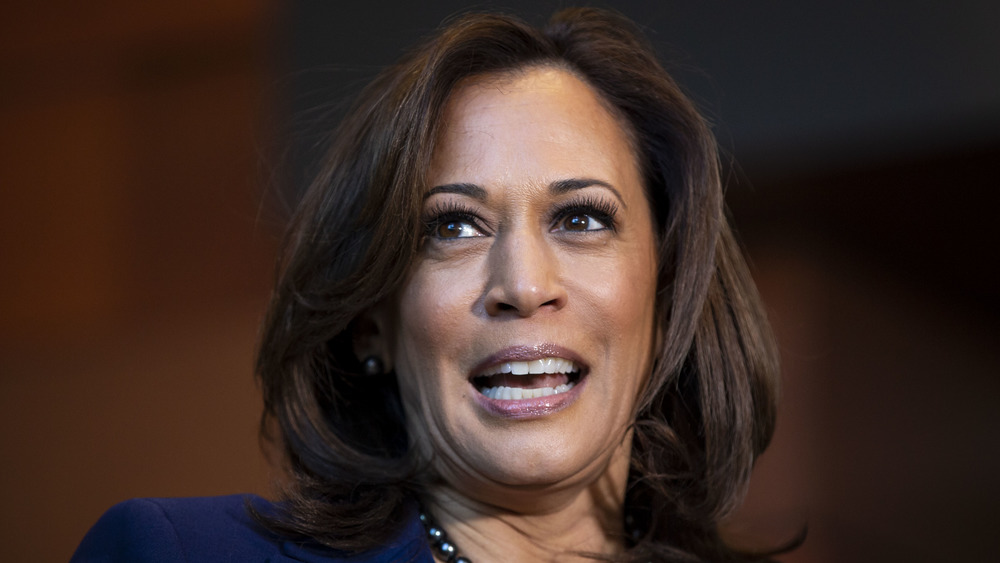 Al Drago/Getty Images
She hasn't even taken office yet, but already Kamala Harris is making history in a number of ways. Everyone knows by now that in addition to being the first woman to hold the office of vice president, she's also the first person of color ever to hold the office. But just days before the inaugural, she did something no vice president has ever done — not even her future boss, President-elect Joe Biden. Thanks to her niece Meena Harris, the incoming veep is now a TikTok sensation. 
Meena, a bestselling children's author and founder of the Phenomenal Woman Action Campaign, is also one of her aunt's biggest admirers; her Instagram account is full of photos of Kamala during the election campaign and after the historic win. One of her newest videos was posted shortly after Congress' historic move to bring President Trump to trial for his role in inciting the riot at the Capitol. The short video from her TikTok feed shows Kamala sitting on an easy chair as Meena approaches her with a jar of candy. "Auntie, Auntie, I got you a gift," she says. "Im-peach-mints!" The incoming Vice President bursts out laughing as the camera cuts off. 
Kamala Harris' footwear got major raves
The video only lasts a few seconds, but it has already gotten more than 10 million views on TikTok, plus another 170,000 likes on Instagram. Among the fans was Mindy Kaling, who commented, "I watched this 20 times, I am one with the tik tok." Aoki Lee Simmons raved, "This is the funniest thing I have ever seen." Even the admin of O, the Oprah Magazine chimed in: "You're going to give us all the content we deserve for the next four years."
The humorous exchange wasn't the only thing that drew attention to Meena Harris' video. Viewers also couldn't get enough of the fact that Kamala Harris was wearing blue-and-white gym socks reading "The Future Is Female" along with her subdued peach pantsuit. The footwear was dubbed "ADORABLE," "my favorite part," and "They will sell out in no time!" It seems they just might. The $13 style from Gumball Poodle is experiencing a "spike in demand," according to their website: "Orders for this style will ship a few days slower than typical. Thank you for your patience and understanding!"  
The vice president-elect has not yet commented on whether she will be wearing her viral socks on Inauguration Day. (We can only hope she will.)