Why Michelle Obama's Birthday Photo Has The Internet Talking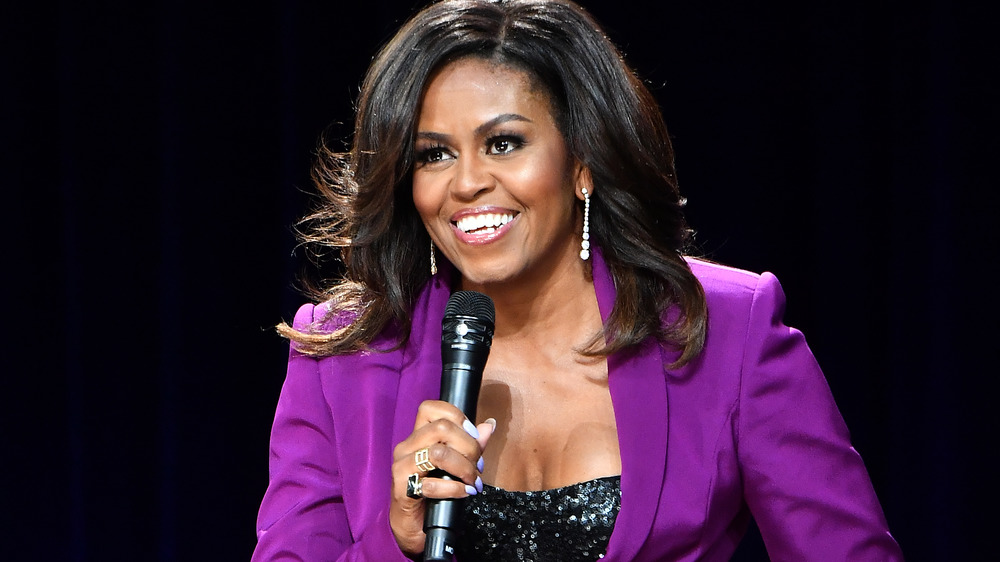 Paras Griffin/Getty Images
Even though she hasn't held the title of first lady in four years, Michelle Obama continues to hold a special place in millions of Americans' hearts for her accomplishments, her warm personality, and her passion for such causes as healthy living, civil rights, volunteerism, and support for military families. Since leaving the White House, she has gone on to write her autobiography Becoming, create (with husband Barack) the Higher Ground film production company, and launch her own podcast (per Biography). Small wonder, then, that so many people flooded the internet with well wishes as she celebrated her 57th birthday on Jan. 17. 
On top of that list, of course, was her husband, the former president. On his Instagram feed, Barack Obama posted a photo of his wife with the caption: "Happy birthday to my love, my partner, and my best friend. Every moment with you is a blessing. Love you, Miche." She quickly responded with a heart and kiss emoji. The post received more than 3.7 million likes, plus an additional 1.7 million likes and 105,000 retweets for the identical message he put on Twitter. 
Overwhelmed by the outpouring of love, Michelle posted a heartfelt reply to her own Insta feed on Monday. The words were lovely enough, but it's the photo she used that really caught followers' attention.
Michelle Obama is getting raves for her natural hair
The former first lady addressed her fans: "Thank you all for the lovely birthday wishes! I know this past year has been difficult for us all on so many levels, so I just hope you all are taking care of yourselves and finding joy in the smallest moments. Love you all [double heart emoji]." 
The black-and-white photo that accompanied her post showed her with a solemn expression and a cascade of glorious natural curls. It was a big departure from the straightened styles she typically wore at the White House, and fans were loving it. Responses included: "Come on curls!" "Thanks for being bold and showing us your natural self," and, "Absolutely fantastic natural picture!! Embracing your origins and honouring our ancestors. Gorgeous."
Why such a reaction to Michelle Obama's hair? As JStor explains, the road to societal acceptance of Black natural hair has been a long one. For decades, nappy hair was stigmatized as a slave stereotype, and Black women took to straightening combs and creams to make their do's look more "white." The '60s saw Black women and men going natural as a sign of pride and unity, but only in the last decade has the natural movement really caught fire, and only since 2019 have states passed laws making it illegal to bar anyone from schools or jobs because of their hairstyles (per USA Today). When prominent women like Michelle Obama show their untouched tresses, it sends a powerful message that beauty comes in all hair types.