This Is What Lauren London Has Been Doing Since Nipsey Hussle's Death
Nipsey Hussle, a talent taken too soon, left his mark on the world. The 33-year-old rapper was shot and killed outside of his Marathon Clothing store in Los Angeles on March 31, 2019 (per NBC News). The following year, he posthumously won two Grammy awards for Best Rap/Sung Performance for his feature on DJ Khaled's "Higher" and for Best Rap Performance for his work on "Races in the Middle" (via Reuters). Hussle, who was born Ermias Asghedom, was a leader, an activist, looking to make changes in his community and in hip hop. His death hit many hard, most of all his longtime love, Lauren London.
London and Hussle met in 2013 when she visited his store with the intent of buying his new mixtape; there were only 1,000 units produced. The chance encounter turned into an Instagram following that turned into a modern-day love story. "Our stories are very different," London told GQ of how they got together. "I did not slide into his DMs. My homeboy did." Hussle admitted that once he saw she followed him on Instagram, he wasted no time.
Each was enjoying success in their respective areas of music and acting, when London became pregnant with their son. She told GQ of her decision to take a break from her career at the time, "Do I choose my soul or myself? I went with my soul." Together with Hussle's daughter, Emani, and London's son, Cameron, they became a tight-knit family of five after the birth of Kross in 2016 (via People).
Their relationship had its rocky periods, but love always prevailed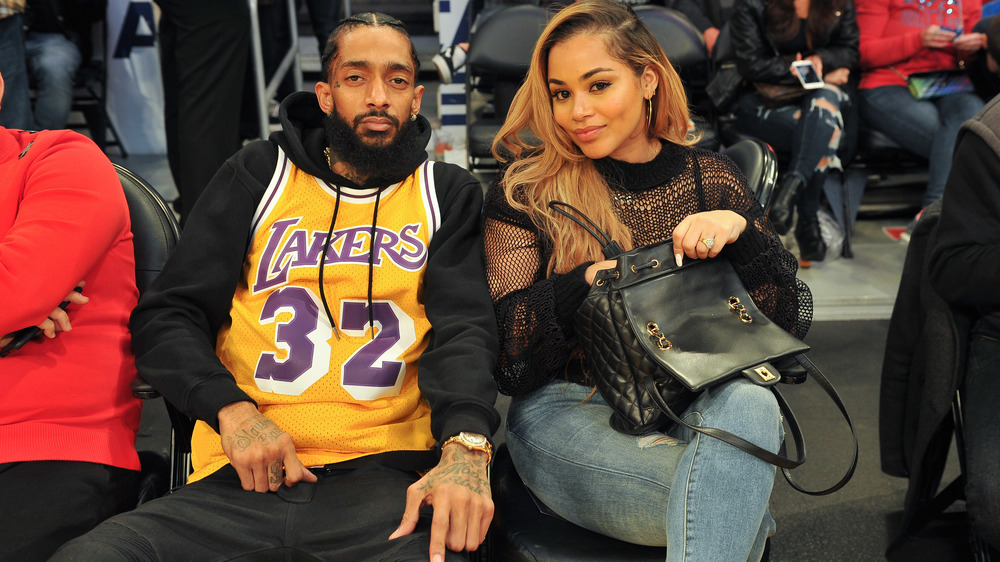 Allen Berezovsky/Getty Images
In November 2017, Nipsey Hussle revealed that he and Lauren London had broken up. He shared on Twitter that although they had a "dope relationship and made a Beautiful child," they had chosen to separate at this point. Hussle said the parting was mutual and that they would focus on raising their "Son together." The split lasted but a few months. By February 2018, London was by Hussle's side as he released his latest album, the 16-track Victory Lap (per Essence). By 2019, the two were denying rumors from TMZ that they were engaged. "IT AINT A Engagement Shoot ... It's a @GQMagazine Shoot w My Girl," he replied on Twitter.
Just months later, London was mourning Hussle on Instagram. "I am completely lost. I've lost my best friend. My sanctuary. My protector. My soul...," she wrote. "I'm lost without you. We are lost without you babe. I have no words." Her pain could be felt even further in her eulogy for him. "I've never felt this type of pain before," she told the crowd (via HuffPost). 
"Ermias said you can't possess people, you can only experience them. And I'm so grateful I got to experience such a man," London said. "Grief is the final act of love. My heart hears you. I feel you everywhere. I'm so grateful that I had you. I love you beyond this Earth. And, until we meet again, the marathon continues."
Since Hussle's death, London has connected with others who have lost loved ones to gun violence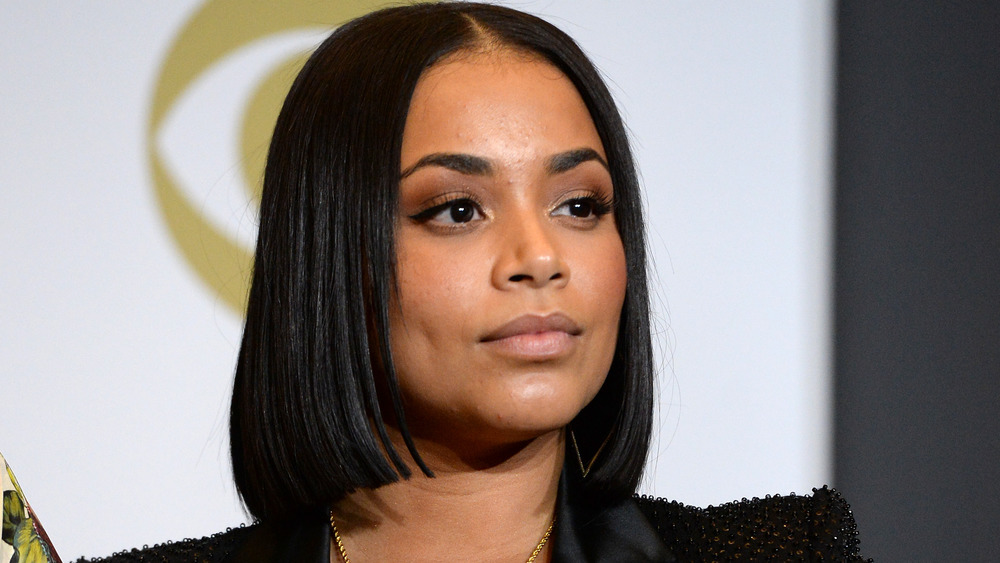 Amanda Edwards/Getty Images
Lauren London has taken a lot of time to be with her family and care for herself in the wake of Nipsey Hussle's death. She has also reached out to others who share her experience. During an appearance on Red Table Talk in June 2020, she shared that she speaks to a group of teenage girls that have lost loved ones to gun violence. "Trauma feels so lonely and just in talking to them, they gave me so much more than I feel like I gave to them," she said. "They gave me just their stories and just their rawness, and it made me feel not so alone. It was magical. It was very healing."
London has also had to shut down rumors she's ready for love again. When rumors surfaced of her dating Diddy, she replied in a series of Instagram posts, according to People. "Forever and even after Call me Lady Hussle," she posted with a photo of Hussle on her Instagram Stories. She then shared the same photo on her feed, adding, "Still His! King Ermias! Never Forget!"
She continued to comment on the situation in her Instagram Stories. "Stop f***ing with me and my name. Now let me get back to healing," she warned. "I'm all love and peace but never forget ... I'm a woman in grief and I don't play about Nip, my family, my character and code."