The Truth About Sarah Thomas, The First Woman To Officiate A Super Bowl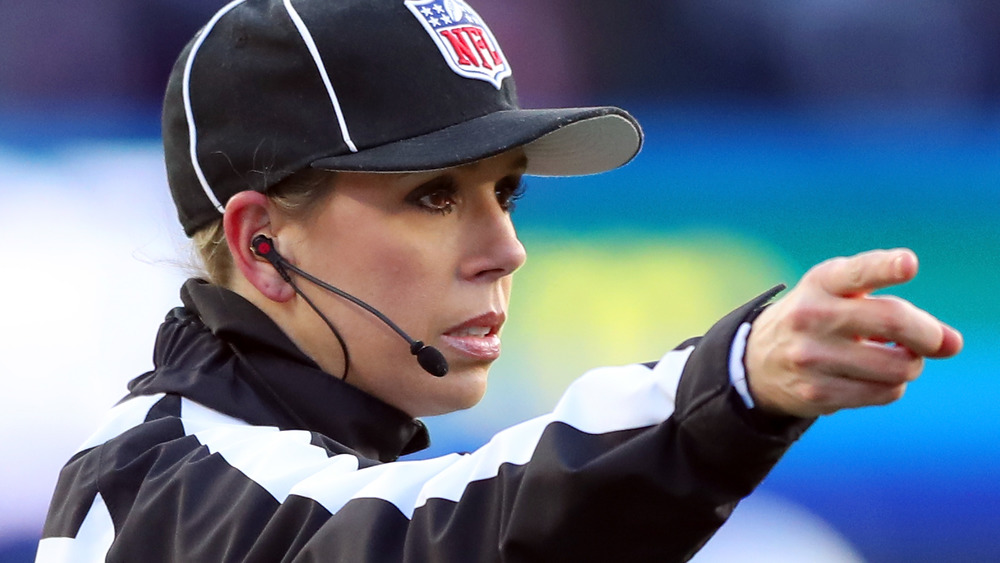 Adam Glanzman/Getty Images
Less than a month after Kamala Harris becomes the first woman vice president in U.S. history, Sarah Thomas will break a gender barrier of her own. As the NFL announced, Thomas, as down judge, will be the first female to officiate a Super Bowl. Per ESPN, her officiation of Super Bowl LV on Feb. 7, 2021, marks the end of her sixth season as an NFL referee. The announcement immediately inspired fireworks from the sports reporter Twitterverse.
Meanwhile, director of football development at the NFL and former football player Sam Rapoport, applauded the news, saying, "What a tremendous cap to a groundbreaking season for women in football." And, lest there be any doubt that this is a big moment, Dr. Jen Welter, the NFL's first female coach, sent her congratulations: "#kickglass – crying with Joy for my dear friend #sarahthomas." Indeed, there's no doubt about it; Sarah Thomas is formidable. NFL executive vice president of football operations Troy Vincent Sr. also raved about her in a press release, applauding Thomas for her "elite performance" and "commitment to excellence" (via The Boston Globe).
When SB Nation's Charlotte Wilder interviewed Thomas in 2017, she was so impressed she couldn't help but hold breath through the handshake. "As women, the way we carry ourselves speaks a lot," Thomas reflected to Wilder, "a man may feel as if may, he can have his way or whatever, but I just think that when we carry ourselves with confidence, and walk into a room with confidence, the atmosphere kind of changes."
How Sarah Thomas shattered glass ceilings at the NFL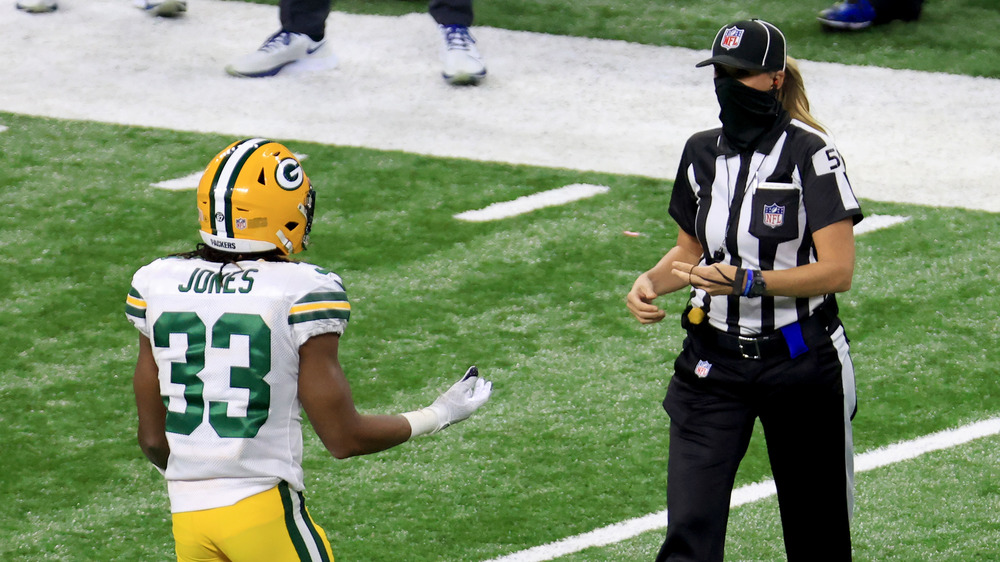 Justin Casterline/Getty Images
When Sarah Thomas officiated high school football, people told her that she didn't have a shot reffing for a junior college. But when NFL scout Joe Haynes saw her in action, he had other ideas (via Elle). Haynes talked to the supervisor of Conference USA's officials, Gerry Austin. Austin called Thomas up. "She understood that the rules of the game of football should be applied within the spirit of the game and not within the technical writing of the rules," Austin remembered to ESPN. He hired her to officiate Conference USA's Division 1. By 2015, Thomas became the first female official in NFL history. The NFL scrambled to figure out how to suit her up.
When Elle talked to Thomas in 2017, she told them that she was gunning to officiate a Super Bowl someday. The fact that she's achieved her goal is a testament to her dedication. Thomas studies and re-studies games in her spare time, though she doesn't have a lot of it. In addition to being the mother of three children, Thomas is also a marketing specialist and public speaker (via LinkedIn). She shrugs off the obstacles that have stood in her way. "I was raised with brothers. I played in a men's basketball league. I have never allowed my gender to be a crutch or a reason for people to act a certain way. If they have a feeling towards me, that's their issue. It's not mine," Thomas told Elle.