The Untold Truth Of Jane Levy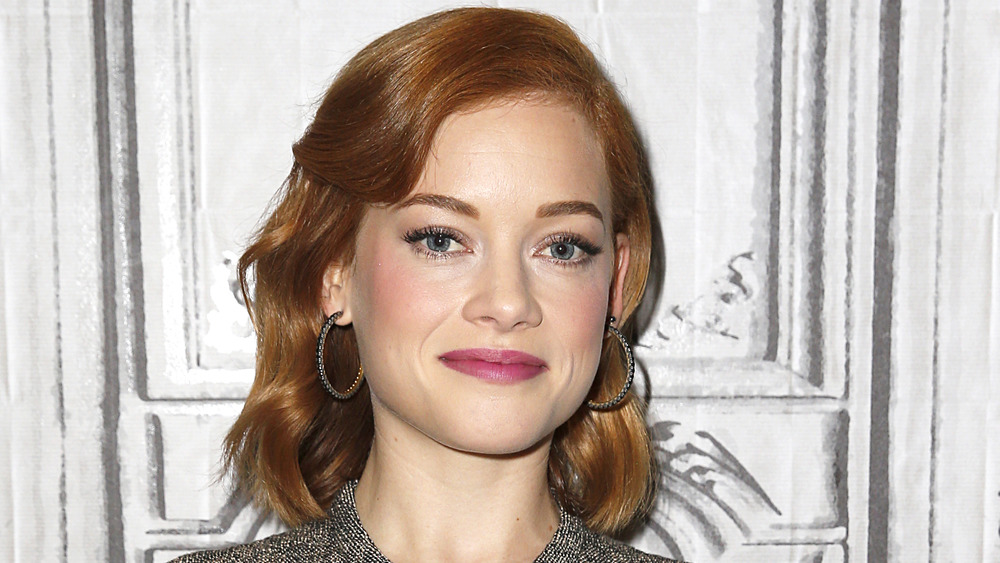 Dominik Bindl/Getty Images
A quick glance at the IMDb page of Jane Levy makes it clear she's one of Hollywood's hottest young rising stars. Currently seen as the titular Zoey in NBC's hit musical-comedy series Zoey's Extraordinary Playlist, Levy has amassed an impressive roster of screen credits in a remarkably short period of time.
She's also managed to avoid being pigeonholed, jumping effortlessly from genre to genre as she shifts from comedy (her supporting role in the ABC sitcom Suburgatory) to horror (the demon-possessed heroine in Evil Dead) to dark psychological drama (Netflix's What/If? opposite Renée Zellweger) and pretty much all stops in between. Other notable projects include a starring role in horror hit Don't Breathe, the Stephen King-inspired anthology series Castle Rock, and a brief appearance in David Lynch's Twin Peaks reboot.
Given all those credits, there's still a lot that Levy's fans probably don't know about her, including the team sport that consumed her teenage years, her top-secret (and super-short) marriage, and the shrine she once erected in worship of a late-night talk show host. So read on to discover the untold truth of Jane Levy.
Jane Levy was a soccer superstar in high school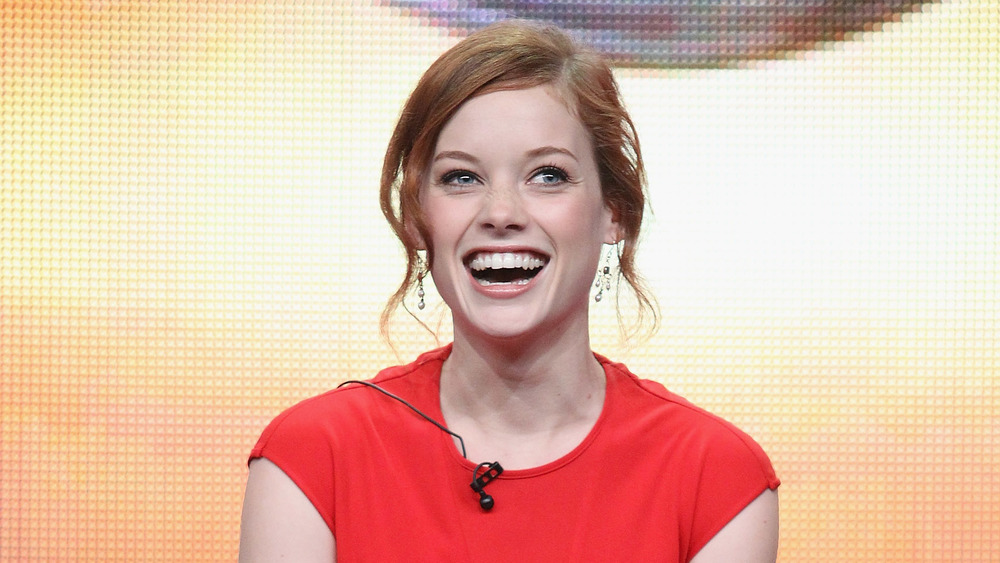 Frederick M. Brown/Getty Images
Many actors look back on their childhoods and recall being acting-obsessed youngsters, and Jane Levy was no exception. "When I was little, I asked my mom to move us to Los Angeles and get me an agent. She would say, 'Stop it. Go play in the dirt.' So I shoved it aside because she did," Levy revealed in an interview with ESPN. Those acting ambitions refused to die down, however, and she performed in school productions until her freshman year of high school. That, she said, was when she pushed aside acting to focus on a new obsession: soccer.
"I wasn't naturally talented, but I worked so hard and committed myself 100 percent," she said of the sport, which she seriously pursued throughout her high school years.
Admitting she "completely stopped" playing soccer when she went to college, Levy described the parallels between soccer and acting in an interview with Ladygunn. "My favorite thing about making movies and television is the teamwork and camaraderie," she explained, something she loved about playing soccer. Even now, "the idea of reaching a goal with a group gets me high."
Jane Levy dropped out of college to pursue acting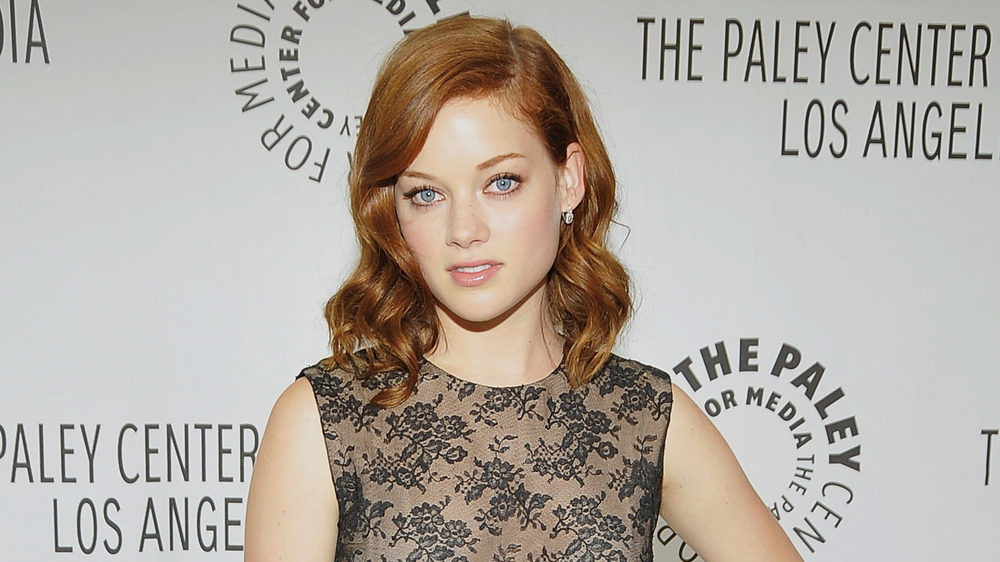 John M. Heller/Getty Images
While attending college, Jane Levy's childhood ambition of becoming an actor resurfaced. During her freshman year, she had an epiphany: Why keep spending money on tuition when what she really wanted was to act? As a result, she told Ladygunn, "I dropped out of college in 2008 to pursue acting."
She admitted she "had no idea what I was doing and no reason to think it could work," while her parents remained "skeptical but supportive" when she moved to New York City and enrolled in the Stella Adler Studio of Acting. "At college, I wasn't passionate about anything I was studying," she told Backstage. "When I got to acting school, I felt I had finally found it."
After completing her studies, she focused on auditions — which she admitted she found nerve-wracking. "One of my first was an HBO pilot, and I almost s**t my pants going in there," she told Backstage. Yet her talent shone through, and she booked her first professional gig on Showtime's Shameless, in which the first scene she filmed involved simulating a sex act. "My first scene ever, ever, ever," she recalled.
Jane Levy used to be a horror movie scream queen
For fans of horror movies, "final girls" have become a familiar trope, the female protagonist who barely survives after facing off against monsters, deranged maniacs, demonic spirits, and the like. When it comes to these horror scream queens, Jane Levy stands with the best of them, thanks to her performance as Mia in the 2013 Evil Dead remake. She cemented her horror cred by reuniting with that film's director, Fede Alvarez, for his next horror flick, 2016's Don't Breathe.
Interestingly enough, when Levy was cast in Evil Dead, she was starring in the ABC sitcom Suburgatory. "I read Evil Dead and I thought it was just so ridiculous and funny and just so extreme that I thought, 'This would be the diametrically opposite job I could take right after finishing the first season of this TV show,'" Levy said in an interview with GQ. 
In an interview with Vulture, Levy explained her affinity for scary movies, noting her "perverted sensibility" and tendency toward projects that "push boundaries."
The reason Jane Levy's job has left her upset a lot of the time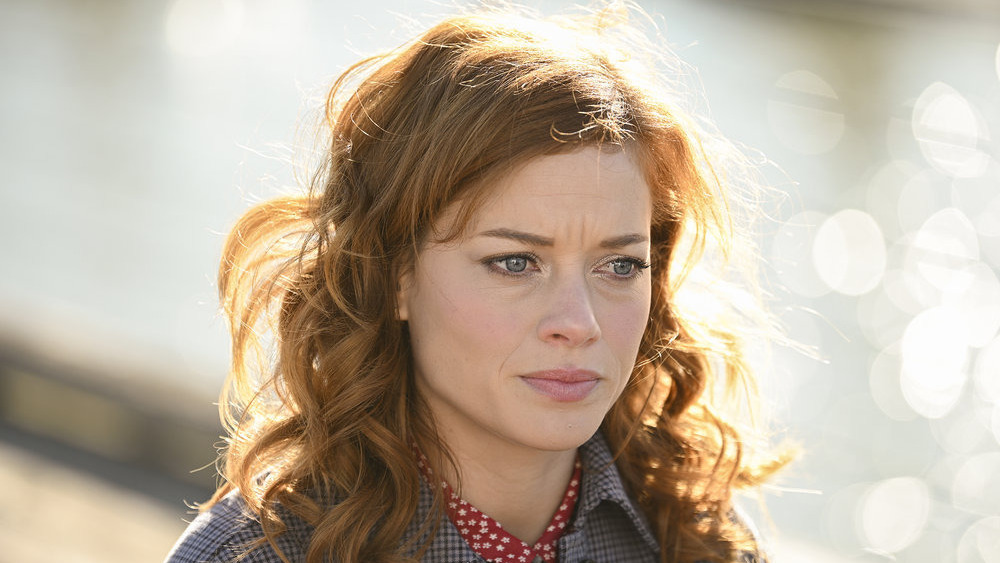 Sergei Bachlakov/NBC
There's no denying that Jane Levy's acting career has soared in a relatively short period of time. However, the life of an actor, regardless of the level of success one has achieved, is typically tinged with rejection and disappointment. 
As Levy told Vulture, she spends "a lot of time upset" from the ups and downs of the industry. Becoming an actor, she added, also means giving up any notion of job security. "Even when you do get a job, I never feel like it's actually going to happen until the first day I'm on set, because so many times it falls apart," she said. "Even after you did all the crazy hard work to get the job."
However, she also conceded it's not all doom and gloom, and she remains thankful that she's been able to make a living at pursuing her passion. "At the same time, I am also extremely grateful that I get to work as an actor," Levy added.
Jane Levy loves jokes that are so bad they're good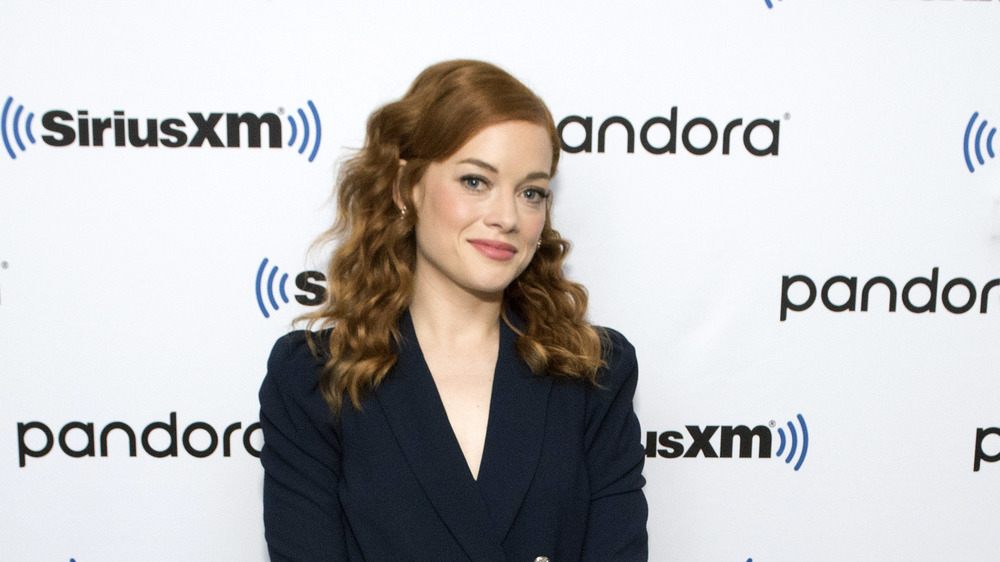 Bonnie Biess/Getty Images
In February 2020, Jane Levy made an appearance on The Kelly Clarkson Show, where host Kelly Clarkson pointed out that Levy "celebrated 'Bad Joke Friday'" with her Zoey's Extraordinary Playlist co-stars. Clarkson was curious and asked her how it all came about.
According to Levy, the whole thing started at the end of a long week, when everyone on the set "would just start to get a little crazy. You know, we work in a soundstage all week long, we never see the sun. We are crazy people, and it just came about of, like, being bored."
To alleviate that boredom, Levy would ask members of the cast and crew to share their best jokes. She was hopeful they'd be good jokes, but "they gave me bad jokes." So Levy shared some of these groaners on social media, and Clarkson threw to a clip of Levy reciting one of her bad jokes — a particularly bad one. "What are the strongest days of the week?" Levy asked in the video, cracking herself up with the punchline to come. "Saturdays and Sundays," she answered. "The other days are weekdays."
Jane Levy's best friend is fellow NBC star Mae Whitman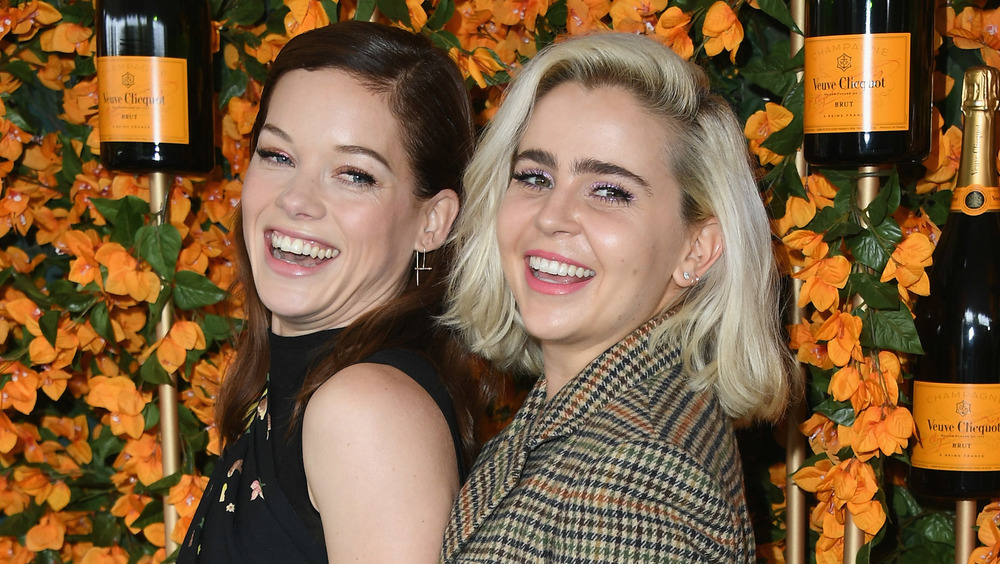 Jon Kopaloff/Getty Images
Jane Levy's BFF is actress Mae Whitman, who, like Levy, stars in her own NBC series, Good Girls. According to a story in The Hollywood Reporter about the pals' friendship, they've been tight ever since meeting and sharing an "epic night out involving Mariah Carey karaoke" with Succession star Nick Braun. Levy subsequently invited Whitman over to her home to do some baking. The end result, Whitman recalled, was a "disgusting and horrendous" cinnamon roll that led them to head to a bar and get plastered. "In my memory after that we hung out every day for the rest of our lives," Whitman declared.
Another member of this friend group is Jenny Slate, former Saturday Night Live cast member and star of films including Obvious Child and The Secret Life of Pets. In an interview with Vulture, Slate singled out Whitman and Levy, noting that as Hollywood actresses they "all work in this strange world." Whitman and Levy, she declared, "have saved my life a million times," describing their friendship as "a type of love that can occur that is just as high a love as romantic partnership."
Jane Levy had no singing or dancing experience before Zoey's Extraordinary Playlist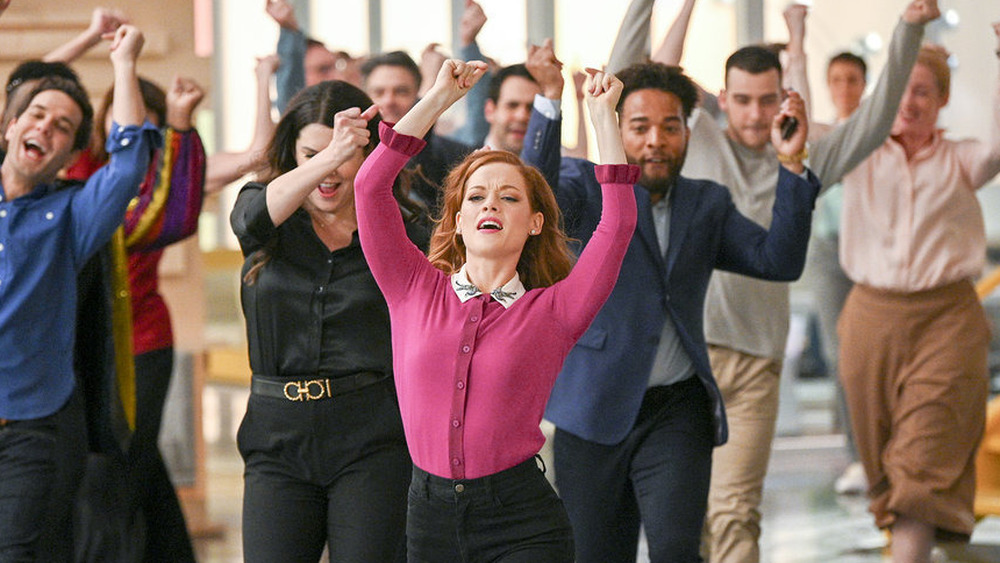 Sergei Bachlakov/NBC
Since Jane Levy stars in a musical comedy TV series that requires her to break into song-and-dance numbers several times per episode, it would be easy to assume that she has a solid background in musical theater.
That, however, is not the case. Unlike other members of the Zoey's Extraordinary Playlist cast — say, Alex Newell, who starred in Glee, or Pitch Perfect's Skylar Astin — Levy's experience with singing and dancing on stage was definitely limited. "Ever since I was little I loved performing and especially singing and dancing but it's not something I've ever really explored or done professionally. I'm not trained," she said in an interview with Gold Derby. 
Now that she actually has been able "to stretch that side of myself," she admitted that it's become something she's come to enjoy immensely. "Since we wrapped, I've been taking FaceTime tap-dance lessons with our associate choreographer and we're doing tap to Prince. It's so fun," she said. And while singing and dancing may be a recently acquired talent, she admitted that starring in a musical has "been a secret not-so-secret dream."
Jane Levy revealed what she finds most difficult about Zoey's Extraordinary Playlist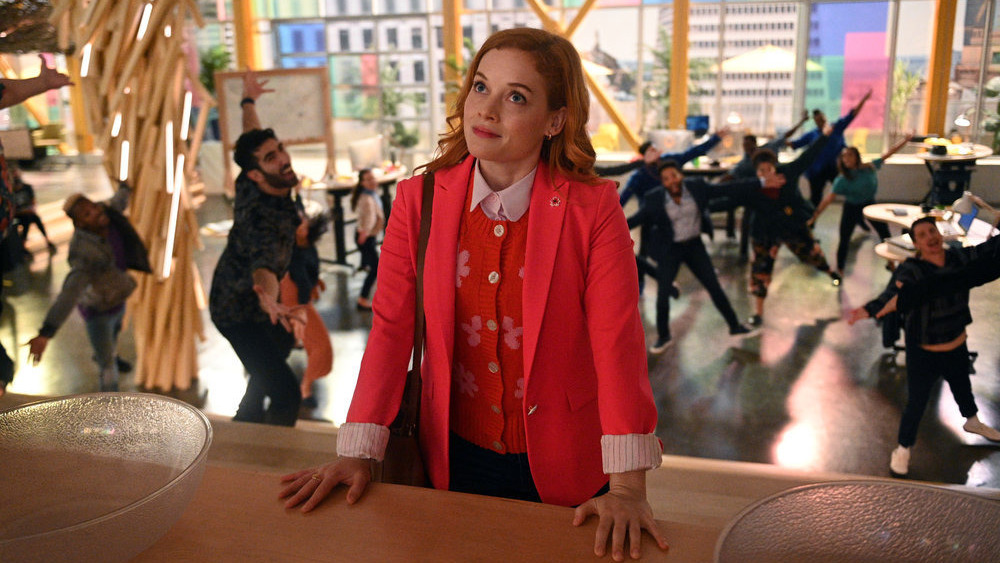 Sergei Bachlakov/NBC/Lionsgate
While Jane Levy didn't have any experience as a musical theater performer prior to being cast in Zoey's Extraordinary Playlist, starring in the show has led her to become a huge fan of that particular form of entertainment. "Well, I will say that I did musicals as a kid, but I don't know anything about musical theater," she said in an interview with Deadline. "I'm working with a cast of real heavy hitters and I am the numb nuts at the center of it all who's like, 'What? Who? Why?'"
Levy admitted that she finds the most difficult aspect of her role on the show to be the singing, which she does in a recording studio, lip-syncing along to her pre-recorded tracks when shooting the musical scenes. "Don't get me wrong, I do enjoy singing. But after doing the show, I realized, 'Wow, that is something that's very hard,'" she said. In fact, she'd come to realize that in order to sing well, "you have to be relaxed ... I am the opposite of relaxed."
The hilarious reason Jane Levy will never again go commando for an audition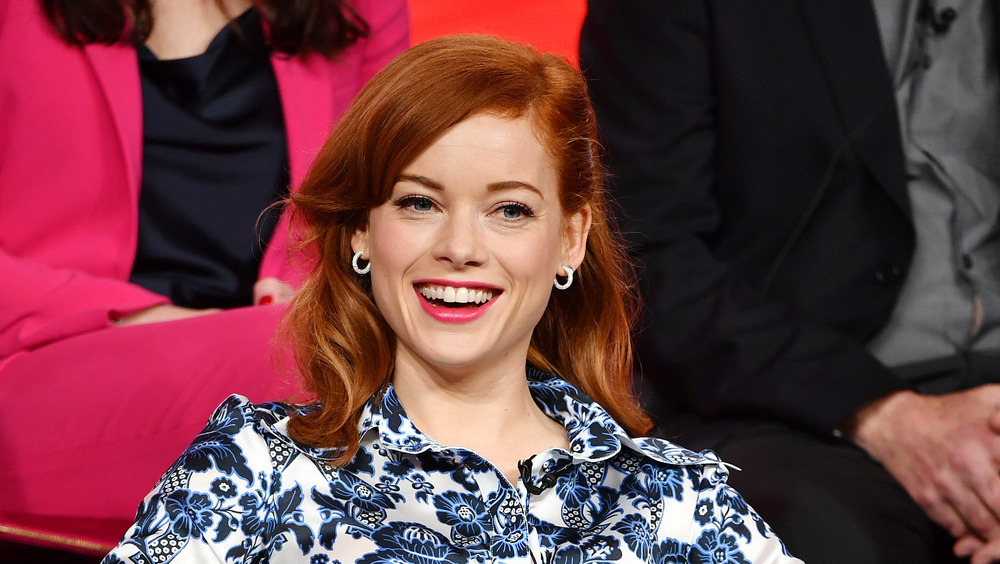 Amy Sussman/Getty Images
When actors audition for a role, the whole point is to reveal themselves to casting directors. As Jane Levy recalled to the Chicago Tribune, she once went a bit too far when inattentiveness to laundry left her without any clean undies.
"I went to my audition, it was for a dramatic TV show, and I was wearing these very cool vintage button-fly Levi's. And I did my audition (laughs) and I looked down and the button fly had completely opened. And I wasn't wearing underwear," she revealed.
Admitting she's not the type of person who's easily embarrassed, "it's hard to describe the sensation that went through my body. It was horror. It was as if somebody died, that's how awful it was." While she can't be certain that the casting directors saw what she thought they saw, she ultimately "didn't get the part, FYI." Describing the incident as "the most embarrassing thing that ever happened to me," Levy shared the big lesson she learned from the experience: "Always wear underwear."
Jane Levy once had a shrine dedicated to Jimmy Fallon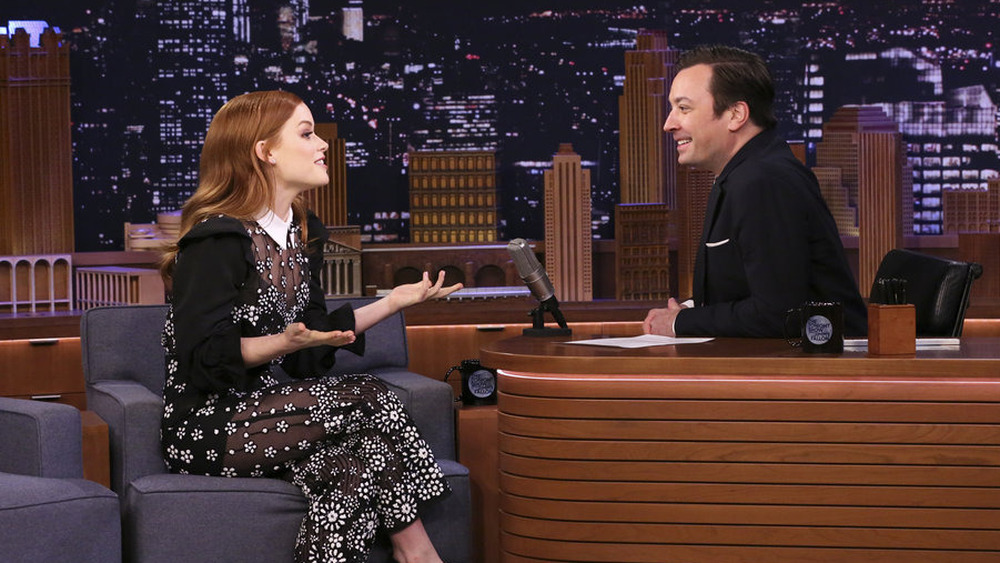 Andrew Lipovsky/NBC
In early 2020, Jane Levy appeared on The Tonight Show to promote the new season of Zoey's Extraordinary Playlist. She started off the interview with a somewhat embarrassing confession to host Jimmy Fallon. "When I was in seventh grade, my friends and I had a shrine of you," she told Fallon, who responded by thanking her and chuckling awkwardly.
She clarified that "when I say shrine, it was a photograph. And a signature. An autograph." The autographed photo, she explained further, came from a boy who had a crush on one of her friends, and bought the signed pic for her on eBay. "And we just adored you and we tried to imitate your sketches ... on our Razor scooters with braces," she added. "Which is kind of like your aesthetic, no?"
Fallon segued by abruptly shifting the conversation to Levy's penchant for tweeting things he described as "just odd." He bolstered his claim by citing such Levy tweets as "Silence of the Lambs is my comfort movie," and "Where can I get the backpack I deserve?" Quipped Fallon of the latter, "I think that should be a t-shirt, by the way."
Jane Levy's short-lived marriage ended in just seven months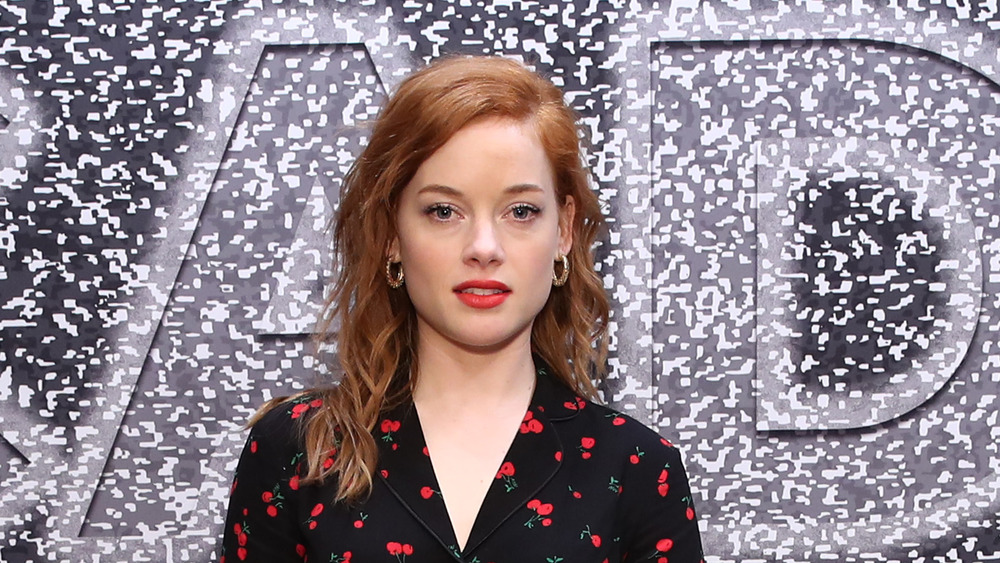 Cindy Ord/Getty Images
One surprising fact that Jane Levy's fans probably don't realize is that she was once married — for just seven months. Back in 2013, TMZ reported that she wed Portuguese actor Jaime Freitas in March 2011. The newlyweds reportedly separated that October and finalized their divorce in April of 2013, citing the always popular "irreconcilable differences" as the reason for the breakup.
According to TMZ, the split was "amicable," with Levy's divorce filing indicating that she wasn't intending to pay her ex any spousal support. As TMZ correctly pointed out, Levy had kept her marriage such a secret that "there's virtually nothing out there about the couple." 
Levy has continued to be tight-lipped about her brief marriage; not only is there no information available as to how, when and where they met, there are no publicly available photos of the two together. However, the Daily Mail reported that the two appeared together in an avant-garde four-minute film for Genero TV, titled I Know. Produced in 2010, the film was apparently an entry in a contest for aspiring filmmakers launched by acclaimed director David Lynch.
The surprising performance Jane Levy thinks every actor should study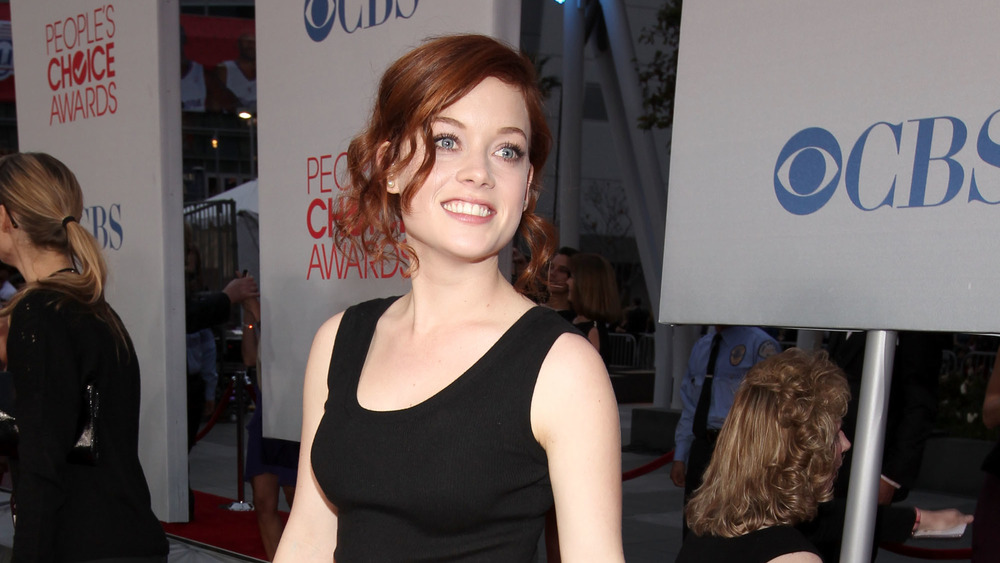 Christopher Polk/Getty Images
It's no secret that actors often draw inspiration from the performances of other actors, but Jane Levy believes the most important lesson any actor can learn can be found within an iconic TV sitcom. Asked by Backstage to single out a performance that "every actor should see," she zeroed in on I Love Lucy, describing the 1950s TV hit as "such an important part of our cinematic history."
The performance of I Love Lucy star Lucille Ball was Levy's blueprint when stepping into the title role of Zoey's Extraordinary Playlist, as she cites Ball's "farcical comedy" as being particularly influential. "I think that she is so clever and so ... I don't know how to explain it; there's an earnestness and also a strategic element to her acting that is just so f**king good," Levy said of Ball.
In addition to Ball's onscreen abilities, Levy admitted she was also "really impressed and inspired by" Ball's business acumen. As Business Insider reminded, Ball was head of Desilu Studios (which she owned outright after her divorce from husband/I Love Lucy co-star Desi Arnaz), making her "one of the most powerful women in Hollywood at the time."
Why filming Zoey's Extraordinary Playlist can feel like a bizarre alternate reality for Jane Levy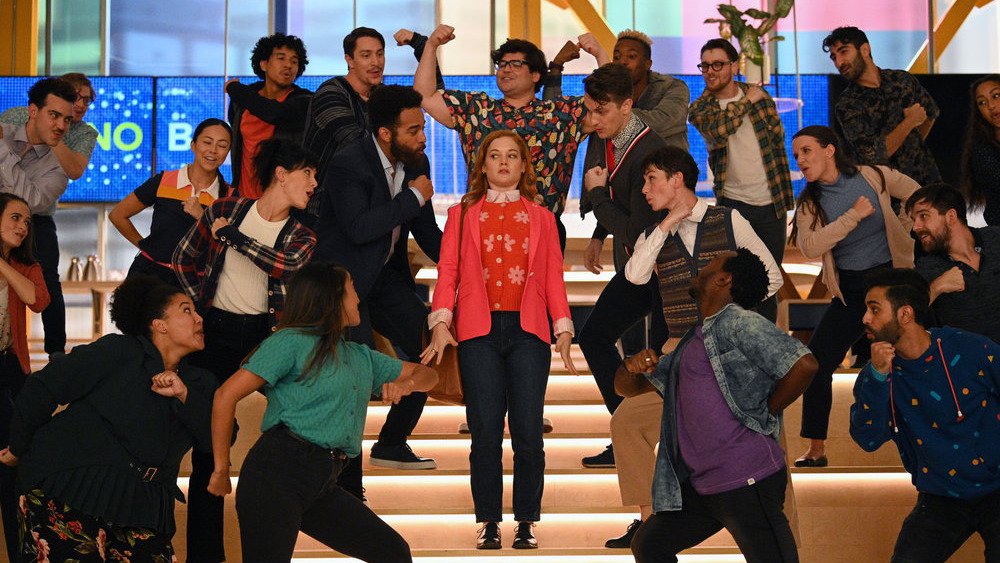 Sergei Bachlakov/NBC/Lionsgate
Throughout 2020, Zoey's Extraordinary Playlist offered escapist entertainment in the midst of a worldwide pandemic in which wearing masks in public and social distancing became the new normal. 
Given that the show is set within a world where there's no pandemic, Jane Levy told Gotham about what it had been like to return to the set after the pandemic halted production, with filming now requiring an array of new safety protocols. "It feels somehow extremely normal and familiar, and at the same time very foreign and surreal," she explained.
Oddly enough, she divulged, playing a character within a pandemic-free world allows her to experience a sense of normalcy — but only when the cameras are rolling. "When we are shooting, I am no longer existing in a pandemic, so I'm sort of shot back into this different reality. Off set I'm back," she added. "At home watching TV, when I see characters hug each other, I'm like, 'Oh no! You're not supposed to do that!' I'm not doing that in real life, but in fake life ... yeah, it's bizarre."
The game-changing advice Jane Levy received from co-star Lauren Graham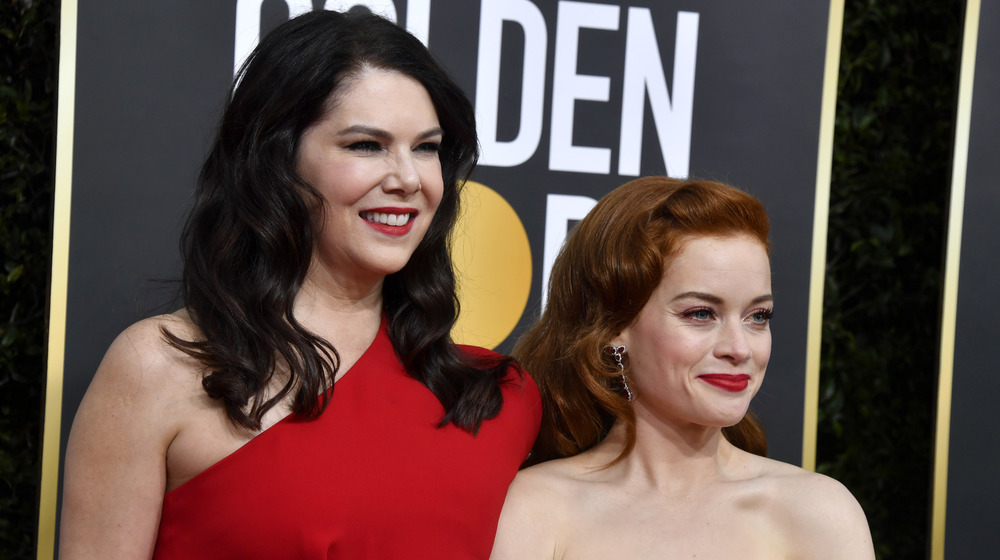 Frazer Harrison/Getty Images
Before becoming her co-star on Zoey's Extraordinary Playlist, Jane Levy and Gilmore Girls star Lauren Graham were already friends (Graham worked alongside Levy's best friend, Mae Whitman, on NBC drama Parenthood). Given that Levy had never been the lead in a TV series, she told CinemaBlend that Graham became her "spirit guide" when it came to helping her navigate the experience of headlining her own TV series for the first time.
"Because of her success in Gilmore Girls, she told me that leading a one-hour drama is a really hard job for an actor; just timewise on set, and stamina," Levy explained. "And so, she would say to me often, 'Really enjoy this, because it doesn't come up often.'"
Speaking with The Hollywood Reporter, Graham shared some of the wisdom she gave Levy. "A lot of aspects of this show reminded me of early Gilmore Girls, where I had never had so much responsibility and I had never done something that required so much stamina and time," said Graham, who advised Levy to conserve her energy and pace herself. "It was nice to be there for my friend," Graham mused.