The Truth About Bernie Sanders' Inauguration Mittens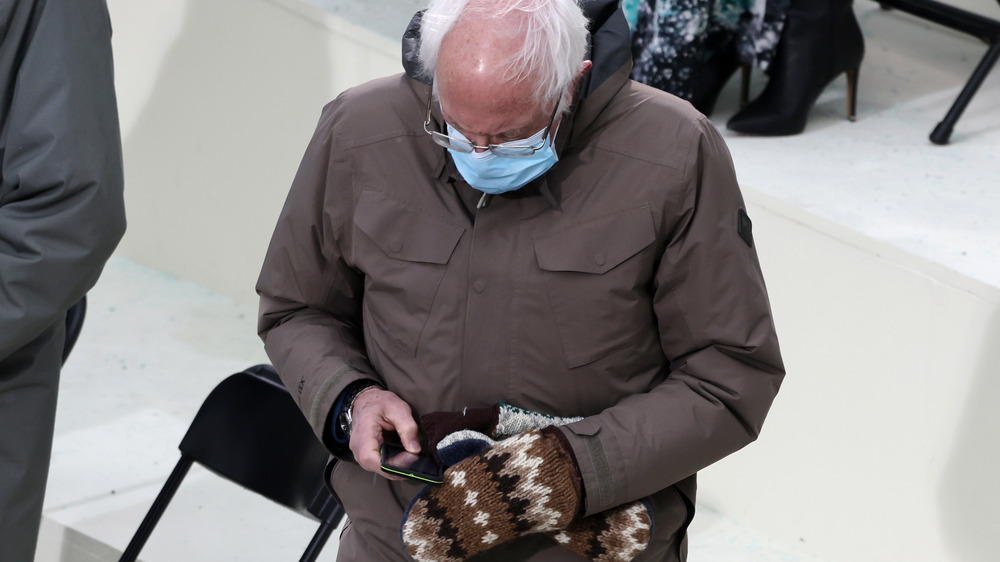 Tasos Katopodis/Getty Images
This morning, New York Magazine's culture site Vulture tweeted a picture of Senator Bernie Sanders, wearing thick mittens and sitting apart from all other inauguration attendees. The caption read, "The pose. The mittens. The social distance," the post quickly garnered over 15,000 retweets and 70,000 likes. News magazine The Week calls the look "grumpy chic," Buzzfeed News calls it "extremely practical," and Marie Claire describes the photo as an example of Sanders's "air of no-nonsense grumpiness and a general vibe of being immediately over whatever is happening if it doesn't directly pertain to his legislative goals."
Twitter users quickly meme'd the photo, captioning it with the vibes that the image gave them (via Mashable). Twitter comedian Doth wrote, "We are all Bernie Sanders today." Writer John Paul Brammer captioned it, "Tired of being caught in the tangle of my government." Journalist Dave Itzkoff joked, "Out on the town having the time of my life with a bunch of friends."
There's more to Bernie Sanders' mittens than meets the eye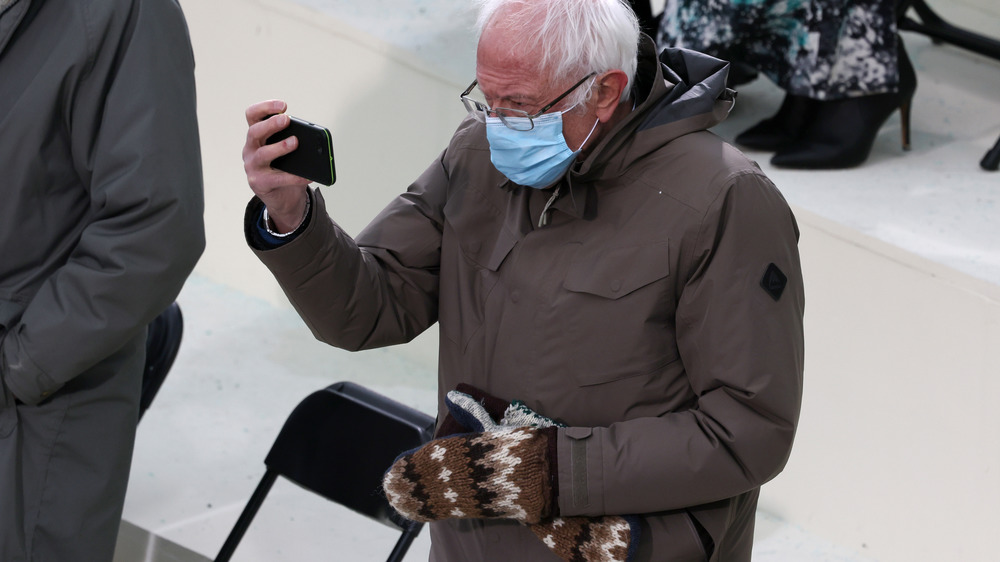 Tasos Katopodis/Getty Images
Turns out that there's more to Senator Sanders' mittens than just grumpy chic-ness and extreme practicality. Buzzfeed News reporter Ruby Cramer replied to the viral photo, saying, "Bernie's mittens are made by Jen Ellis, a teacher from Essex Junction, Vt. She gave them to him 2+ years ago and was surprised when he began wearing them on the campaign trail." In that way, these mittens are a symbol of Sanders' Vermont pride and his connection to his supporters. 
In fact, one year ago today, Ellis herself tweeted, "I made Bernie's mittens as a gift a couple years ago. They are made from repurposed wool sweaters and lined with fleece (made from recycled plastic bottles). #BerniesMittens" She later added that, if you want your own pair of Bernie Sanders mittens, she'll take special orders via email at jsellis21@gmail.com. Alternatively, she tweeted, you can also order from her mitten-designing business partner at lacool802@aol.com.