The Real Reason These Inaugural Attendee's Shoes Have The Internet Talking
Yes, watching Joe Biden get sworn in as the president of the United States and Kamala Harris as the vice president was great, but who all saw those Dior 1 sneakers?
They were seen in the background of photographs from today's inauguration ceremony, and social media immediately went on a hunt to find out who was wearing them.
The answer is Nikolas Ajagu, who is with Meena Harris, the new VP's niece! As reported by the Houston Chronicle, Ajagu was seen taking a photo with Amara and Leela, his and Meena's daughters, and when asked if Ajagu was indeed wearing the Dior 1s, Meena replied on Twitter, "Yes, smh".
The Air Jordan, called the Rosetta Stone of sneaker history by The Guardian, became a true sensation, as it combined Nike's Air sole technology with the influence of basketball superstar Michael Jordan. The Air Dior is still a sporty shoe but with a designer look. It features a Wolf Grey color from Christian Dior and mixes the iconic Nike swoosh with Dior's recognizable logo.
These sneakers from Dior are like no others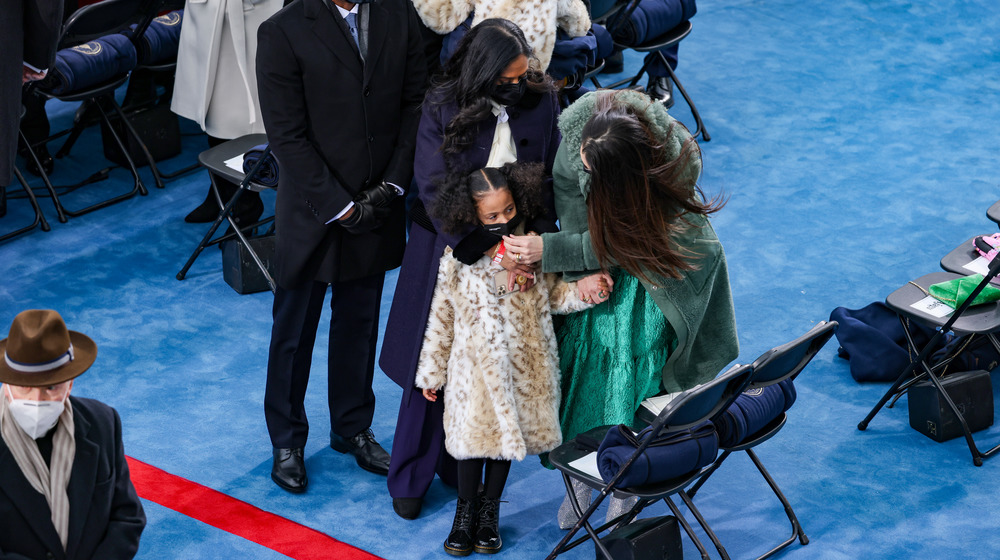 Tasos Katopodis/Getty Images
As stated on Dior's website, the limited-edition Air Jordan 1 High OG Dior sneaker "balances timeless silhouettes" and "brings new life to a classic sport style."
The artistic director of Dior men's collections, Kim Jones, said that she loves mixing different worlds and different ideas. "Jordan Brand and Dior are both emblematic of absolute excellence in their fields. To bring them together in this special collaboration is to propose something exciting and truly new."
Furthermore, only 13,000 pairs were made, and WWD reported that five million people signed up, in hopes of getting their own. First, 5,000 pairs were made available to Dior's top clients, and then on June 25, 2020, the public got their chance, on a first-come, first-served basis, to buy the sneakers at $2,000 for the low-top version and $2,200 for high-tops.
So, as evident by today's inaugural event, Nikolas Ajagu is one lucky and stylish person!