Trump's Parting Letter To Biden On Inauguration Day Is Turning Heads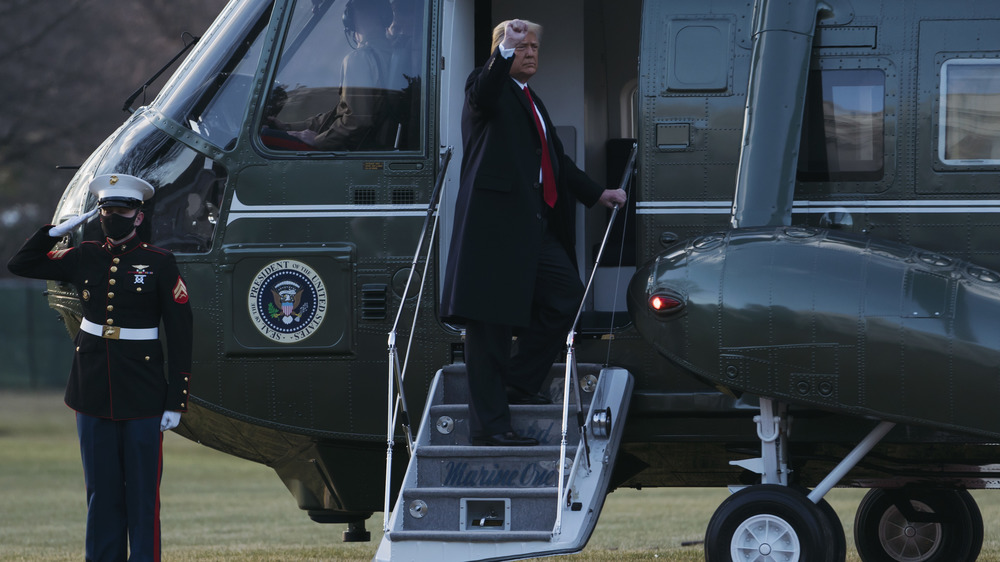 Eric Thayer/Getty Images
To the very end, and until Air Force One took former President Donald Trump out of Joint Base Andrews and to Florida and Mar-a-Lago, Trump refused to concede, and he refused to refer to President Joe Biden by name. But as he stood before his family and supporters before his departure, Trump graciously attempted to give a shoutout to the incoming administration, saying, "I wish the new administration great luck and great success. I think they'll have great success, they have the foundation to do something really spectacular" (via Newsweek). There was even talk that, of the many Inauguration Day traditions that Trump chose to break or disregard — that he would keep one: a letter to his successor offering both congratulations and support. It turns out, that the letter had been written, and that it had been left for the incoming president to find.
The letter's existence was confirmed even before Inauguration Day ceremonies began, by a confirmation from then White House spokesman Judd Deere. But the contents of the note were not made public, because as Deere pointed out: "It's a letter between 45 and 46" (via USA Today).
Biden said Trump's letter was private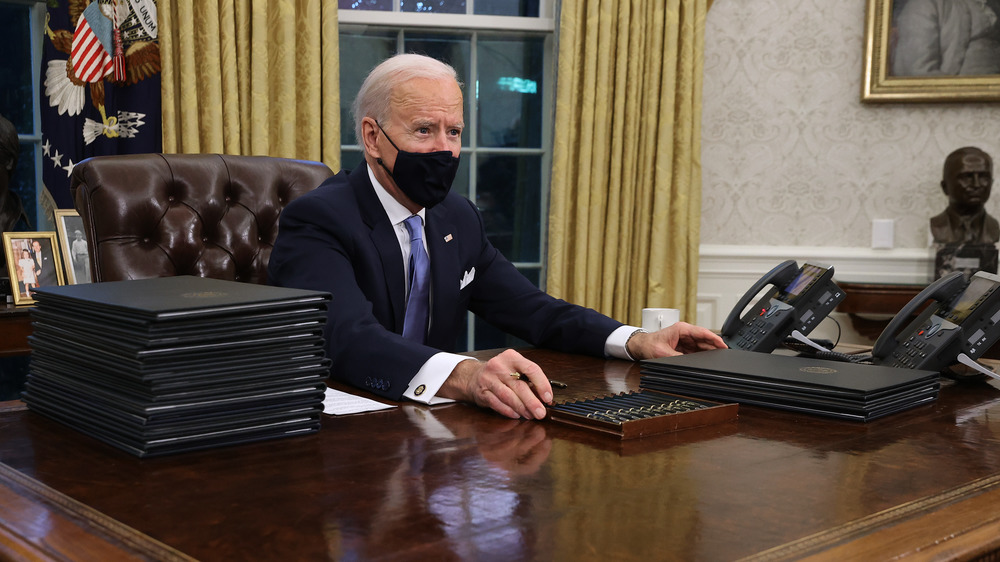 Chip Somodevilla/Getty Images
If we were placing bets on President Joe Biden revealing the contents of the letter, we would have lost big because, as he told reporters on his first day at work,"The President wrote a very generous letter. Because it was private, I will not talk about it until I talk to him, but it was generous" (via CNN). A Trump aide later told CNN that the letter was a "personal note" that invoked a prayer for the country's success, and Trump's wish that the incoming Biden government would care for the country. The aide also said that the letter was one of the items on a to-do list of tasks for Trump to carry out before he left the White House.
As it turns out, the letter may prove to be one of the least controversial acts Trump embarked on before his term ended. After midnight, the outgoing president issued 73 pardons that covered politicians who had been indicted for corruption, the rapper Lil Wayne who was found guilty of gun possession in Miami, and Steve Bannon his controversial former aide who was charged with defrauding donors (via CNN). Trump also issued 70 commutations, which substitutes a serious crime for a less serious one (via WXYZ).