The Shocking Number Of Inauguration Day Traditions Trump Is Breaking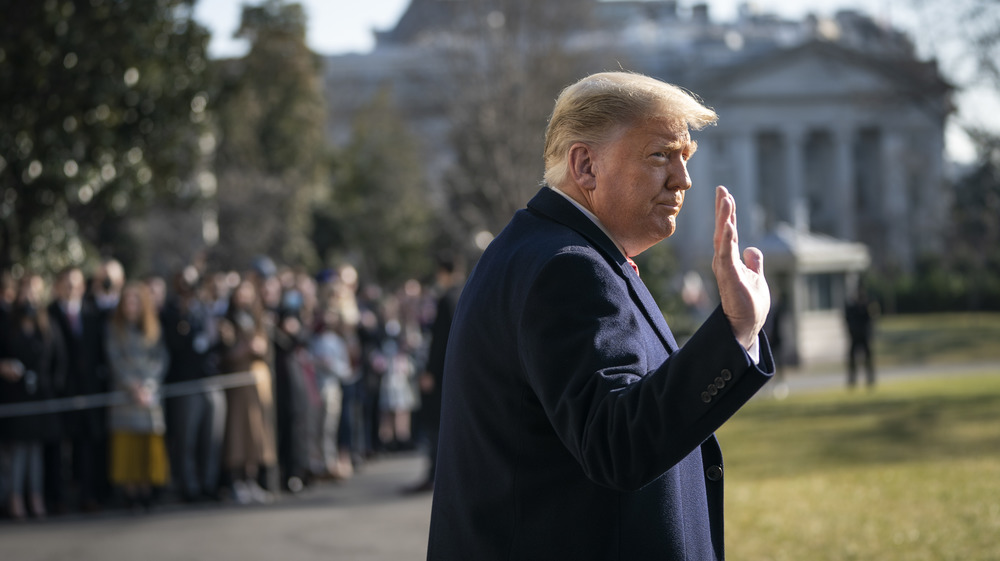 Drew Angerer/Getty Images
For more than 200 years, American presidents have been sworn into office in a formal ceremony. (Fun fact, per the Library of Congress: presidential inaugurations used to take place on March 4. In 1933, the 20th Amendment shifted that date to Jan. 20, making Franklin Roosevelt the first to take his oath on that date for his second term in 1937.) The momentous day is watched by millions worldwide, with hype aplenty about everything from the famous inaugural guest speakers to the new first lady's choice of gown for the evening ball. While the actual oath of office takes just a couple of minutes, the day is filled with a number of time-honored events that either mark the transfer of power between the presidents, or celebrate the re-election of the incumbent. 
Inauguration Day 2021, however, will be different from most. Because of health and security concerns in light of the coronavirus pandemic and the violence at the Capitol, many of the scheduled speakers and entertainers will be performing remotely (per USA Today). Even more significantly, outgoing president Donald Trump will be leaving the White House early that morning (via US News & World Report), skipping out on a number of rituals in which his predecessors have taken part. Here's what won't happen.
President Trump will skip the traditional greeting and limo ride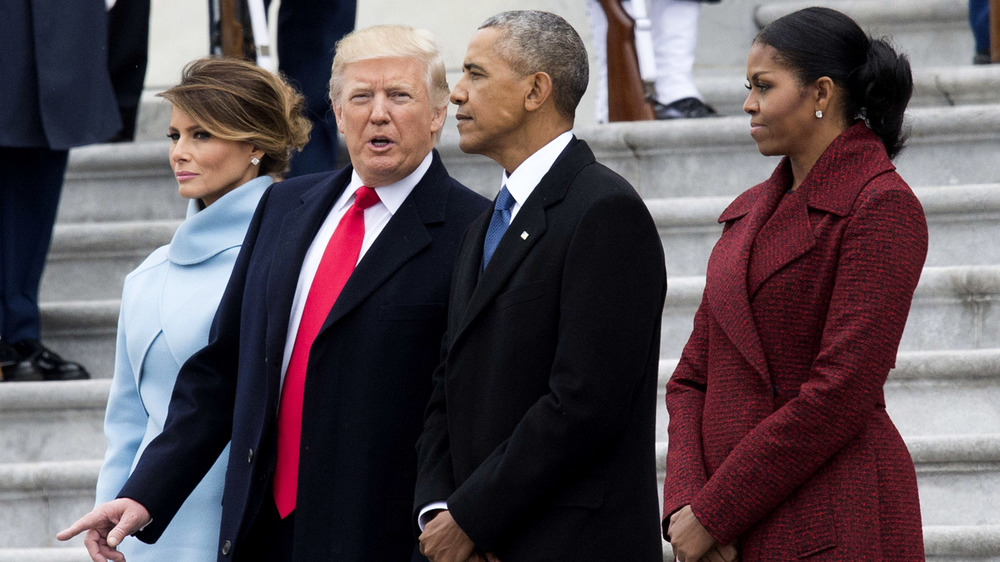 Pool/Getty Images
Despite their political and ideological differences, departing and incoming presidents have graciously participated in ceremonies that represent a peaceful transition and the continuation of the office of commander-in-chief. As detailed by The Mercury News, it's traditional for the two families to meet at the White House and take a tour of the presidential quarters on Inauguration Day. Since Trump and First Lady Melania will be jetting off to their Mar-a-Lago property first thing in the morning, the White House chief usher will have the awkward duty of greeting the Bidens instead. 
Trump will also be blowing off a protocol that dates back to 1837 (per the Senate inaugural website): According to ABC News, the President-elect and outgoing president ride together to the Capitol building for the swearing-in ceremony, which will clearly not happen this year. However, Vice President Mike Pence is expected to attend the inaugural ceremony (per NBC), so it's a pretty safe guess that he will be joining the motorcade to the swearing-in.
Following the oath of office, the outgoing president and first lady are typically expected to depart from the Capitol with a military tribute. But, according to Defense One, "The Pentagon, in a break with recent tradition, will not host an Armed Forces Farewell tribute to President Donald Trump" (who was reported by ABC News to want a send-off that included a 21-gun salute and an Air Force One fly-by).
Donald Trump may opt out of writing a traditional note
Alex Wong/Getty Images
Just before leaving office, Ronald Reagan left a little surprise for his successor, George H.W. Bush: a handwritten note on whimsical "Don't Let the Turkeys Get You Down" stationery. He joked that Bush might want to use the paper himself, then went on to offer prayers and say, "I'll miss our Thursday lunches." As the Associated Press reports, this started a charming tradition that has lasted 32 years and five administrations. Even presidents from opposing parties have wished their successors well; Hillary Clinton recalled getting teary-eyed at Bush Sr.'s inspiring words to husband Bill: "Your success now is the country's success. And I am rooting hard for you."
Historians and other experts are now wondering whether the tradition will be cut short by President Trump. It seems hard to believe that he could find a supportive word for Joe Biden, given his refusal to concede the election results, Trump's role in inciting the riot on the Capitol, and his blunt statement that he would not be attending the inaugural. Still, Trump may yet decide to extend an olive branch by continuing the note-writing ritual.