What Happens When You Put Grapeseed Oil In Your Hair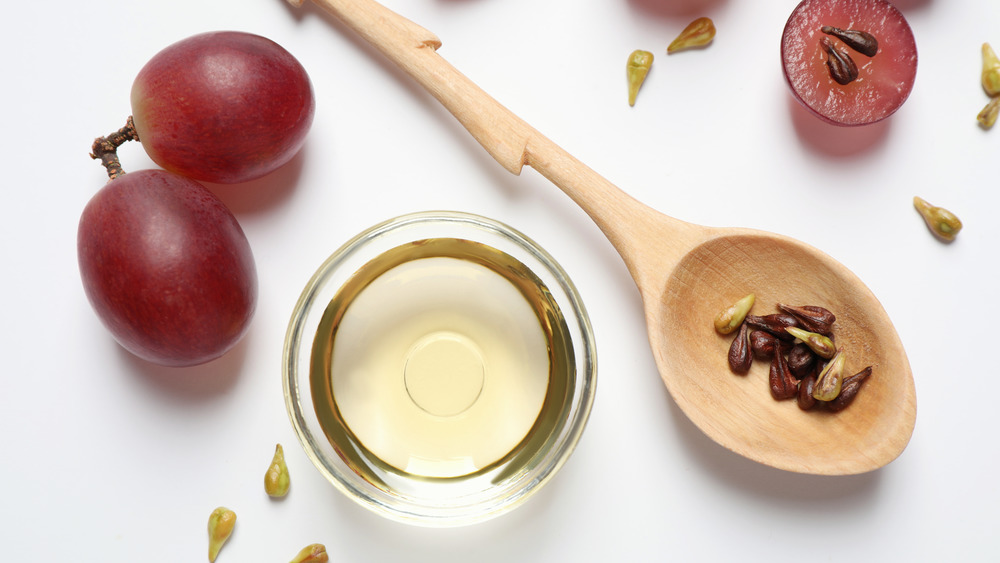 Shutterstock
Hair oils have been touted as the cure-all product for common issues like split ends and dryness, but not all of them are all of them created equal. From argan oil to almond oil, this substance seems to be the holy grail for people looking to make their strands look healthier. When it comes to grapeseed oil, however, it may be best used as a regenerative and preventative treatment. 
Most oils contain naturally hydrating properties, Healthline notes, so grapeseed does have smoothing qualities. A lightweight oil, grapeseed provides the moisture that many are looking for, while also ensuring that your hair doesn't get weighed down by the product. But, perhaps the most pervasive benefit to this type of oil comes from its linoleic acid content.
The outlet explains that this type of acid doesn't come naturally from the human body — thus, we need external sources to get it. Without enough of this acid, it can lead to dry hair and eventually hair loss. So, if you're struggling with keeping your hair in place and helping it feel healthy, grapeseed oil may be the product for you. Loaded with fatty acids and Vitamin E, this oil will have your strands shining in no time.
Grapeseed oil may spur hair growth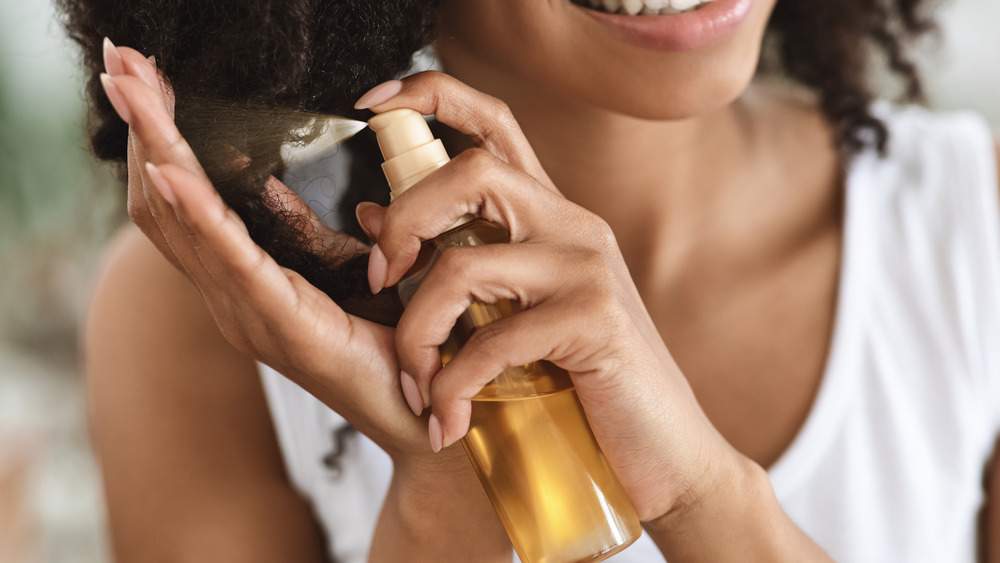 Shutterstock
In addition to providing much-needed moisture to your stands, grapeseed oil also may increase the rate at which your hair grows. Dr. Axe reports that the oil's anti-inflammatory and antioxidant properties may assist in protecting your hair's fibers, allowing them to grow long and strong. Furthermore, in addition to defending against various environmental stressors, grapeseed oil's Vitamin E content protects from UV rays that can damage your hair. With healthier strands, they can grow stronger from root to end. From nourishing to protecting, this oil can provide benefits the whole day.
If having a dry scalp is your main issue, the deeply hydrating properties can reduce issues with dandruff, Healthline explains. Plus, since it's rather lightweight, it won't leave your hair looking greasy or weighed down when used in moderation. Inflammation or infections are no match for this oil either, Dr. Axe attests; simply add to your routine when you're struggling with skin issues in this region.
According to Dr. Axe, if you're looking to hydrate your locks, rub the grapeseed oil into your scalp and wash out after 20 minutes. Fortifying, moisturizing and easy to use, grapeseed oil should have its own spot in your medicine cabinet if you're looking to grow a strong head of hair.