How Sesame Oil Could Help With Your Hair
Shutterstock
With so many oils available that all claim to do the same thing — moisturize and fortify — it's hard to know which is best for you. From argan, to avocado, to rosemary, various plants and foods have flooded the personal care aisle in the form of oils. But, another culinary flavor may be best for your hair and scalp. 
An ayurvedic staple, sesame is widely known as a warming, calming ingredient when used in foods or on the skin. With antibacterial, antifungal, and antioxidant properties, this seed provides tons of benefits when you use it topically, Kama Ayurveda notes. In fact, sesame oil is so prevalent in ayurvedic circles that it accounts for nearly 90 percent of treatments in this wellness tradition. 
Among sesame oil's many benefits is its ability to revitalize and nourish the scalp. The outlet even explains that many claim that sesame oil helps prevent gray hair, due to its darkening properties. Essentially, the compounds present in the oil are said to combat the build up of particles and free radicals that can contribute to hair going gray. Furthermore, the anti-inflammatory properties can help soothe dry patches on the scalp — making way for healthier strands, Healthline explains. 
Sesame oil can help repair hair damage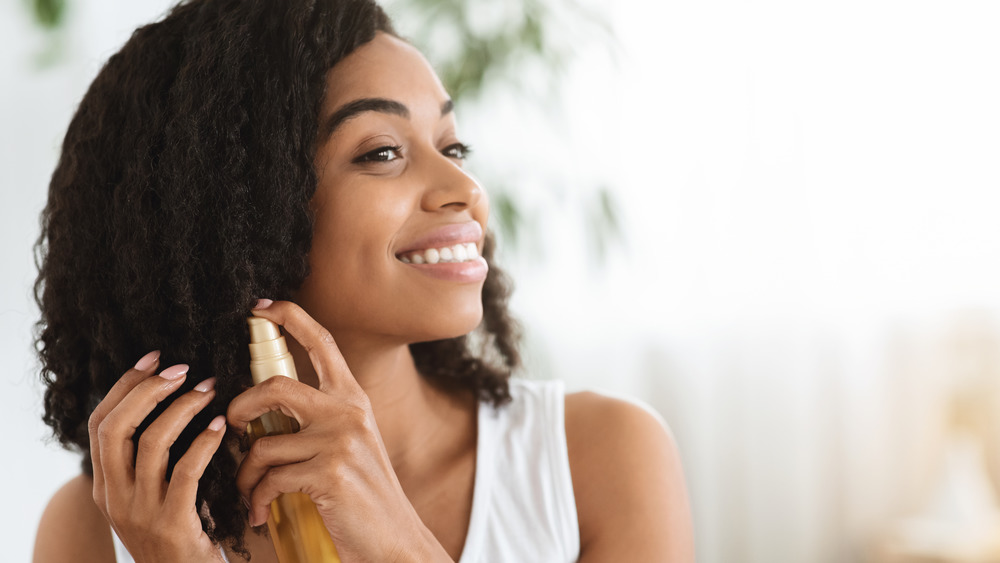 Shutterstock
Much like other common types of oil, sesame provides a swath of moisturizing benefits. Healthline reports that sesame oil works as an emollient, meaning that it can soften your hair and skin with ease. With high levels of fatty acids like linoleic, palmitic, and oleic acids, you'll likely be able to feel the hydration when you apply it to your strands for the first time. If your hair is thinning or falling out, adding this oil to your scalp can make a big difference as well.
Soothing and healing the skin on the scalp, sesame oil's anti-inflammatory properties may make way for healthier strands to break through the surface. Plus, it may help carry different compounds to the skin, helping to oxygenate the scalp and get the blood flowing. Working to soften and strengthen the cuticle, sesame oil also may help offset any damage that your hair has experienced, Healthline notes. Since it can fill in the gaps in the shaft, the oil helps to lock in moisture while protecting from environmental stressors.
Lastly, dandruff is no match for this ayurvedic powerhouse (via Kama Ayurveda). Fighting off infections and other irritants, sesame oil can soothe even the roughest of surfaces. Head to the store and see if a sesame oil treatment or product works for your hair!