The Touching Detail You Missed In Jill Biden's Celebrating America Look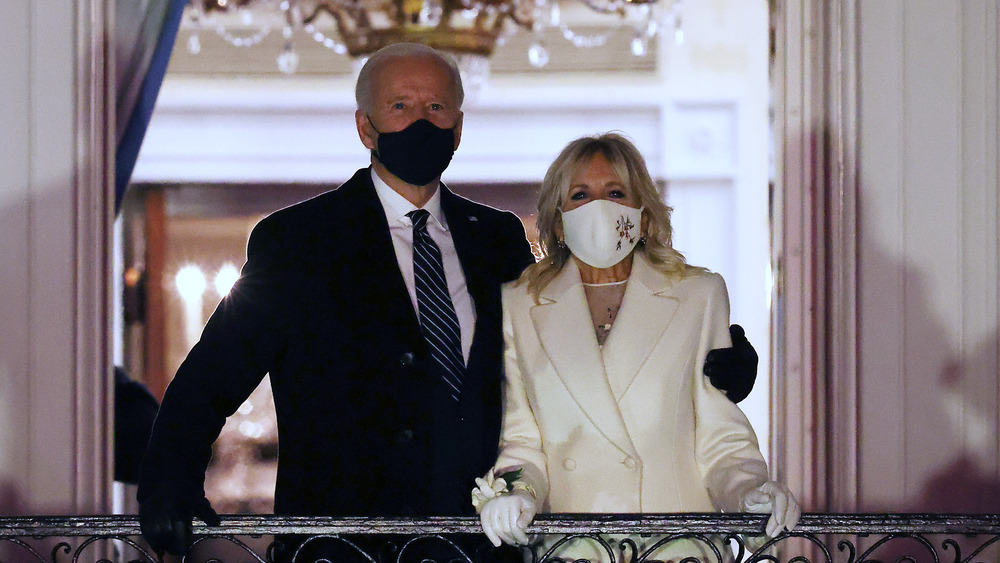 Chip Somodevilla/Getty Images
Dr. Jill Biden's style game at the inauguration and that evening's "Celebrating America" event was on point, but you may have missed one of the newest first lady's accessories for the evening's event. It was a white wrist corsage, the type of which is typically worn to formal events where dancing might be held, you know, like an inaugural ball. But this year's inaugural balls had to be canceled because of COVID (via Marie Claire).
While the white flowers blended in pretty well with the white gloves and her cream colored coat, not much gets by Twitter. One user wrote, "Dr. Biden with a corsage on her wrist made me cry. In different circumstances, she would have been dancing tonight. Still beautiful." One theorized it was a gift from the newly sworn-in president, tweeting, "The most touching part of the whole day might have been that Joe Biden gave Jill Biden a corsage for the evening, like the old school gesture he would have done if they'd have had the Inaugural Ball." And another considered a different source and hoped for more info, writing, "I want to know the story behind the wrist corsage adorning @DrBiden for tonight's #CelebrateAmerica event. Surprise from @JoeBiden? Or from their sweet granddaughters? Whatever the story, it's so refreshing to #feelthelove from our #FirstCouple."
Biden's not the first first lady to wear a corsage to an inauguration event. According to Vogue, Mamie Eisenhower and Betty Ford also wore corsages.
Jill Biden's outfit held even more subtle details
There were even more subtle details in Jill Biden's coat and dress. Gabriela Hearst, the designer, was going for a look to symbolize unity, and in an Instagram pic of the cashmere and silk organza outfit, she wrote in part, "Unity makes strength and it is needed for the road ahead. The blooming symbol to represent this message are the federal flowers from every state and territory of the United States of America. [...] The Delaware flower is positioned at the heart level of The First Lady, from there, all the other flowers branch out."
And apparently there's a special message just for Biden on the lining, Hearst wrote "Inside of the coat, representing the lifelong calling and service of Dr. Biden as an educator is a hand embroidery on the lining with a quote from Founding Father Benjamin Franklin 'Tell me and I forget. Teach me and I remember. Involve me and I learn.'"