Here's How The Trumps Looked As Soon As They Got To Florida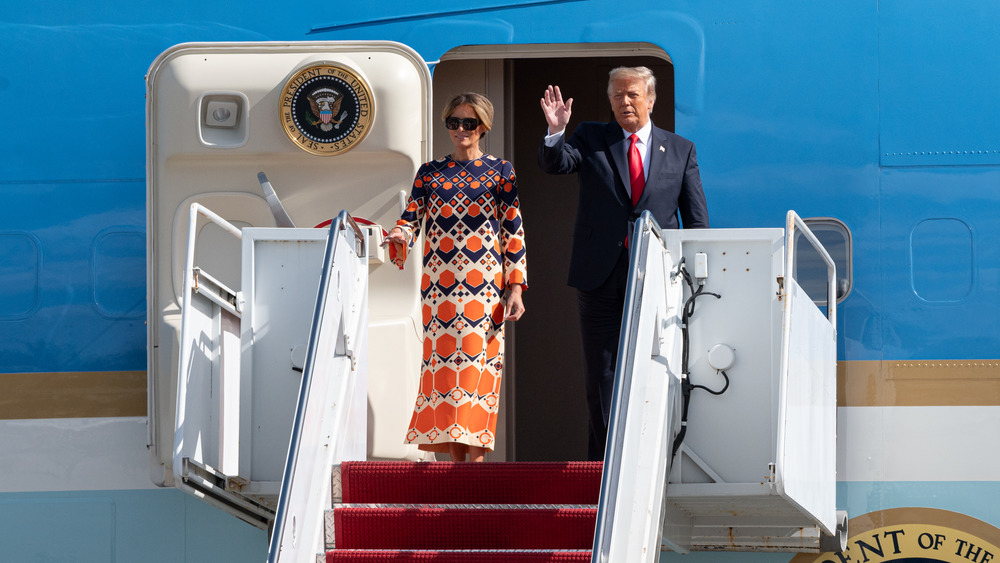 Noam Galai/Getty Images
His was an untraditional, unconventionally-timed Washington, D.C., exit that some said allowed Donald Trump to leave the White House and arrive at his Palm Beach, Florida, home as president. In that, he succeeded. The former president arrived in Florida just before 11 a.m., an hour before his successor President Joe Biden was sworn in at the Capitol in a star-studded inauguration (via NBC). 
By the time they stepped off the plane, the Trumps appeared ready for their new life, shedding their D.C. attire for a look befitting their new life in the Sunshine State. Former First Lady Melania Trump appeared in a Gucci caftan, which Good Morning America priced at an eyewatering $3,700. Gone were the sky-high, $795 Christian Louboutin pumps, swapped for a pair of dark blue Roger Vivier ballerina flats ($625). Also conspicuously absent: her black Hermès Birkin handbag (via Daily Mail). There was no outfit change for Donald Trump, as he appeared in what looked like the same suit with his signature red tie.
Melania Trump began the day wearing all black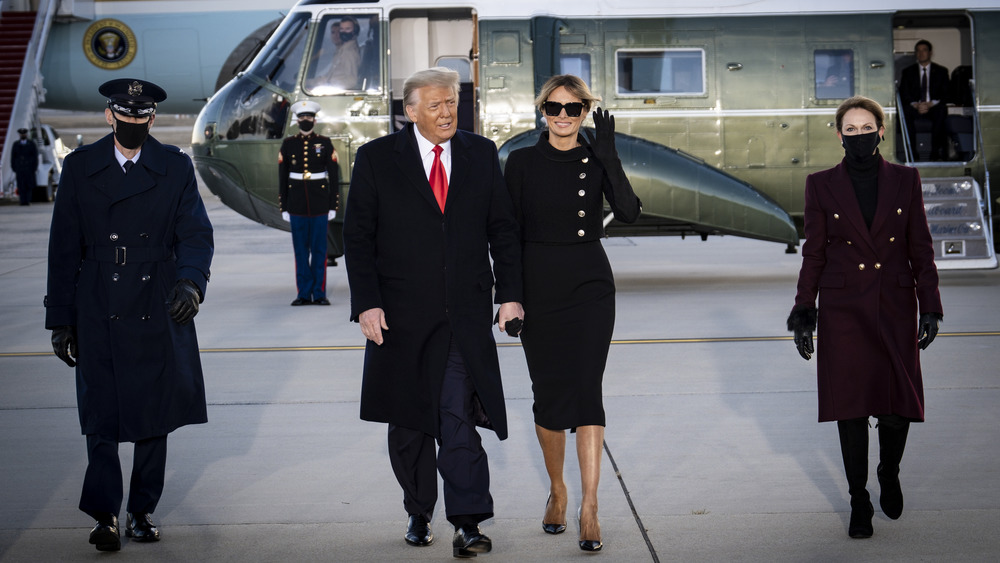 Pool/Getty Images
Melania Trump used the time it took for Air Force One to get from Maryland to Florida to execute her wardrobe change. She began the day wearing a somber, all-black outfit that was elegant and classy, but also managed to turn heads. The look caught the eye of one fashion critic at the New York Times, who took to Twitter to share her thoughts on the ensemble. Vanessa Friedman tweeted, "Fittingly, Melania Trump departs her role as first lady of the United States in all black and her favorite brands — not a single American name among them: Jacket by Chanel; dress by Dolce & Gabbana; shoes by Christian Louboutin." And while Friedman offered no public comment as to Melania's arrival outfit, we can surmise she would have probably responded in a similar fashion regarding the Italian Gucci caftan and the French Vivier flats Melania was sporting.
Perhaps unsurprisingly, by the time she got to Florida, Melania at least looked happier — waving to the crowds as she left Air Force One, with her life as first lady behind her.