The Truth About Melania Trump's Final Fashion Choice As First Lady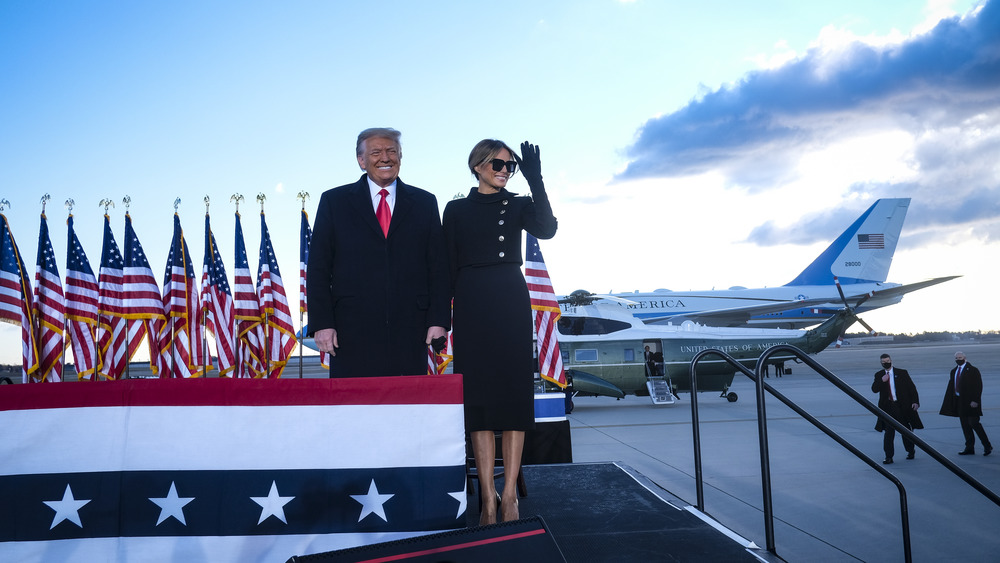 Pool/Getty Images
In her final moments as first lady, Melania Trump opted for an all-black look. According to the New York Post, it was made up of a Chanel jacket, a Dolce & Gabbana dress, Christian Louboutin heels, and a Hermès Birkin bag.
The color of black can represent power, and in Hello Magazine, Karen Haller, a color and design consultant, stated that it is a color that is "taken seriously," meaning it could be a good choice to wear, as Donald Trump steps down and Joe Biden assumes his role as president. However, the dark color is also associated with mourning, causing some to speculate that is exactly what Melania Trump is doing today.
It should be noted, as well, that neither Donald Trump nor Melania Trump were wearing masks when they were spotted at Joint Base Andrews for their farewell speeches, and they will not be attending the Inauguration Day ceremony.
Melania Trump has been known to make waves with her fashion choices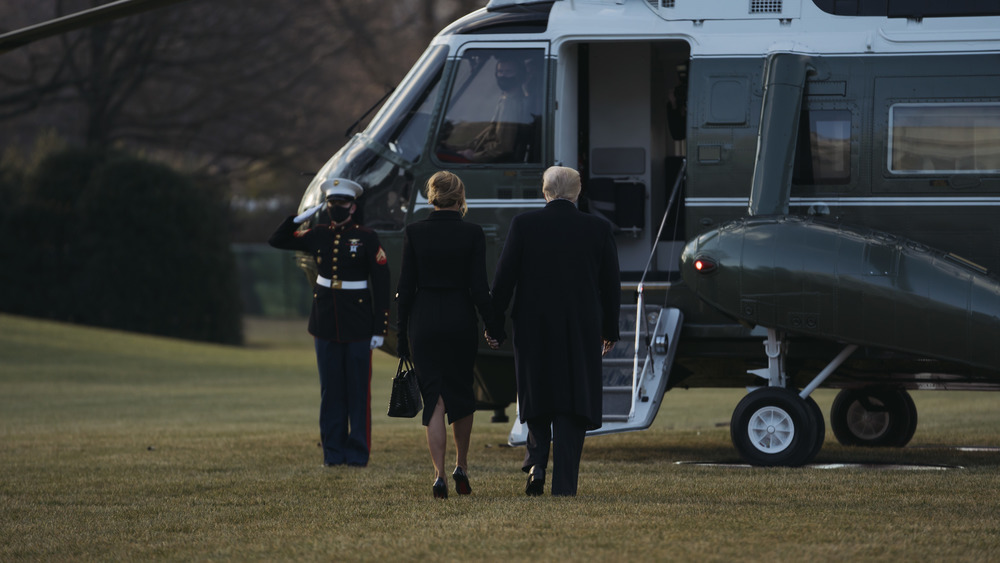 Eric Thayer/Getty Images
In the past, Melania Trump has made headlines, due to her controversial outfits that have ranged from not adhering to cultural dress codes and wearing an outfit that possibly made her look like a dictator to the price point associated with her garments. And of course, there was the "I don't care, do u?" jacket she wore while visiting border camps.
All the attention caused this outgoing first lady to say, as reported by The Independent, "I wish people would focus on what I do, not what I wear." So is Melania Trump making a sorrowful statement today in her head-to-toe black ensemble? Or did she simply want to look chic and classic?
Kate Bennett, who wrote Free, Melania: The Unauthorized Biography, shared her two cents on the former first lady's fashion choices: "Having covered her for as long as I have, each thing she does has meaning to it, even the clothing she wears" (via The New York Times).