Inside Zach Braff's Iconic Relationship With Donald Faison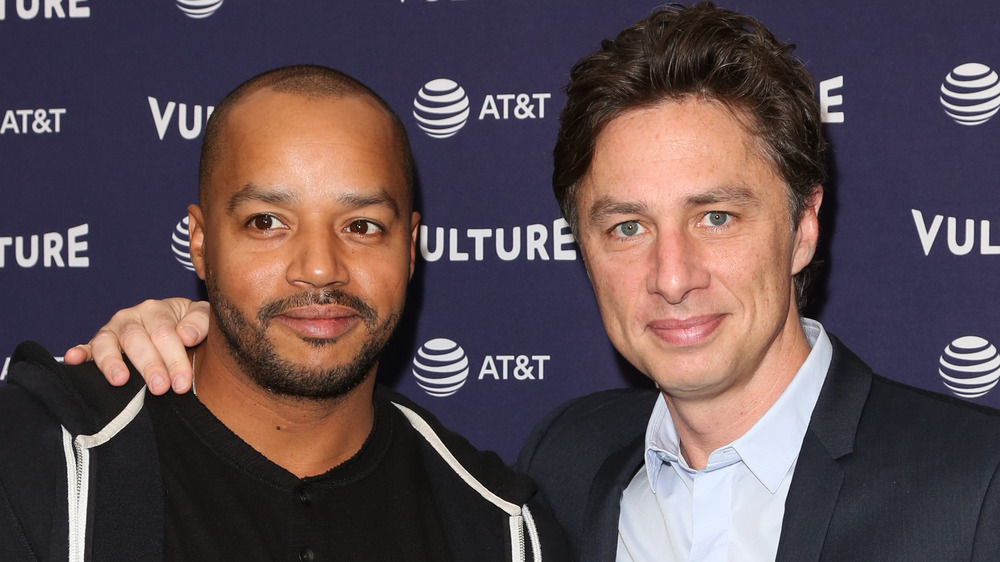 Paul Archuleta/Getty Images
Over the course of Scrubs' nine seasons, the friendship between J.D. and Turk blossomed into a full-on bromance. Their self-proclaimed "guy love" was one of the main reasons the series did so well, and it's got everything to with the chemistry between Zach Braff and Donald Faison, the actors who portrayed them.
They may have started off as acquaintances both on-screen and IRL, but they quickly became best friends, according to the U.K.'s GQ . In a recent interview about their Scrubs rewatch podcast Fake Doctors, Real Friends, Faison explained how he knew it was BFF love-at-first sight after the first season wrapped. "We rented an apartment in New York together and every night we played ping pong in our underwear," he said. As you do.
For Braff, that premonition came much, much earlier. "I knew at first sight," he added. "I was so nervous for the table read [for the first episode], and I knew who Donald was as an actor, and he turned around and gave me the warmest smile and a big hug and then of course we were shooting the pilot and I could feel that we had really good timing together."
Zach Braff & Donald Faison's dynamic changed the way Scrubs was written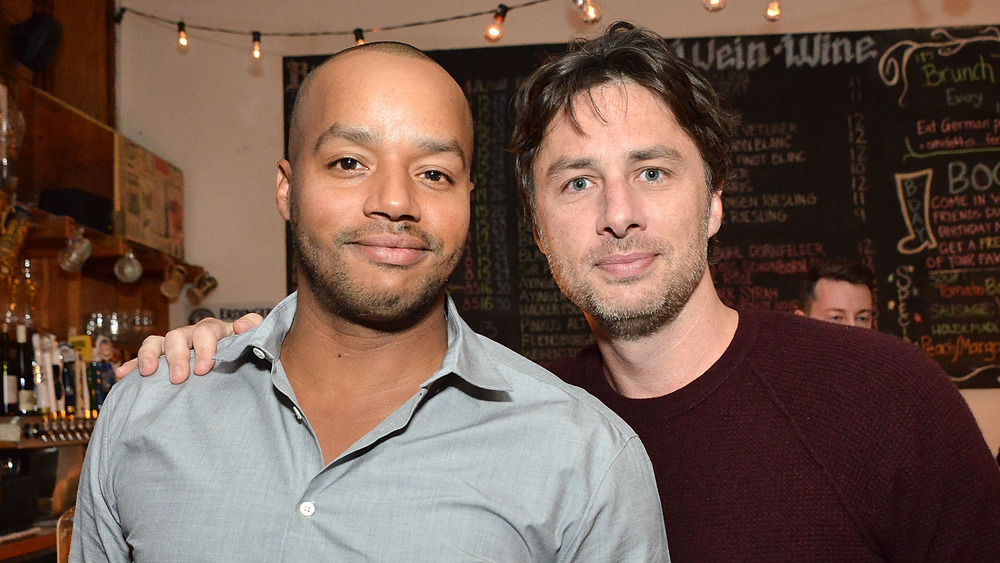 Araya Doheny/Getty Images
And that chemistry influenced the way their characters were written throughout the rest of the series. "The pilot wasn't setting out to be a treatise on masculinity," Braff told British fashion journal Mr. Porter. "But the show became that because Don and I are really like that — we are, I guess, what was traditionally considered feminine in a lot of ways. The show began to question that."
While there aren't new bromance adventures between Turk and J.D. to enjoy, Faison and Braff regularly post pics of their "guy love" on social media. Even though they can't exactly meet up due to coronavirus restrictions, both actors have found inventive ways to express their friendship. Whether that's through pics of crocheted dolls of their characters, merch for their podcast, or just the classic (and adorable) throwback. "This pic is from years ago when it was safe to cuddle," Braff captioned one post (via Instagram). Let's hope they can get back to cuddling each other again sometime soon.