What Kamala Harris Did On Her First Day As VP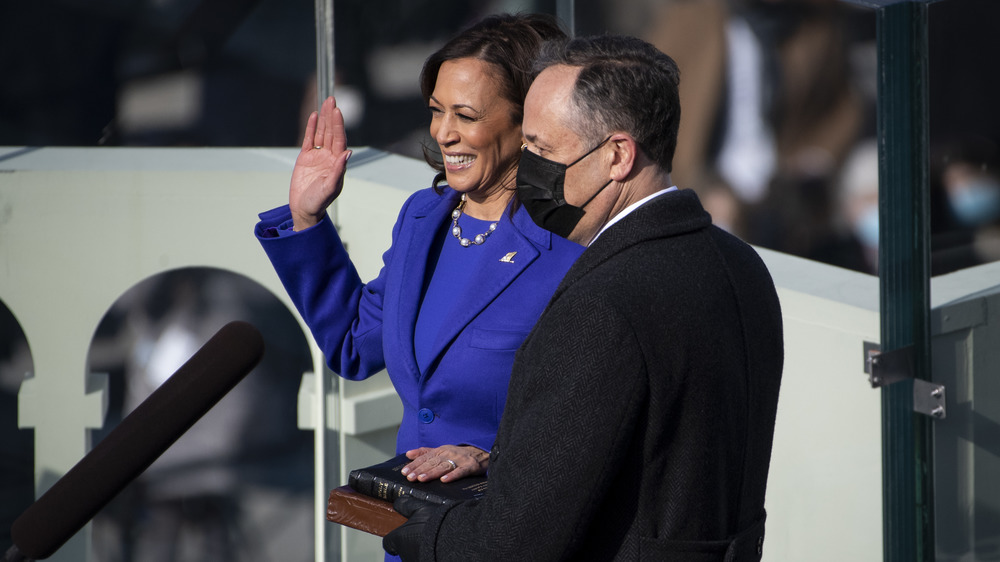 Pool/Getty Images
"I'm just walking to work," Kamala Harris told reporters on January 20 as she walked along the street (per the Daily Mail). This, of course, was a bit of an understatement: Harris had just been sworn in as the first woman vice president of the U.S. — not to mention the first Black and South Asian VP. And the street she was strolling was Pennsylvania Avenue, on her way to her new office where she would tender her own resignation before swearing in three new senators. Although the traditional congressional luncheon was canceled in light of the coronavirus pandemic, as was the inaugural ball, Harris and President Biden happily received meaningful gifts from Congress after taking their oaths of office (via The Denver Channel), and then participated that evening in the Celebrating America televised event.
Then on Thursday, it was time to get down to business — and the events of the day indicate that the new president and vice president are determined to make some significant changes to national policy.
Kamala Harris' day began with prayers and continued with Dr. Fauci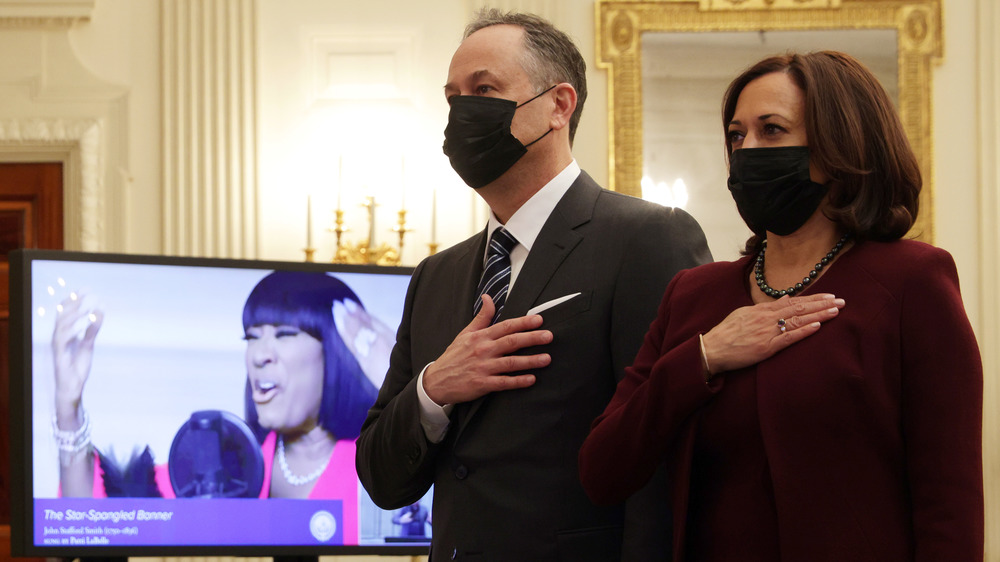 Alex Wong/Getty Images
As reported by People, the morning of the 21st began with the new vice president and Second Gentleman Doug Emhoff joining the president and Dr. Jill Biden in the State Dining Room of the White House to participate in a virtual prayer service livestreamed from the Washington National Cathedral. From there, the president and Harris launched right in to work reversing some of the policies established by now-former President Trump.
Back in July, the administration announced the U.S.'s withdrawal from the World Health Organization in a dispute over the handling of the COVID-19 pandemic. At the time, Biden made the campaign promise that the country would rejoin the organization "on [his] first day" (via CNN). He wasted no time in making good on that promise, and Kamala Harris later tweeted, "Today, I spoke by phone with @WHO Director-General Dr. Tedros Adhanom Ghebreyesus. We discussed how the United States will work as a constructive partner to strengthen and reform the WHO—which will be a vital step to controlling COVID-19." 
Then Washington's hottest new power couple continued to address their top-priority issue in a coronavirus press briefing. Among the speakers was Dr. Anthony Fauci, who freely admitted that it was "something of a liberating feeling" being able to freely discuss the science behind the virus (via Click on Detroit).
Harris ended her day with a post to her Instagram feed showing her giving a happy fist-bump to the president. The caption read: "Let's get to work. Follow @VP for updates from the @WhiteHouse as we confront the crises facing our nation and bring the American people back together."