Bernie Sanders Has Some Thoughts About His Mittens Going Viral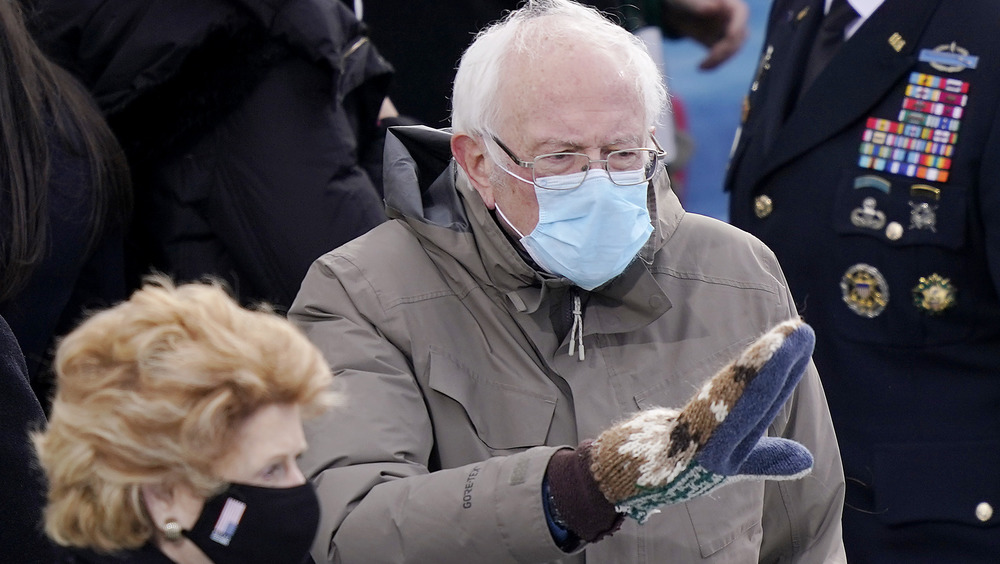 Drew Angerer/Getty Images
President Joe Biden's Inauguration Day was the windiest since Ronald Reagan's in 1985, per The Washington Post, and it saw a slew of snow flurries. So it's really no wonder that Senator Bernie Sanders broke out his best coat and mittens. In the hours following his arrival at the event, Sanders' outfit went viral online (there's even a bobblehead of it) and after a couple of days of reposting fun, he's given his two-cents on the trend.
"It makes people aware that we make good mittens in Vermont," he told NBC News correspondent Garrett Haake, per Entertainment Tonight. He added: "We have some good coats, as well." According to ET, he wore a Burton down jacket, and the #BerniesMittens were handmade by Jen Ellis, a local Vermont teacher.
Being from New England, Sanders doesn't mess around when it comes to preparing for brisk temperatures. "In Vermont we dress warm," he told CBS' Gayle King after the ceremony. "We know something about the cold, and we're not so concerned about good fashion. We want to keep warm, and that's what I did today."
Bernie Sanders' Mittens were a gift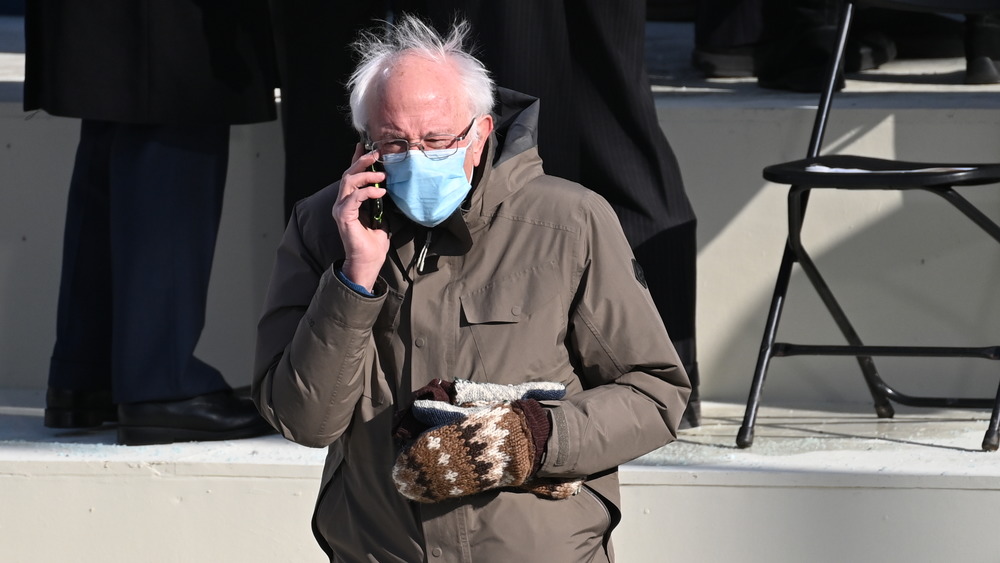 Pool/Getty Images
Inauguration Day wasn't the first outing that saw Sanders' beloved mittens. According to Buzzfeed News reporter Ruby Cramer, he's been wearing them for awhile. Ellis gave them to him as a gift over two years ago. "[She] was surprised when he began wearing them on the campaign trail," Cramer wrote on Twitter. "They are made from repurposed wool sweaters and lined with fleece made from recycled plastic bottles."
Last year, Ellis tweeted to Sanders' supporters who noticed and loved his mittens then, offering them up for sale. That tweet alone got nearly 4,000 retweets and over 14,000 likes. However, on Jan. 20, she revealed that she was out of inventory. "Thanks for all the interest in Bernie's mittens!" she wrote. "I'm so flattered that Bernie wore them to the inauguration. Sadly, I have no more mittens for sale. There are a lot of great crafters on ETSY who make them."
The end of an era — or is it just the beginning?