Are Bling Empire's Kelly Mi Li And Andrew Gray Still Together? - Exclusive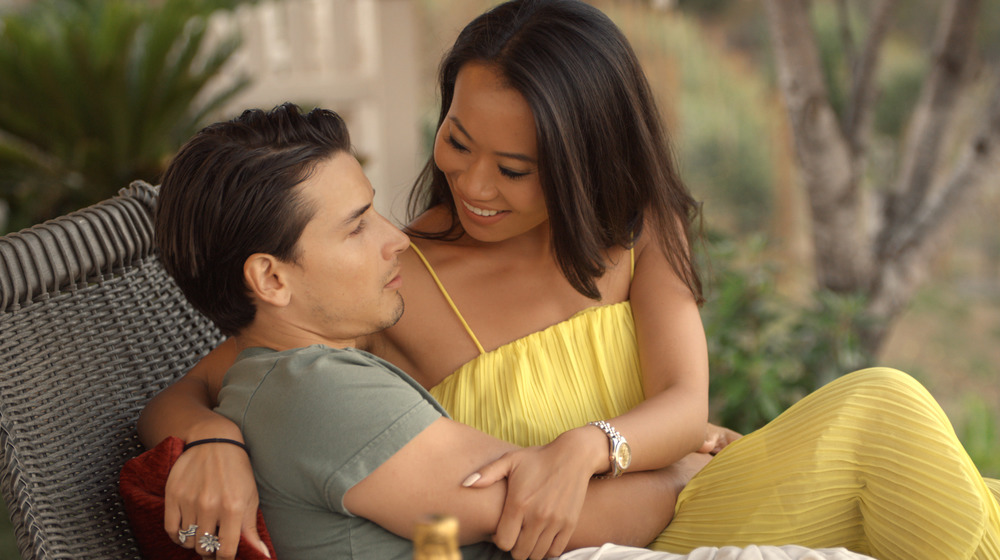 Netflix
When Netflix's Bling Empire premiered in January 2021, it became an instant hit. The series, which follows the lives of Asian and Asian-American socialites in Los Angeles, is the rare reality show to land a 100 percent critical rating on Rotten Tomatoes — and it's not hard to see why. At a time when Los Angeles faces many struggles, Bling Empire gives the city a new life, if only vicariously. Alternatively, maybe we just like watching really, really rich people doing really, really rich people things. People arguing in $3,000 sneakers can be like medicine for the soul.
Though the series saw a number of gripping plotlines — from Cherie Chan's struggle to cope with her mother's death to Kevin Kreider's search for his birth parents — few were as buzzed about as Kelly Mi Li's tumultuous relationship with Andrew Gray (a.k.a the red Power Ranger). After an explosive, expletive-filled argument, the couple found themselves in therapy, where Mi Li eventually decided to walk away. By the end of season 1, it seemed like reconciliation was on the table, though the producer was apprehensive.
Since then, fans have been wondering about the status of the couple's relationship, with little more than an Instagram deep dive to offer up some clues. Thankfully, Mi Li sat down with The List to set the record straight and talk about Gray's most controversial on-screen moment. 
Kelly Mi Li dishes on that Bling Empire episode 1 argument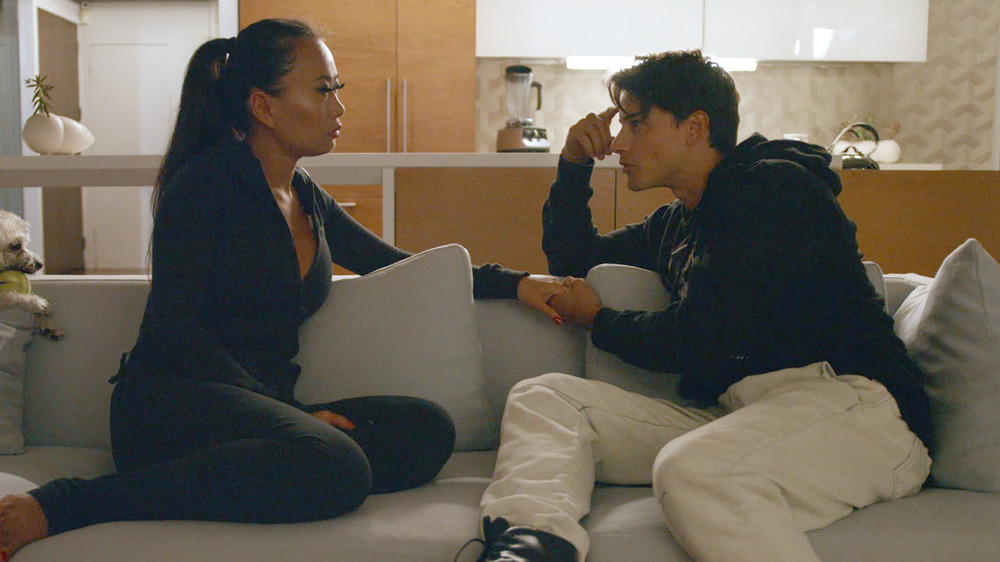 Netflix
There's no denying that Mi Li and Gray come from different cultures — and sometimes those cultures clashed, particularly in the way that they handle conflict. As Mi Li tells The List, "With the Asian culture, we really don't talk about feelings. We kind of hide it and we just have to deal with it ... And with him, he's from a Latin family, so they're loud, they're always fighting."
Fans saw the pair navigating these difficult waters during an explosive argument in episode 1. It was bad enough that many questioned whether or not Gray was actually abusive, according to the Daily Mail. As Men's Health put it, the actor's "alarming pattern of behavior" was "hard to watch." Gray's anger issues are exactly what drove the couple apart, but Mi Li blames his upbringing and admits that the actor has come a long way since what we saw on season 1.
"That's all he [sees] his mom and his dad do, and he thought that was a normal way of communicating," she tells The List of their argument in Paris. " But he was like this for 30 years of his life. And for him to be where he is now, which is super calm, and during some of our fight — not fights, but sometimes when we have arguments, disagreements — he's the one that's calming me down, which is like the complete opposite."
Kelly Mi Li and Andrew Gray are – kind of – back together
Bling Empire was sort of a reckoning for Mi Li's relationship with Gray. As she tells The List, the series forced the pair to face their problems head-on rather than "keep hiding it or keep downplaying it." So, where are they now?
According to Mi Li, the pair took a five month break after filming, where they "didn't really see each other." She says, "During the five months of not seeing each other, we really worked on ourselves. And for me, I grew up so much during that time. I really [dug] into ... like why I am the way I am, and really dig into, also, our culture, the way we were brought up."
When the five months ended, the couple reconciled — but don't start checking your mailbox for save the dates just yet. Though Mi Li admits they came out of filming "stronger than ever," they still live in separate households as they're working things out.
"I don't want to say we got back together, but we started spending more time together," she reveals. "And it's been phenomenal. We're still individually going to therapy, which I think is very important. And then we're going to start coupling therapy as well, soon, once we get there. But yeah, it's been a great experience." We'll just have to see how this one plays out (hopefully) in season 2.
You can catch Kelly Mi Li and the rest of the cast on the premiere season of Bling Empire on Netflix now.