Twitter Has Bad News For The MyPillow Guy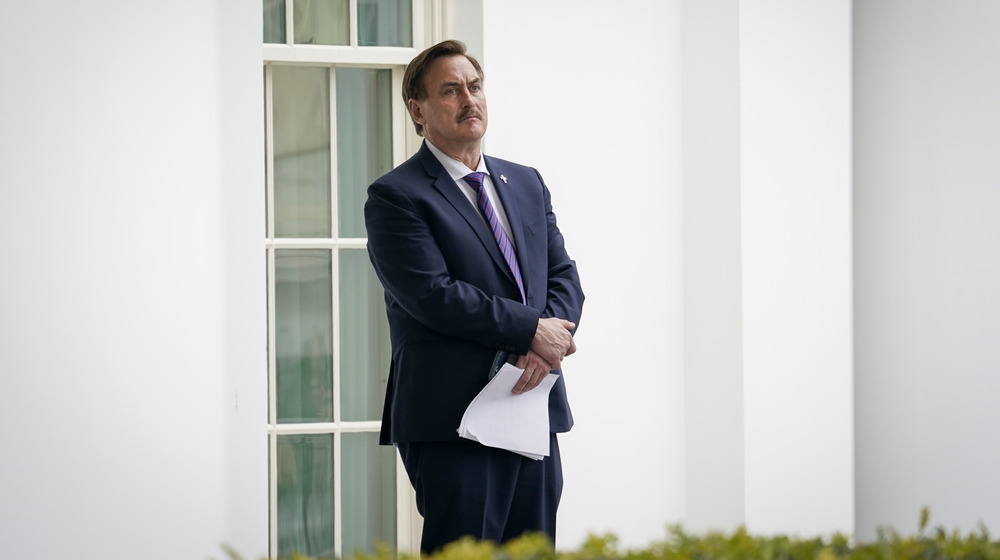 Drew Angerer/Getty Images
If you've had a working TV the past several years, it's pretty likely you're familiar with the "MyPillow Guy." The ads, as ridiculous as they undeniably were, seemed to take the place of the long-lambasted but much-loved ads for OxyClean featuring Billy Mays. Both ads featured an overly-zealous middle-aged man virtually yelling at viewers about the amazingness that was these pretty-standard household products. And while Billy Mays passed away in 2009 with a throng of adoring fans still missing him (via CNN), the "MyPillow Guy," whose name is actually Mike Lindell, is about to disappear from the public eye for an entirely different reason.
Twitter has permanently suspended Mike Lindell's account after he perpetuated falsehoods and conspiracy theories that the 2020 presidential election was fraudulent. The CEO of MyPillow has been a huge supporter of former President Donald Trump, but his choice to voice that support via the social network in the form of false claims and unfounded accusations has gotten him tossed out of the Twitterverse (via Deadline). 
Twitter is divided over the decision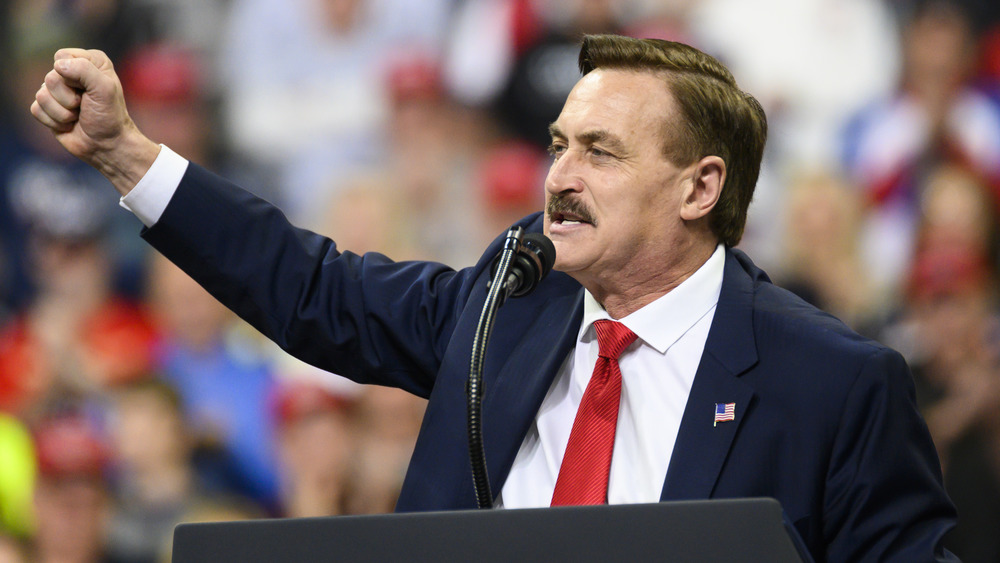 Stephen Maturen/Getty Images
A spokesperson for Twitter said in a statement to the associated press that Lindell had infringed upon its civic integrity policy with "repeated violations." The policy, as it's written, informs users that they are barred from "manipulating or interfering in elections or other civic processes. This includes posting or sharing content that may suppress participation or mislead people about when, where, or how to participate in a civic process." 
And Twitter isn't the company "cancelling" Lindell for his instigating tweets; both Kohl's and Bed Bath and Beyond have vowed to stop selling MyPillow products, and Dominion Voting Systems is trying to bring charges against him for his false claims that their voting machines, used in the 2020 election, are partially responsible for what Lindell believes was widespread election fraud (via CBS News). 
Folks on Twitter are having predictably mixed reactions to the news that Lindell has been banned. One Trump supporter tweeted, "Well, weak Biden has to be protected by all means. He was their project anyway. The censorship in US is worse than it is in China and other failed states." While someone with opposing views said, "Thank you Twitter. Save our democracy."