Dolly Parton Shares The Surprising Way Her Dad Kept Her Humble
2020 Billboard Women In Music/Getty Images
Dolly Parton is one of the most famous singers of all time, but the country star has never lost sight of her roots. Parton has dedicated her life not just to her music but to public service, giving back in big ways like through her Imagination Library, which gives free books to kids, and helping fund a COVID-19 vaccine.
Parton's family has been a big part of keeping her down-to-earth. In a 2014 interview with Southern Living, she talked about how many of her songs are about her childhood.
"So all I have to do every night when I'm onstage is just to sing those songs and it really keeps me grounded," she said. "I've always been proud of who I was and of my people. I was proud of where I was from. Some people want to get away, to move and get out and don't even want to be reminded, but that's not me. And the older I get, the more sappy I get about my childhood."
Dolly Parton's dad was incredibly proud of her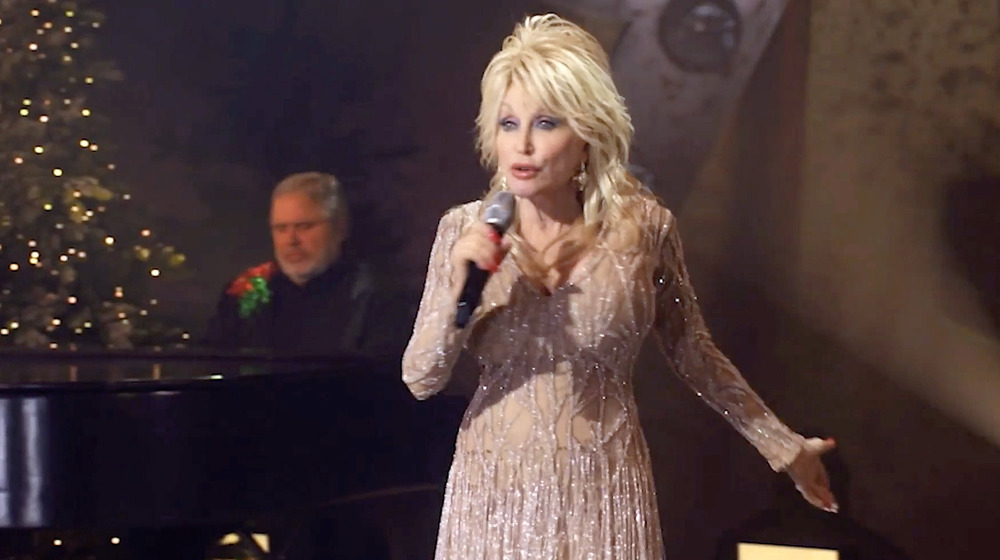 2020 Billboard Women In Music/Getty Images
Parton recently opened up about her relationship with her father, a hardworking farmer who, after his daughter became wildly successful, helped her keep her fame from going to her head. "Daddy used to go down to the courthouse where they had erected a statue of me," Parton said on the exercise app Apple Fitness+ Time to Walk (via People). "I remember myself being so proud of that statue... I thought, 'A statue of me in the courthouse yard? That's usually reserved for presidents and people that have done really great things like that.'"
She continued, "So I went home and I said, 'Daddy did you know, they're putting a statue of me ... down at the courthouse?' And Daddy said, 'Well yeah, I heard about that.' And he said, 'Now to your fans out there you might be some sort of an idol. But to them pigeons, you ain't nothing but another outhouse."
In spite of the humbling statement Parton's dad made about the statue, he was very proud of his daughter. Parton revealed that her dad would regularly visit the statue and keep it clean. "That touched me so much," she said. "I loved my daddy and wanted him to be proud of himself, as I was proud of him."