Sad News About Elliot Page's Marriage Has The Internet Talking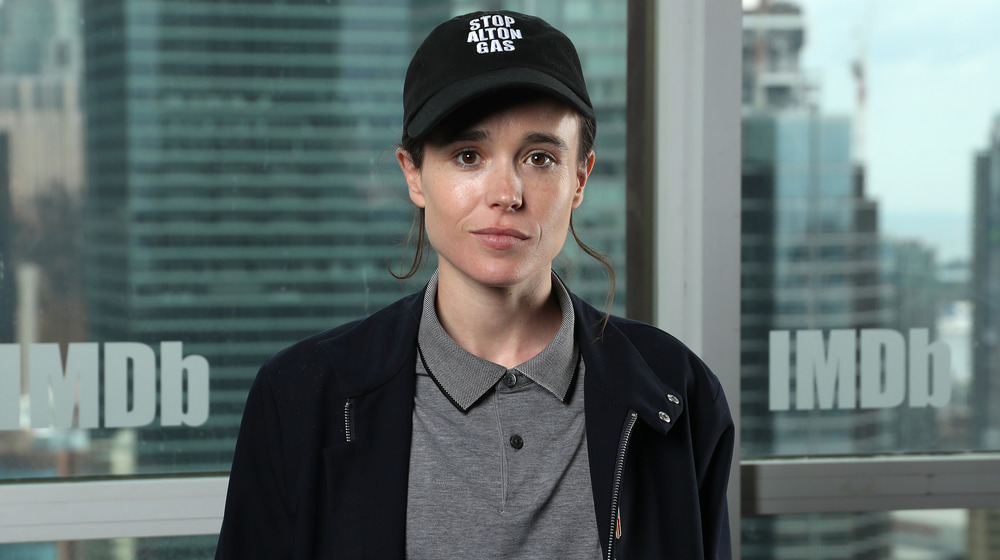 Rich Polk/Getty Images
The news of any divorce is sad enough, but when the marriage is one of those overcoming-odds-and-staying-strong kinds, the news feels more heartbreaking still. Such is the case with Elliot Page and Emma Portner, who just announced their decision to end their marriage after three years (via Page Six). In a joint statement, the couple revealed that they had actually been separated since the summer of 2020 before moving forward with the divorce. "We have the utmost respect for each other and remain close friends," they concluded. 
Just a month earlier, Page made another major announcement: The Umbrella Academy and Juno star came out as transgender, announcing on Twitter that he identifies with he/they pronouns. He said, "I love that I am trans. And I love that I am queer. And the more I hold myself close and fully embrace who I am, the more I dream, the more my heart grows and the more I thrive." Portner shared the announcement on her own Instagram account, declaring, "I am so proud of @elliotpage. Trans, queer and non-binary people are a gift to this world... Shine on sweet E. I love you so much."
Page and Portner seemed deeply in love
In an interview with Net-a-Porter, the actor explained that he first saw Portner, a professional dancer, perform on Instagram and was instantly struck by her talent. After a series of messages, "we hung out and talked for four hours, and that was truly it." The Canadian couple wed in January 2018 in a small ceremony Page calls "the most magical night of my life," and soon afterward they relocated to New York City from Los Angeles. 
By all accounts, Page and Portner seemed blissfully in love. Page told Net-a-Porter, "I'm so in love. I love being married." He joked about being "that person" who shares loving photos on Instagram, and revealed that they were seriously considering adopting children to complete their family. Portner was equally happy: "He and I have an indefatigable connection and an undying desire to be near each other," she said in an interview (via Mirror). 
Fans have been speculating about what caused the marriage to sour. A commenter on the Mirror article said, "It's obvious that [Portner's] love for him as a person isn't going to change," but that Portner might have found it more difficult than she anticipated to adjust to Page's identity. "Or perhaps it might just be that after three or four years together, the relationship has run its course," said another reader. Yet another opinion said it all: "Hopefully they can both find happiness; I'm sure they'll remain friends."