Here's How We Know Queen Elizabeth Has A Surprising Sense Of Humor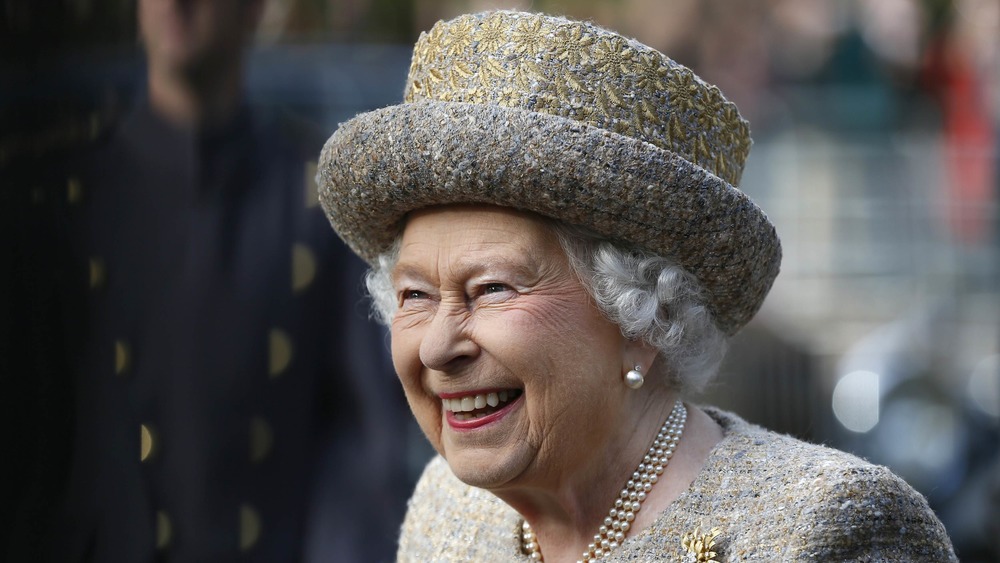 Wpa Pool/Getty Images
When you think of Queen Elizabeth, you probably imagine a stoic monarch who has dedicated herself to people and country. While we know that she has a soft side, as evidenced by her love for her grandkids, great-grandchildren, and her famous corgis, it's hard to picture her as a secret comedienne. While we've certainly seen her smile, few people have personally seen the royal bust out a belly laugh — but such an incident might be fairly common behind closed doors reveal sources.
Royal biographer Sally Bedell Smith revealed to People that Queen Elizabeth "is much livelier in private than what the public sees." Smith, who explores the monarch's funny side in her book Elizabeth the Queen: The Life of a Modern Monarch, said that those close to Queen Elizabeth have witnessed not only her "big laugh" but also her self-deprecating sense of humor.
It seems that the queen is not above roasting herself — at least in private. After glimpsing herself on TV, she reportedly once said "Oh, there's my Miss Piggy face." Said Smith, "She has the ability to laugh at herself."
Queen Elizabeth reportedly smiles more in real life than she does on The Crown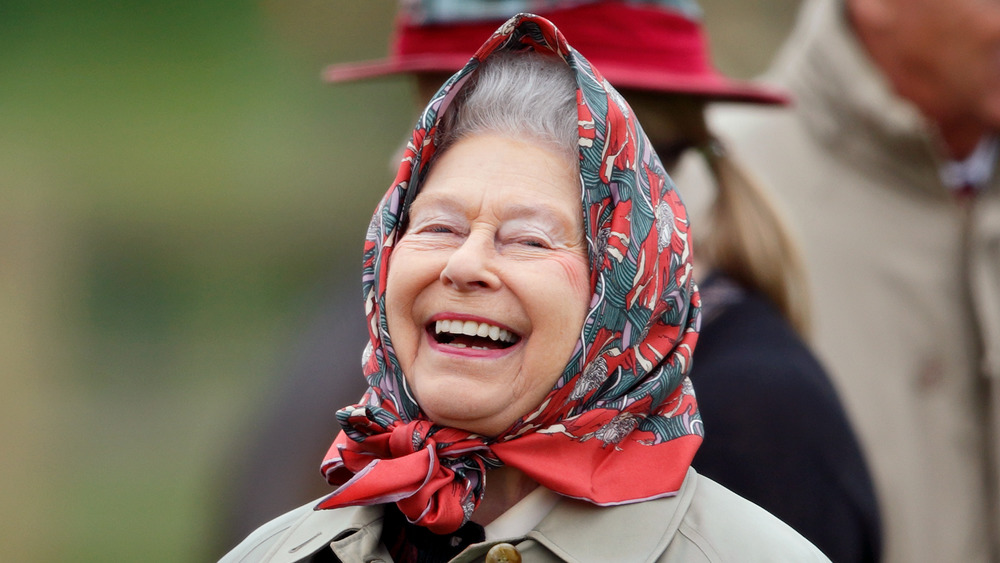 Max Mumby/indigo/Getty Images
The queen's funny side has even inspired a book, The Wicked Wit of Queen Elizabeth II. In it, author Karen Dolby gathered some of the royal's funniest lines from her reign, such as the time she commented "It looks very damp" on a visit to Niagara Falls (via Parade).
Another funny one-liner from Queen Elizabeth was a response to being asked "why she carried her handbag around with her inside Buckingham Palace." Dolby wrote, "Her Majesty replied, 'This house is very big you know.'"
Darren McGrady, who worked as a chef for the royal family for over a decade, criticized Netflix series The Crown for not portraying enough of Queen Elizabeth's lighter side. "My goodness, they really went for the artistic license," he told Us Weekly. While McGrady said that the first actress to play the queen on the show, Claire Foy, did a good job, he was "not so keen on" Olivia Colman, who portrayed the middle-aged Queen Elizabeth, as "she doesn't smile enough in there." McGrady added that, in real life, Queen Elizabeth is "always smiling."