The Truth About Cloris Leachman And Betty White's Relationship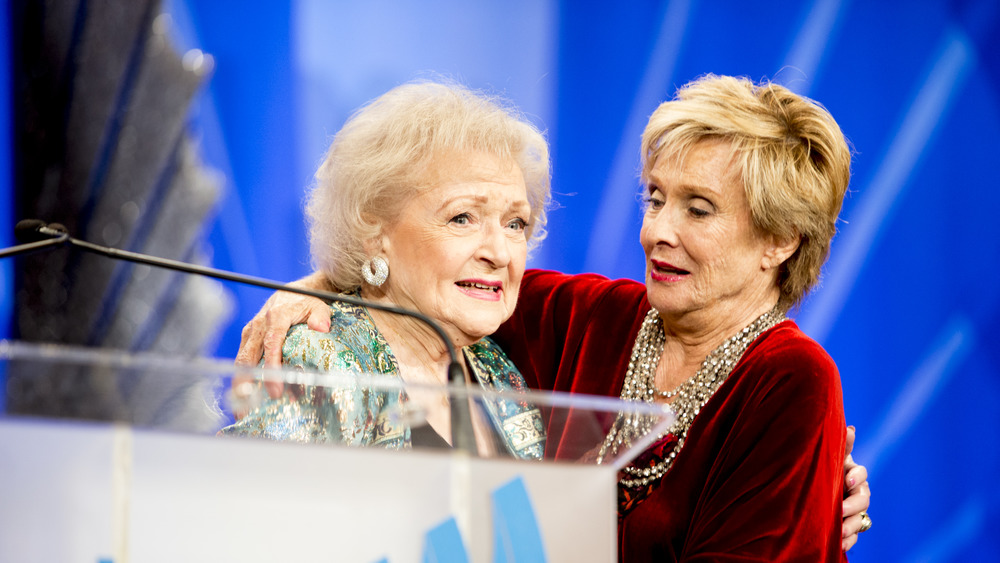 Kevin Tachman/Getty Images
On January 17, 2020, Hollywood legend Betty White turned 99 years old, and celebrated on Twitter that she could finally "stay up as late as I want without asking." Ten days later, her longtime friend, the equally legendary Cloris Leachman, passed away. Leachman, who was 94 years old when she died in her California home, will be remembered not only for her Oscar-winning performance in 1971's The Last Picture Show, but also for her spectacularly funny portrayal of Phyllis Lindstrom on The Mary Tyler Moore Show (via Los Angeles Times). 
For those of you who need to start binge-watching the show now, know that it's incredible: the 1970s sitcom featured single, working, sexually active, smart and funny women for one of the first times in TV history. If you want, The Washington Post will tell you more about how it "revolutionized television." But we're here to talk about Betty White and Cloris Leachman.
You might have seen Betty White, as Sue Ann Nivens, on the show, too. The two women worked together for years, and appeared together on numerous award shows and interviews. And, of course, there was that time in 2017 when TMZ asked Dancing with the Stars alum Leachman if she was worried that her friend Betty White would appear on DWTS and take away her distinction of being the oldest contestant ever, to which Leachman quipped, "She just steals everything from me." 
How Cloris Leachman and Betty White really got along
Friends? Foes? Des Moines Register got to the heart of Cloris Leachman and Betty White's relationship in 2016. "I hear from people all the time who think we hang out and talk and go places together. I don't know why," Leachman told the newspaper. "We work together and then we go our own separate ways. My family is who I spend my off-time with."
That's it. The two Hollywood legends were simply colleagues. And if you're as disappointed as we are after imagining them as BFFs, remember that the two are among the most talented actresses to have ever graced our screens. And after you get over your disappointment, you can hang on, at least, to this. "I remember when [Betty] was roasted [on Comedy Central]," Leachman told The Register. "I sat across from her and every time someone said something, we looked at each other and just laughed. We know what it's like to be a woman and work in Hollywood, we've been doing it for so long, so I guess that's why everyone puts us together."