The Truth About Barack Obama's Relationship With Cicely Tyson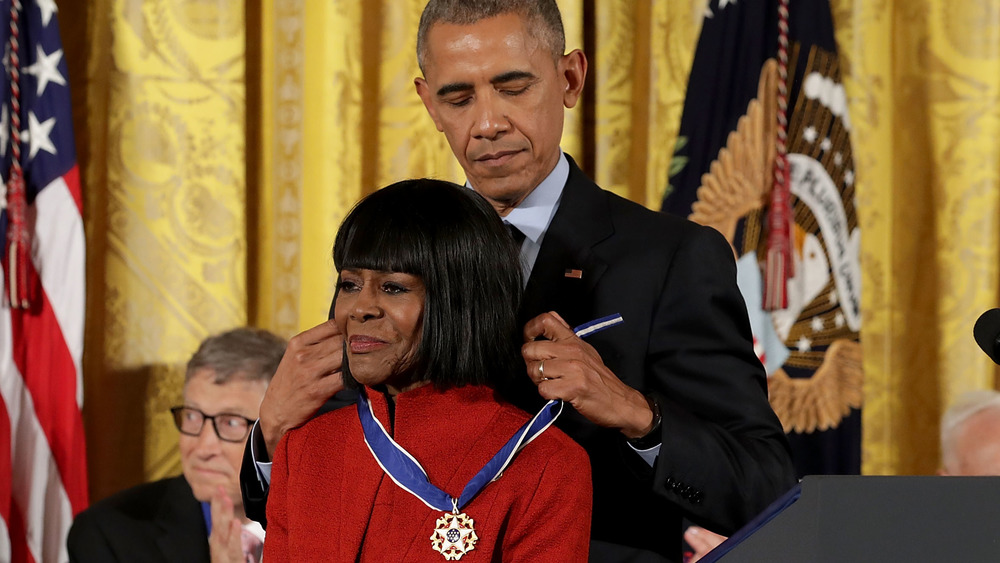 Chip Somodevilla/Getty Images
Since her death was announced on Thursday, January 28, celebrities have taken to social media to pay tribute to Cicely Tyson. Most notable was an Instagram post by former President Barack Obama, whose heartfelt words of admiration for the actress he described as "a trailblazer whose legacy couldn't be measured by her Emmys and Tony and Oscar alone, but by the barriers she broke and the dreams she made possible" spoke of his respect for the 96-year-old artist, who also happened to be the final Medal of Freedom recipient of his presidency.
The former POTUS intimately shared with his followers, "When Cicely Tyson was born, doctors predicted she wouldn't make it three months because of a murmur in her heart. What they didn't know, what they couldn't know, was that Cicely had a heart unlike any other  —  the kind that would not only beat for 96 more years but leave a mark on the world that few could match." He went on to recall how "honored" both he and Michelle were to bestow upon her the high honor of the Medal of Freedom, "knowing she was one of the many giants upon whose shoulders we stood."
And while it's obvious that Obama's reverence for the late Tyson was of the highest regard, he has also intimated at what could only be described as a childhood crush on the Hollywood icon who he undoubtedly was, and still is, a huge fan of.
During the Medal of Freedom ceremony, Barack Obama made Cicely Tyson blush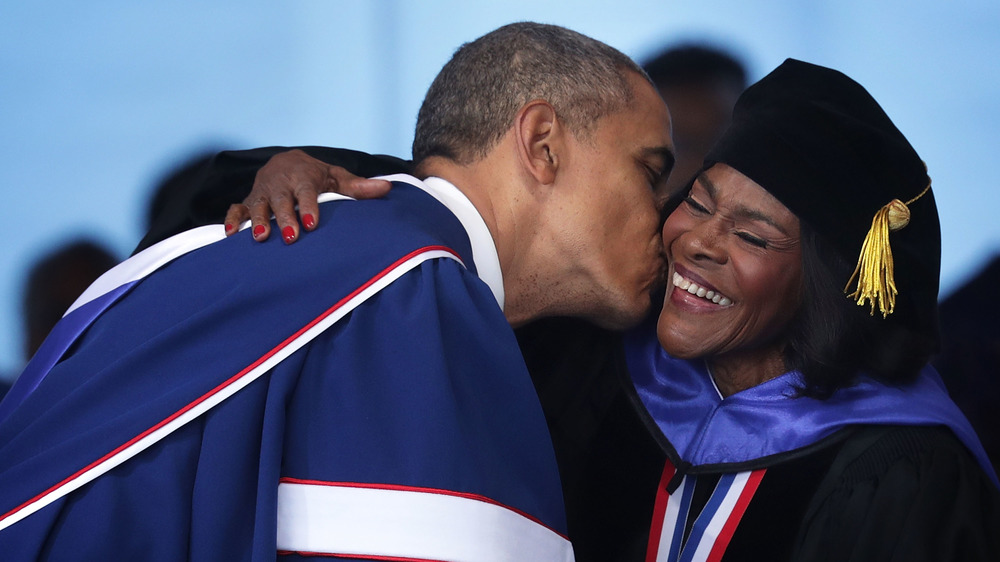 Alex Wong/Getty Images
In 2016, in sharing the Medal of Freedom ceremony stage with recipients including Bill and Melinda Gates, Tom Hanks, Michael Jordan, and Diana Ross, reporter Cori Murray recalled, in a piece penned for Essence, that "it was clear [Barack Obama] had a personal connection to each honoree." And that was increasingly evident as he got to the final recipient, Cicely Tyson. The former president recalled to the crowd a quote from the actress that struck him as particularly significant, sharing that she once said of her impressive career, "I would not accept roles unless they projected us, particularly women, in a realistic light and dealt with us as human beings."
Obama continued, "Cicely's convictions and grace have helped for us to see the dignity of every single beautiful memory of the American family," and then, totally out of character for the always-eloquent former President and sounding more like, as Murray described, "a grown man finally in the presence of a childhood crush," he concluded completely off the cuff, "And she's just gorgeous." Not surprisingly, Cicely Tyson, as Murray recalled, "blushed like a schoolgirl." 
It seems fitting that in paying homage to one of his favorite actresses upon her death, Obama would conclude his tribute by sharing the words of a true fan and friend, poetically stating, "And while we are saddened that her heart finally came to a rest today, there is comfort in knowing that she will always live on in ours."