Here's Where You Know The Song In The Bud Light Seltzer Lemonade Commercial From
It's that time again: time to pick a favorite Super Bowl commercial! One contender this year is likely to be the undeniably-clever spot for Bud Light's Seltzer Lemonade, which pokes loving but all-to-relatable-fun at the hellish year that was 2020. The joke, which harkens back to that old adage "When life gives you lemons, make lemonade," is that Bud Light started making Seltzer Lemonade because it was trying to do something positive with all those lemons 2020 threw at us. Throughout the ad, more and more lemons fall from the sky onto unsuspecting citizens as they attempt to go about their normal daily lives (who can relate?) (via YouTube).  
All the while, we hear a pleasant, upbeat, old-timey-sounding song playing over the chaos, the lyrics to which are, in part, "Monday, Tuesday, Wednesday," and so on, making it clear that we were bombarded by these "lemons" day in and day out. The song may sound familiar to some, and there's a very good reason for that.  
"Monday, Tuesday, Wednesday" is a classic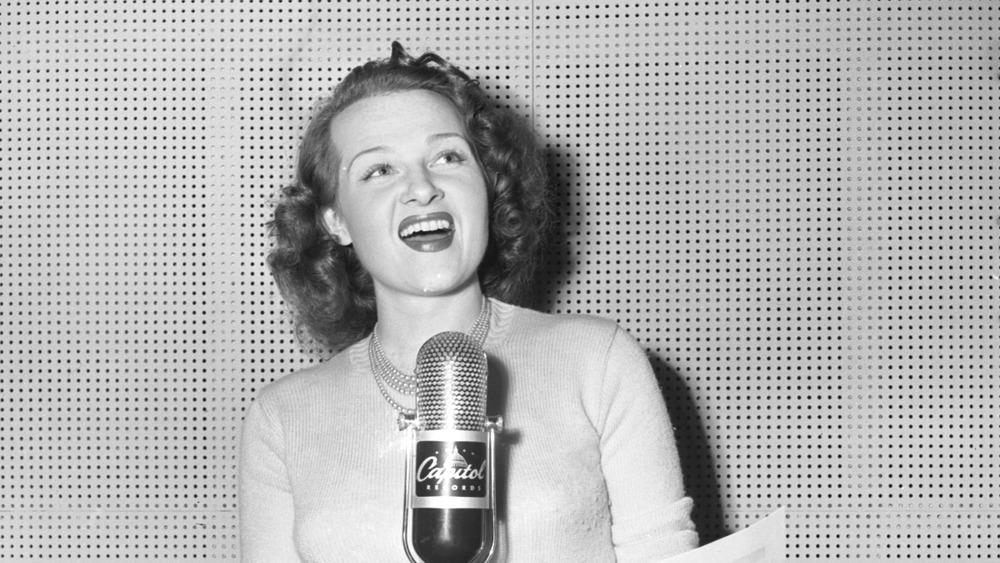 Michael Ochs Archives/Getty Images
The song, titled "Monday, Tuesday, Wednesday," is performed by two iconic artists from the 1950s, Jo Stafford and Gordon MacRae. Why do you know their names? Well, the top-streamed song by MacRae on Spotify is "Oh, What A Beautiful Mornin'" from the classic movie Oklahoma, in which MacRae starred. The song has been streamed nearly two million times. You may also recognize his songs "Tea for Two" and "The Best Things in Life are Free" (via Spotify). Jo Stafford, meanwhile, is the iconic voice on famous 1950s songs like "It's a Marshmallow World," "I'll Be Seeing You," and "You Belong to Me," the latter of which has been streamed over 4 million times on Spotify and was also covered by Jason Wade of the band Lifehouse for the Shrek soundtrack (via IMDB).
The duet "Monday, Tuesday, Wednesday" was first released by Capitol Records in 1950 (via Discogs.com). The song made it to number 22 on one of the charts of the time, called US Cashbox, and remained there for four straight weeks (via academicmusicpress.com). Since neither artist has really lost popularity over these past decades, it's unsurprising that when you heard the song in the commercial, it sounded familiar! You've probably heard it before, and if you haven't, you have almost certainly heard other songs by these artists. Tapping into our collective nostalgia, collective exhaustion, and our sense of humor all at once? This is why Budweiser is likely paying the ad agency Wieden+Kennedy the big bucks (via iSpotTV).