The Weird Connection Between Patrick Mahomes And Tom Brady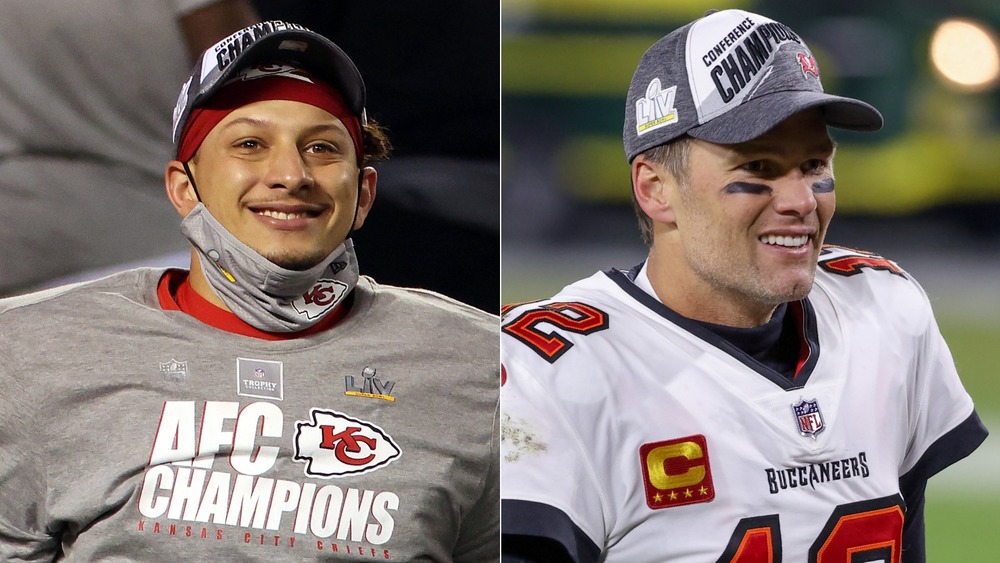 Jamie Squire, Dylan Buell/Getty Images
There's a very obvious connection between Kansas City Chiefs quarterback Patrick Mahomes and Tampa Bay Buccaneers quarterback Tom Brady — they are both football legends who will face off in Super Bowl LV on Sunday, February 7. Oh, and both players are worth untold sums of money, with Mahomes, who is just 26 years old, reportedly having signed a contract with the Chiefs worth a jaw-dropping $503 million (via Biography). Meanwhile, Brady has a net worth of $200 million — not too shabby (via Celebrity Net Worth).
Some might think that is where their similarities end. Consider that the 43-year-old former New England Patriots QB had already won his first Super Bowl when Mahomes was just six years old (via Sports Casting). And while Brady has been married to Gisele Bündchen since 2009 according to Harper's Bazaar and has three kids, Mahomes is just starting to build his family. The young quarterback is engaged to his longtime girlfriend Brittany Matthews, and the two are expecting a baby together.
But Brady and Mahomes actually have a truly bizarre connection that was recently revealed on Twitter.
The coincidence that connects Patrick Mahomes and Tom Brady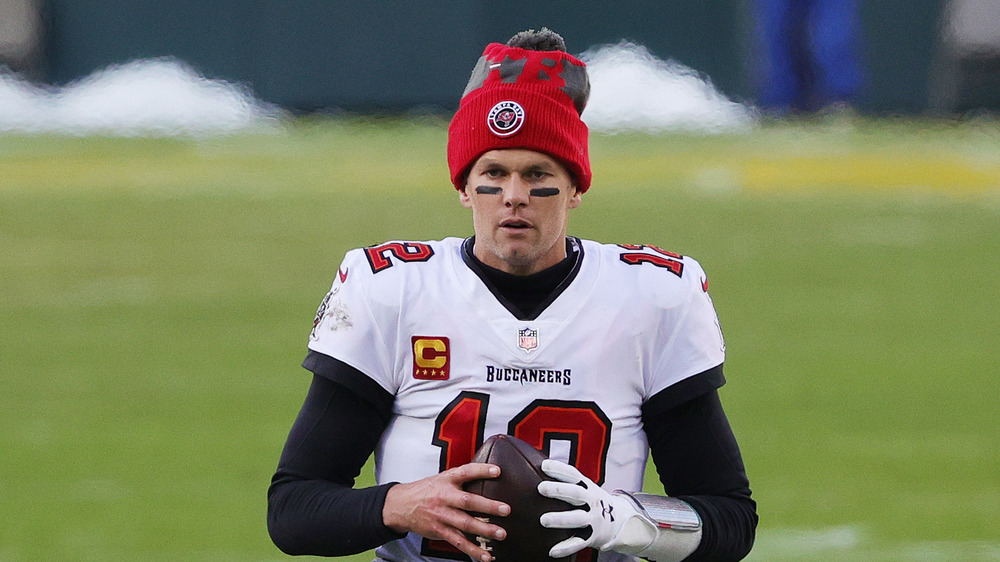 Stacy Revere/Getty Images
After Brady moved his family to Florida to take on a new challenge with the Bucs, he let fans in on an accidental home invasion he committed, tweeting, "Trespassing in parks, breaking and entering... Just making myself at home in Tompa Bay [sic]!" It turns out the new Floridian was attempting to pay a house call to Buccaneers offensive coordinator Byron Leftwich but instead, he entered a neighbor's home — without knocking (via TMZ).
David Kramer was that neighbor, and as he recounted of the famed player's reaction, "He was like, 'I am so sorry! I am so sorry!' Grabs his bags and just is gone. I don't think I've seen someone leave a house faster!"
After Brady shared his mishap, Mahomes chimed in on Twitter, commenting, "Haha crazy part is i have actually done this before in Kansas City going to QB coach's house." The owner of that wrong house confirmed the incident on Twitter, and shared a photo (via MSN). And so, it seems Brady and Mahomes are both amazing athletes — who should double check home addresses the next time they attempt to visit their coaches.