Jeff Bezos' Net Worth At The Time Of Stepping Down As CEO
Bloomberg/Getty Images
Amazon founder Jeff Bezos has shocked many around the world with news that he'll no longer be at the helm of Amazon. On Tuesday, Bezos announced he will step down as CEO of the company in the third quarter of this year (per CNN). Andy Jassy, who has been with Amazon since 1997, will take over as CEO. Bezos will move on to be the company's Executive Chair.
"Being the CEO of Amazon is a deep responsibility, and it's consuming," Bezos wrote in a letter to company employees. "When you have a responsibility like that, it's hard to put attention on anything else. As Exec Chair I will stay engaged in important Amazon initiatives but also have the time and energy I need to focus on the Day 1 Fund, the Bezos Earth Fund, Blue Origin, The Washington Post, and my other passions. I've never had more energy, and this isn't about retiring. I'm super passionate about the impact I think these organizations can have."
There's no understating how successful Amazon has become since its founding in 1995. According to Forbes, the company is currently worth more than $1.6 trillion. Bezos himself has become a billionaire — many, many times over.
Jeff Bezos' net worth is pretty shocking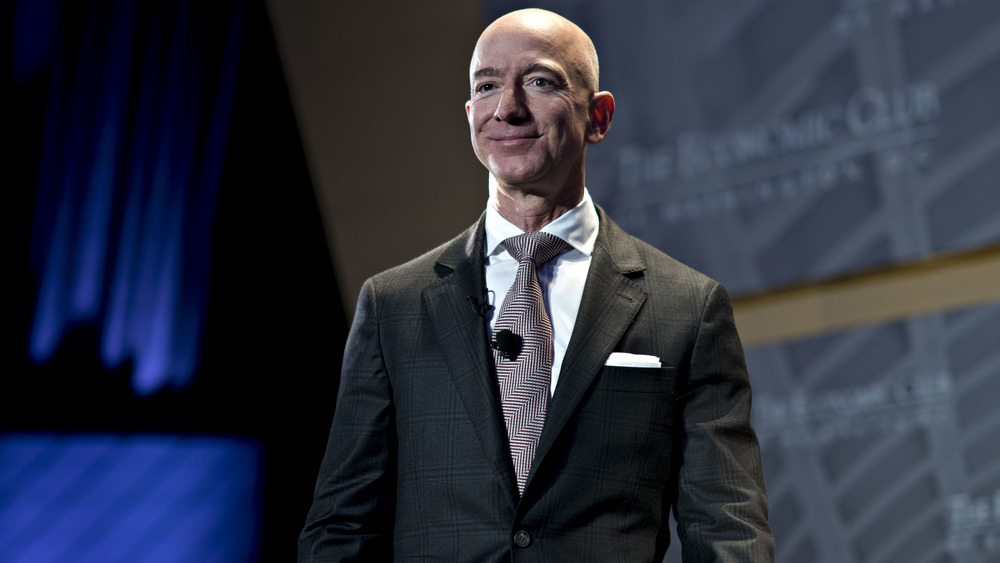 Bloomberg/Getty Images
At the time of this course-changing announcement, Jeff Bezos is sitting on a pretty pile of cash and assets. Forbes puts the businessman's current (as of February 2, 2021) net worth at a staggering $196.2 billion.  
Bezos gave advice for entrepreneurs hoping to one day reach his riches in a message at Amazon's Re:Mars conference in 2019 (via YouTube). He told the eager crowd not to be afraid of taking risks ... or of failure. "If you have a business idea with no risk, it's probably already being done," he said (via Fast Company). "You've got to have something that might not work. It will be, in many ways, an experiment. We take risks all the time, we talk about failure."
And in talking about failure, Bezos emphasized that it is necessary. "We need big failures in order to move the needle," he said (via Fast Company). "If we don't, we're not swinging enough. You really should be swinging hard, and you will fail, but that's okay." 
Bezos definitely swung for the fences ... and it certainly paid off.