Billie Eilish Has A Surprising Past With Jared Leto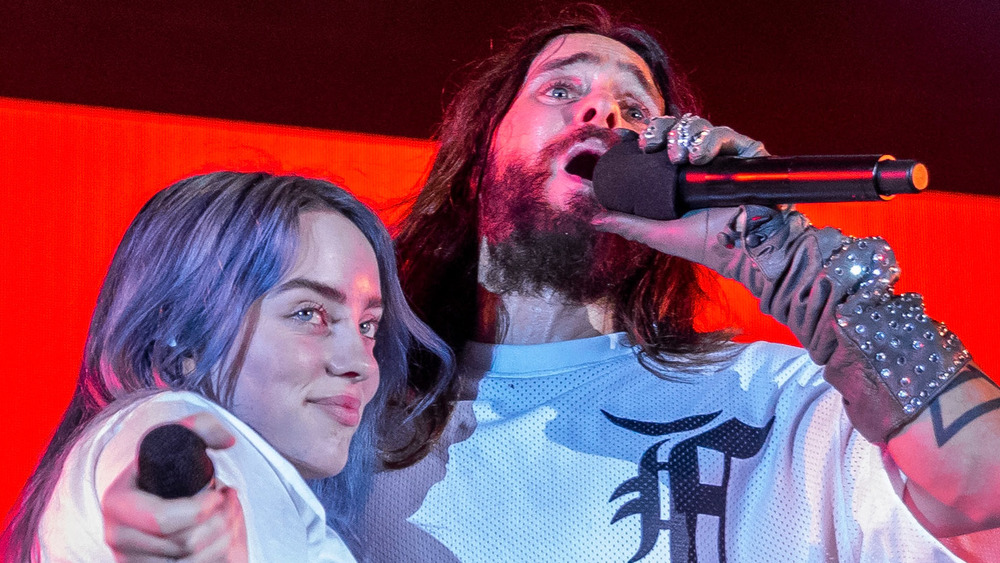 Scott Legato/Getty Images
She's the mumble-pop sensation – originator? — taking the music world by storm; he's the Oscar-winning actor, front-man of Thirty Seconds to Mars, and rumored cult leader. They couldn't be more different, but Billie Eilish and Jared Leto are actually way more connected than you'd think. In fact, they go way back. And, if things had gone differently, Leto might even have been the one introducing Eilish and her brother/collaborator Finneas O'Connell to the world. 
Their road to fame will be laid bare in the Apple TV+ documentary, The World's a Little Blurry, which Eilish admitted during a recent Vanity Fair interview was difficult to watch all the way through. "It's really about my life, me, in such a way that I was not expecting, and was pretty brutal to relive," she admitted. "I was going through hell in certain parts of my life, and I had no idea anyone was seeing it." Funnily enough, Leto could've ended up played a starring role.
Leto almost discovered Eilish and O'Connell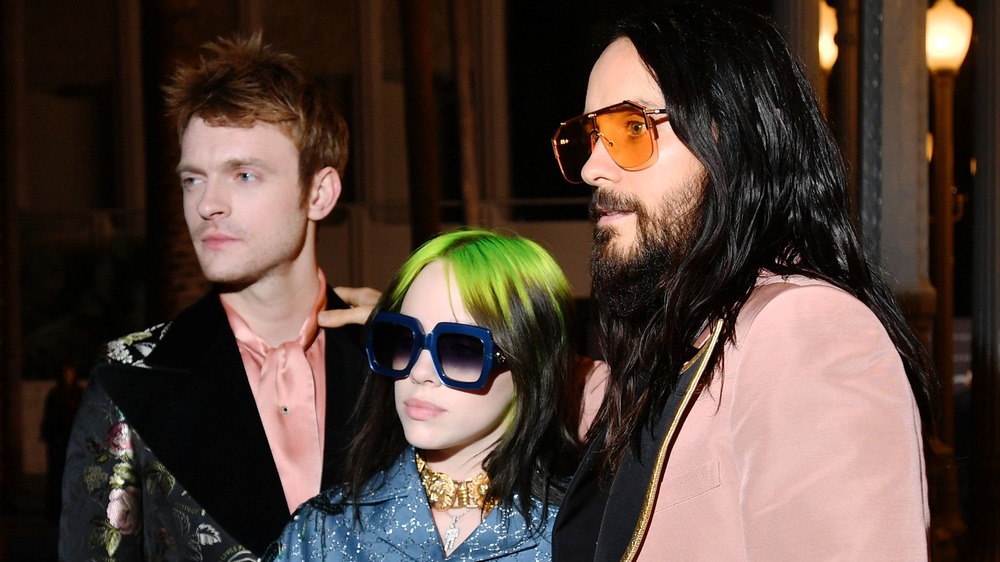 Emma Mcintyre/Getty Images
Leto appeared on The Late Late Show with James Corden and opened up about the time he almost signed a then-unknown Eilish and O'Connell, after being introduced to them by film producer Emma Ludbrook and agent Tom Windish. "They weren't signed, and I thought that maybe I would try and sign them, they were so incredibly talented and just special people," Leto gushed. The Thirty Seconds to Mars front-man added, "The music is one thing, but I think they're just incredibly intelligent, really empathetic, just really good people, and I quite like them a lot."
Leto invited the musical duo to perform at a dinner where Leonardo DiCaprio and a small group of other Hollywood types gathered to watch them. He described how they "showed up with a Guitar Center p.a. and played the most heartbreakingly beautiful music with, like, you know, it shouldn't have sounded that good — it was impossible that it sounded that good." DiCaprio's jaw was reportedly on the floor, alongside everybody else in attendance. Leto has been a fan ever since, instantly seeing something special in them, so the duo's stratospheric rise is absolutely no surprise to him.