Lady Gaga's Marine Escort Reveals How She Really Felt On Inauguration Day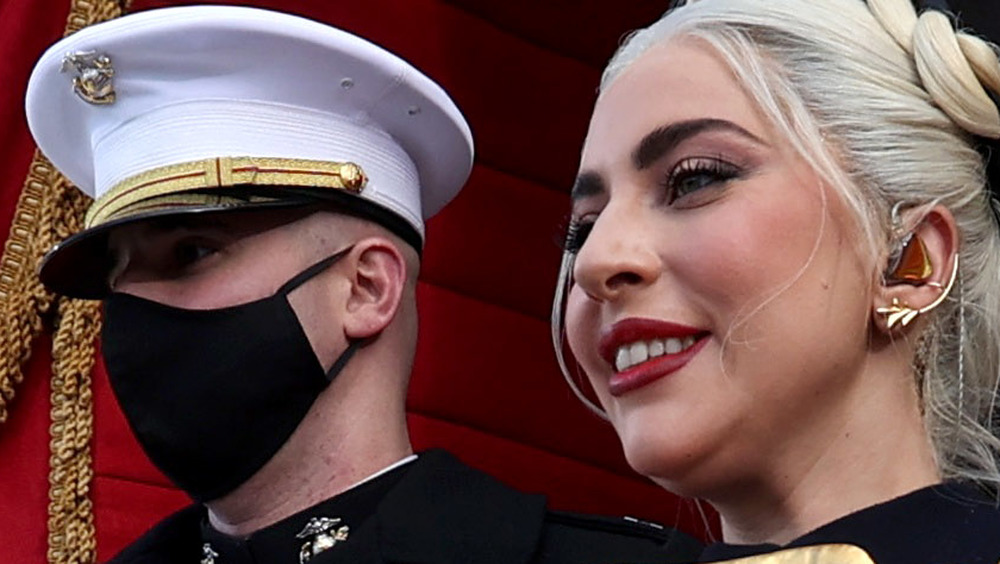 Pool/Getty Images
Even world-famous recording artists get butterflies in their stomachs sometimes. On Jan. 20, 2021, Lady Gaga was no exception. Sure, she'd performed for millions on stages worldwide, but this was different: She was about to perform the national anthem at the Capitol for Joe Biden's presidential inauguration. Fortunately, she had an important person by her side to help ensure that her song would go off without a hitch.
Task and Purpose recently interviewed Capt. Evan Campbell of the Marine Corps, one of the military members assigned to guard the guests at the ceremony. During the rehearsal the previous day, the organizers learned that Gaga was planning to wear a gorgeous — but unwieldy — dress that might make it difficult for her to descend the stairs to the podium. Campbell was enlisted to escort her because, as he said, "I was one of the taller, larger individuals." 
On the momentous day, he was introduced to the singer about 15 minutes before her scheduled performance. He reports that Gaga appeared a little jittery. "She told us inside that this was perhaps the biggest day of her life, and that she really wanted to sing for all Americans," he recalls.
Campbell offered some words of reassurance; he remembers saying, "Hey you're going to do great. You always do well, you know, you're a performer, you're going to do great." He adds, "It just seemed like she needed to hear a relaxed voice."
Lady Gaga was truly a lady at the inauguration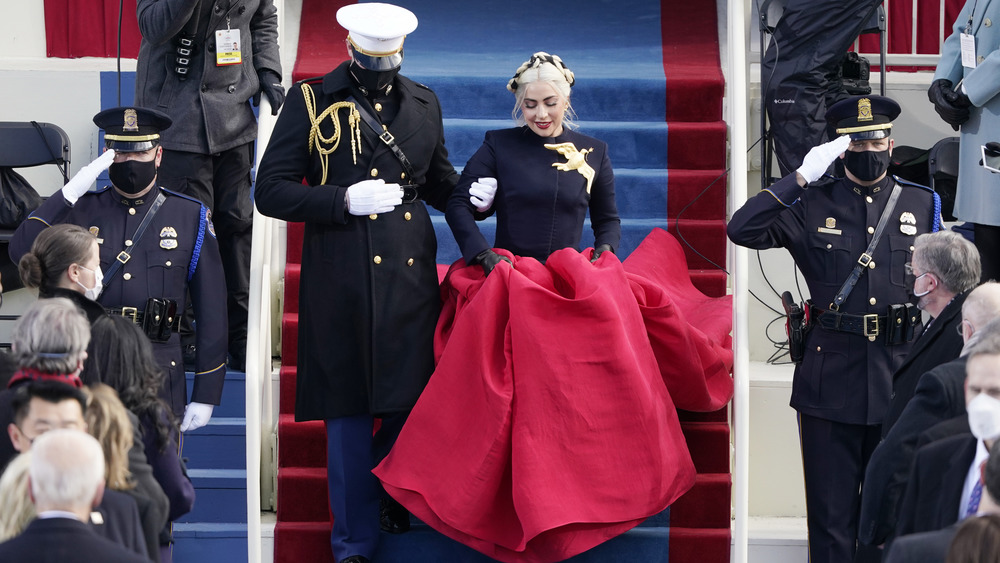 Pool/Getty Images
Before descending the Capitol steps to the podium, Lady Gaga asked Capt. Evan Campbell to pray with her for a moment, a request he describes as "deeply heartfelt." Then he assisted the performer with her voluminous red skirt (she joked that they might both trip over it) as she made her way to the podium. As the world now knows, she belted out "The Star-Spangled Banner" flawlessly. 
Campbell, who has deployed overseas twice, told The Marine Corps Times that he was impressed by how "genuine" the star was. She graciously thanked all the police officers on duty before making her descent. And while he favors other artists when it comes to his own music tastes, he is "definitely a fan of her as a person." 
The one-of-a-kind moment was a "privilege," according to Campbell, and it's surely one he won't forget any time soon.