Amanda Gorman's Stunning Super Bowl Coat Is Turning Heads
There are some who tune in to the Super Bowl to watch the game, while others tune in to watch the trimmings. Then there are times when a game is elevated beyond others because of all the elements that went into it, and Super Bowl LV could be one of those times. 
Even before the kickoff, poet laureate Amanda Gorman was already setting the internet on fire with her poem, a tribute to three frontline workers who are making a difference as the pandemic continues to grip the country (via Forbes). But equally gripping was Gorman's outfit, every bit as stunning as the red and yellow Prada get-up she wore to the Biden/Harris inauguration (via Stylecaster).
Gorman wore a glittery, glammed up ice blue jacket with a bejeweled collar. Like her inauguration outfit, the 22-year-old wore an eye-catching headpiece: a string of pearls, which Elite Daily saw as a probable nod to Vice President Kamala Harris and her love of pearl necklaces. 
Amanda Gorman marries fashion and poetry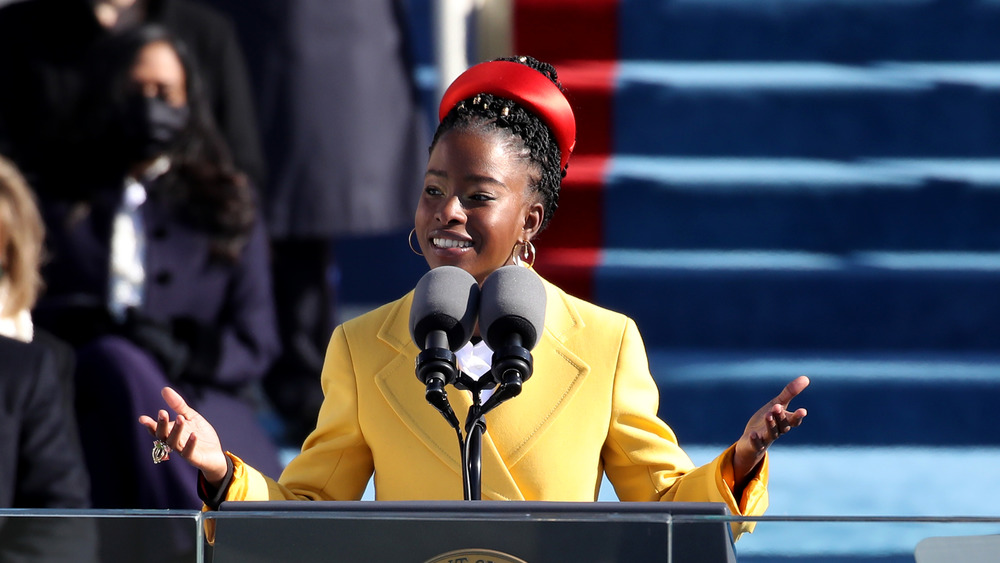 Rob Carr/Getty Images
Her eye-catching look is no surprise to her fans. The young poet doesn't just about to make waves with her words, she's poised to set the world on fire too, as IMG Models, which represents Bella and Gigi Hadid (via Sydney Morning Herald) announced it will be representing the 22-year-old poet laureate, too.
Gorman doesn't see her love of fashion as being divorced from poetry. "There's this idea of the poor, suffering poet, and I try to exhibit that the poet can be stylish, too," she told Vogue back in 2019. "Fashion brings a distinct visual aesthetic to language... When I'm performing on stage, I'm not just thinking about my clothing, but what my Wakanda Forever T-shirt and yellow skirt is saying about my identity as a poet. When I became U.S. Youth Poet Laureate, my mom and I actually talked a lot about my clothing because I act as my own stylist and makeup artist, navigating places as different as the Library of Congress and MTV. Through it all, I want to remain true to myself," she said.
Gorman appears to have won the hearts of Super Bowl fans in the same way she won the Inauguration a few weeks back. One admirer tweeted, "Amanda Gorman is RIVETING! She is powerful. She is inspirational. She is uplifting. I. AM. IN. AWE."