Amanda Gorman's Inaugural Jewelry Came From A Surprising Source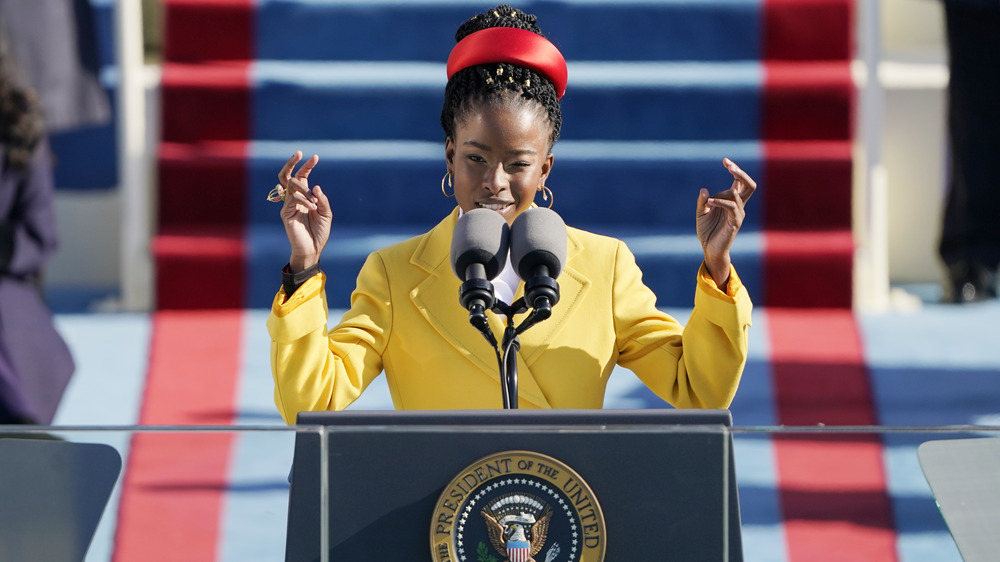 Pool/Getty Images
Poet Amanda Gorman made history on Inauguration Day. At just 22 years old, Gorman became the youngest poet laureate to perform at an inauguration. From the minute she recited her original poem "The Hill We Climb," she commanded the entire stage with her confident, sure presence at the podium and her deep and impactful words (via the New York Post).
Gorman's bright, carefully coordinated outfit also caught viewers' attention at home, and was packed with symbolism. Her yellow coat was inspired by first lady Dr. Jill Biden, who actually hand-picked Gorman to perform after being left speechless by her performance of her original poem "In This Place: An American Lyric" years prior according to Insider.
The youth poet laureate's accessories at President Joe Biden's inauguration also carried a lot of significance and paid tribute to another iconic poet laureate, Dr. Maya Angelou. Amanda Gorman's hoop earrings and bird cage ring are a powerful nod to one of Angelou's famous works, "I Know Why the Caged Bird Sings." Both the poem and memoir of the same name focus on themes of race, identity, and acceptance, which makes Gorman's choice to wear jewelry inspired by Angelou's work all the more timely. Gorman's inaugural jewelry was gifted by another icon (via InStyle).
Amanda Gorman's inaugural jewelry was a gift from Oprah Winfrey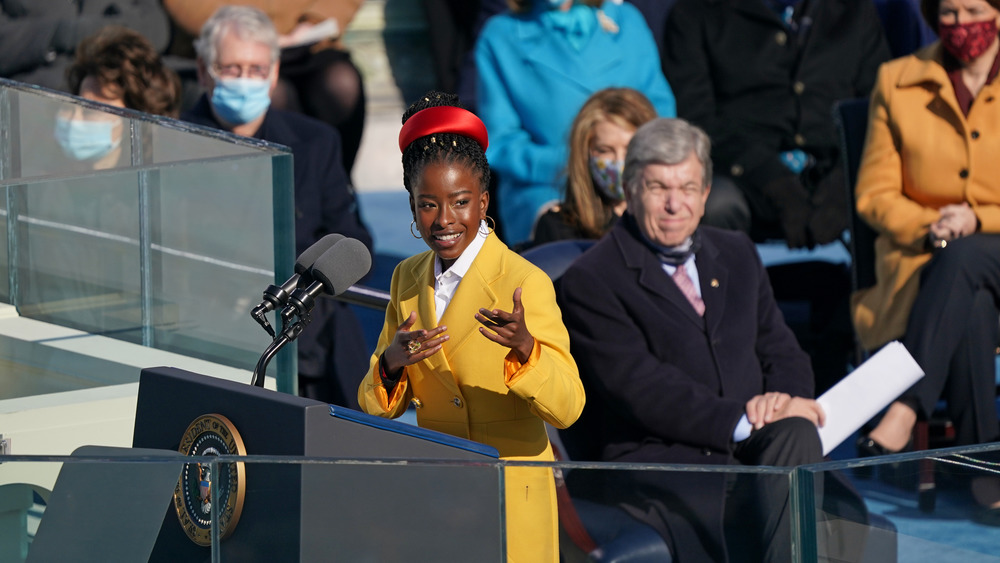 Pool/Getty Images
Oprah Winfrey was just as mesmerized as the world was by Amanda Gorman's immaculate performance at the inauguration and took to Twitter to offer words of support. She wrote, "I have never been prouder to see another young woman rise! Brava Brava, @TheAmandaGorman! Maya Angelou is cheering—and so am I."
Prior to the inauguration, Gorman revealed in an interview with Vogue that Winfrey sent her those now iconic jewel drop earrings and bird cage ring, while reminiscing on the impact Winfrey's support had on her. "Every single time I get a text from [Oprah], I fall on the floor. She was like, 'I'm so excited that you're doing the poem,' and she's been really supportive because she knew how nervous I was about going." It's only fitting that Winfrey is behind her now trending inaugural jewelry, considering that according to Vogue, Winfrey also gifted Dr. Maya Angelou a navy Chanel coat and gloves when she performed at former president Bill Clinton's inauguration in 1993.
Gorman also explained why it was important for each piece she wore to have meaning. "I am weaving my own type of symbolism into my outfit, and it's really special and important to me to deliver these nuggets of information and sentimentality as I'm reciting the poem," she explained. Judging from the overwhelmingly positive reaction that Gorman's meticulously planned look got on social media, all of these pieces came together and elevated her compelling performance.