Why Tracy Morgan's Rocket Mortgage Commercial Has Some Fans Upset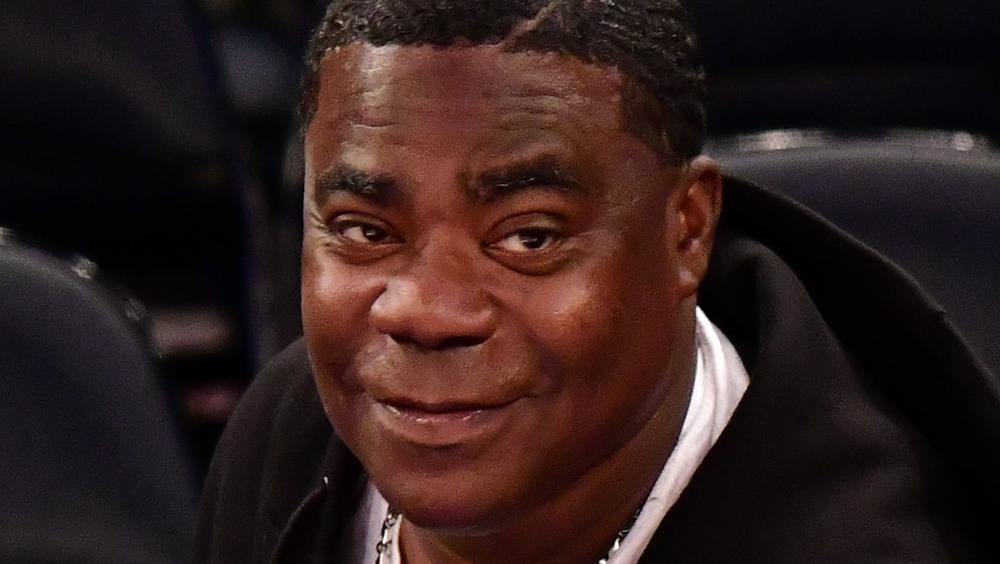 James Devaney/Getty Images
For the casual sports fan, Super Bowl commercials are one of the highlights of the game. In fact they're so popular that 2021 slots cost $5.5 million for a 30-second spot. But one commercial isn't sitting particularly well with some fans this year: a Rocket Mortgage ad starring Tracy Morgan and featuring Dave Bautista and Liza Koshy.
The 80-second commercial stars Morgan, who repeatedly states that he plans to behave recklessly because he's "pretty sure" everything will turn out okay. Morgan's character announces that, among other things, he plans to eat a potentially poisonous mushroom, jump out of a plane without a secure parachute, and knock down a hive of murder hornets.
Midway through the commercial, Morgan is shown driving a car off one bridge as he declares he's "pretty sure we can make it" to another bridge directly across from him. The car sails through the air and predictably lands safely because, well, it's a commercial. The full ad can be viewed on YouTube.
Tracy Morgan was in a deadly car crash in 2014
The car portion of the Rocket Mortgage commercial left some fans cringing. As you may remember, Tracy Morgan was left in critical condition after a Walmart tractor trailer truck hit his limousine bus in 2014 (via The Hollywood Reporter). The crash killed comedian James McNair, a good friend of Morgan's. Morgan sustained many injuries, including a traumatic brain injury, and underwent extensive rehab.
"Five years ago tonight, me and my friends, Jimmy Mac, Jeff, @ARDIEFUQUA, @HarrisStanton, Ty, & Joceleyn were in a horrific accident," Morgan tweeted in June 2019. "There isn't a day that goes by that I don't miss my friend Jimmy Mac, who sadly lost his life that night. I love you Jimmy."
Fans were quick to notice the parallels. "Why would they make a commercial with Tracy Morgan getting into a car accident???" Twitter user @lillostvdos wrote, adding in a follow-up tweet that the choice was "literally f****ed up." "Pretty bold choice to have Tracy Morgan almost crash a car," user @GianmarcoSoresi posted. Although some viewers tweeted that they enjoyed the full commercial, others clearly thought they could have stuck with the murder hornets and the poisonous mushrooms.