Winona Ryder Was Unrecognizable In This Super Bowl Commercial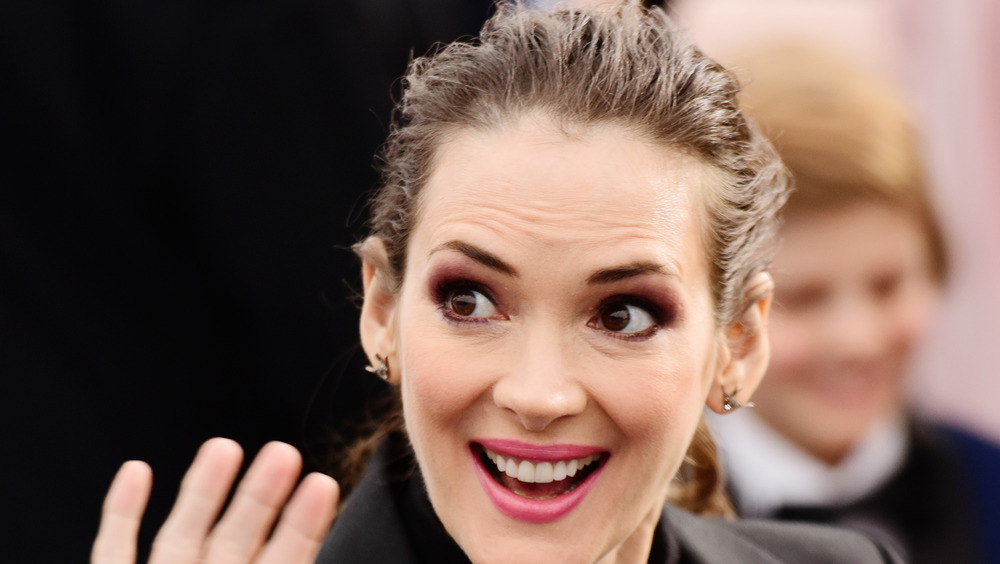 Chelsea Guglielmino/Getty Images
Winona Ryder has had a huge fan following since her youth, so you wouldn't expect her to be hiding in the background in Cadillac's new Super Bowl commercial. Perhaps hiding is too strong of a description, as you recognize both Ryder and also her past character Kim rather quickly in an update on the cult-classic tale Edward Scissorhands. For those who need a refresher, the titular character of Edward Scissorhands is played by a young Johnny Depp in 1990 (via IMDb). In true Tim Burton style, the story is both fantastical and dark, whimsical and strangely endearing. The plot features Edward, a lonely creature with unfinished scissorhands, who is found by an Avon lady and falls in love with her daughter Kim — a blond maiden played by a young Ryder. 
In the PG-13 original, Kim shares her love and a kiss with star-crossed Edward and then leaves to protect him from the pitchfork-worthy angry villagers. In Cadillac's commercial, we learn that relationship may not have been so chaste with a introduction of an age-appropriate blond Ryder playing Kim, mother of a scissorhanded young man named Edward.
Describing the commercial one Twitter user shared, "OMG, Winona Ryder is revisiting 'Edward Scissorhands' for a Super Bowl commercial with Timothee Chalamet as their son, Edgar Scissorhands."
The Scissorhands family in real life
For those who've never seen the original, it may have taken a moment to pick out Ryder since she's nearly unrecognizable in a blond Karen-worthy mom-bob. But for those who loved this cult-classic movie as a youth, Cadillac has a clear hit. And what's more, the familial relationship feels almost organic as the commercial also sets up a real life family tree story worthy of Carrie Fisher's Wishful Drinking. 
Character leads Depp and Ryder themselves were a famous and passionate couple who later split (via CheatSheet). Depp went on to have different relationships including the one where he would become father to the gorgeous Lily Rose Depp with ex Vanessa Paradis (via YouTube). The younger Depp has been making her own way in Hollywood and for a while had a boyfriend named — wait for it — Timothy Chalamet, her now ex-boyfriend (via Elle). So the Johnny Depp's ex plays mother to Depp's daughter's ex, who in a different world could have become a son to the original "dad" if you follow. Yeah — it's enough to make our head spin too.
But as for Cadillac's hands-free features that headline this add — it's definitely an attention-grabbing hit. "We love the creative concept of Super Cruise and the LYRIQ opening up Edgar's world and bringing confidence to his daily life," said Melissa Grady, Cadillac chief marketing officer. 
And we hope audiences enjoyed this nostalgic ad spot as much as we did too.