Camille Kostek Has Sweet Words For Boyfriend Rob Gronkowski After Super Bowl Win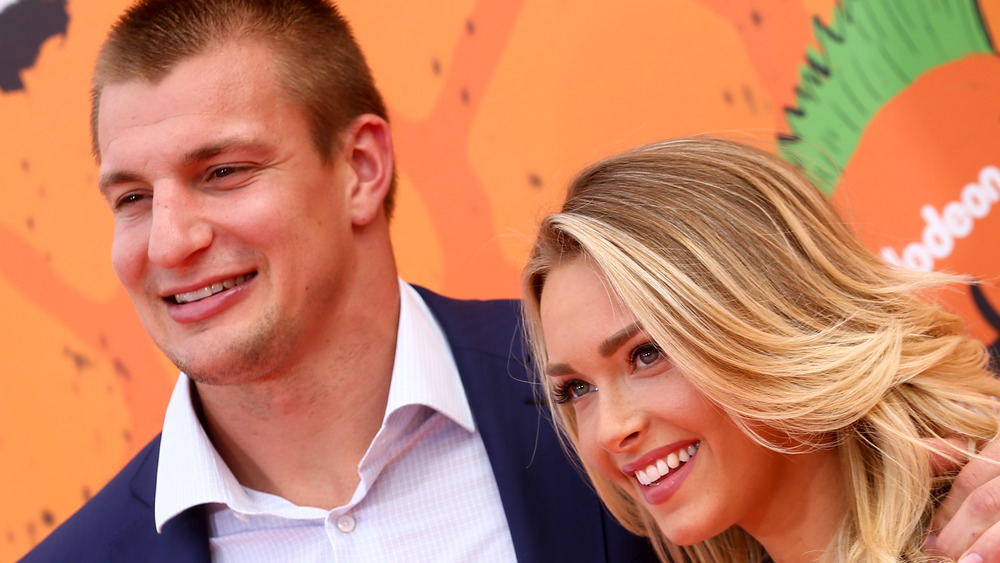 Mark Davis/Getty Images
After the Tampa Bay Buccaneers defeated the Kansas City Chiefs in yesterday's Super Bowl, Camille Kostek turned to social to celebrate her boyfriend, Rob Gronkowski, the Buccaneers' tight end. She wrote on Instagram, "CANT THINK OF A CAPTION RN IM CELEBRATING" and "tastes like a champion ILY @gronk", which was attached to an image of the couple kissing.
Kostek was previously a cheerleader for the New England Patriots and is a model, who has appeared in Sports Illustrated (via The Spun). She'll also be hosting the upcoming reboot of Wipeout. Gronkowski, whose nickname is Gronk, previously played for the Patriots and was selected to the NFL 2010s All-Decade Team and 100th Anniversary All-Time Team (via CBS Sports). These two have been romantically linked since 2015 (via New York Post). Leading up to the game, Kostek uploaded pictures to her Instagram in Gronk-themed gear, such as a blinged out jacket, and a jersey with no pants.
Camille Kostek and boyfriend Rob Gronkowski danced on stage at the Super Bowl afterparty
Gronkowski came out of retirement to join Tom Brady as a Tampa Bay Buccaneer and he scored two touchdowns during the big game. Brady topped his own records, as this was his seventh Super Bowl win and fifth time to be named the Super Bowl MVP (via NFL). This was also the least-attended Super Bowl game, since COVID-19 regulations only allowed 25,000 fans into the stadium, per the NFL. 
Nevertheless, there were hugs, cheers, and high-fives after the win, as well as some dancing done by Kostek and Gisele Bündchen, Brady's wife, as seen in another one of Kostek's Instagram posts. Additionally, Gronkowski and Kostek went to the official Super Bowl afterparty, which took place at the American Victory Ship. Several other players, including Brady were there, and Migos and Ludacris performed, causing this cute couple to get on stage and dance (via TMZ).