Mariah Carey Has Harsh Words For The NFL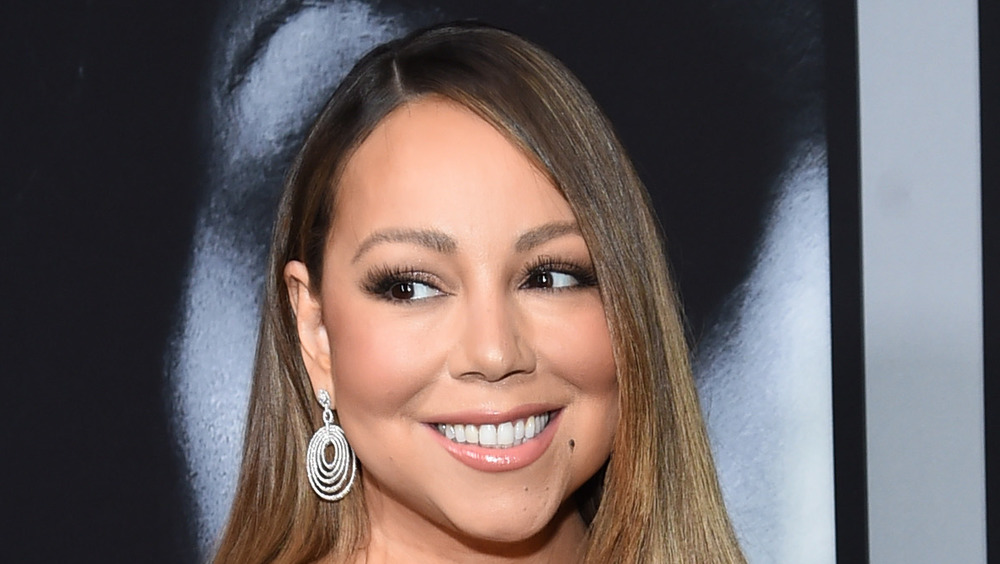 Jamie Mccarthy/Getty Images
During Super Bowl LV on February 7, 2021, the NFL aired a commercial to promote its "Inspire Change" initiative. The ad reminded viewers of the NFL's commitment to put $250 million towards "help[ing] end systemic racism." The ad included footage of Black Lives Matter protests and football players taking the knee during the National Anthem (via NFL).
Mariah Carey had a brief but clear message in response to the NFL's promotion of its program. "Happy Colin Kaepernick Appreciation Day!" the singer wrote in a Twitter post, referring to the NFL's ousting of Kaepernick in 2016 after he knelt during the National Anthem to protest racial inequality and police brutality (via Sporting News).
Four years later, Kaepernick remains a free agent as he still hasn't been drafted by any NFL team. Prior to taking the knee, he played as a quarterback for the San Francisco 49ers for six seasons.
"I am not going to stand up to show pride in a flag for a country that oppresses black people and people of color," Kaepernick told NFL Media in August 2016, as reported by Sporting News. "To me, this is bigger than football and it would be selfish on my part to look the other way. There are bodies in the street and people getting paid leave and getting away with murder."
Mariah Carey wasn't the only person to call out the NFL for its hypocrisy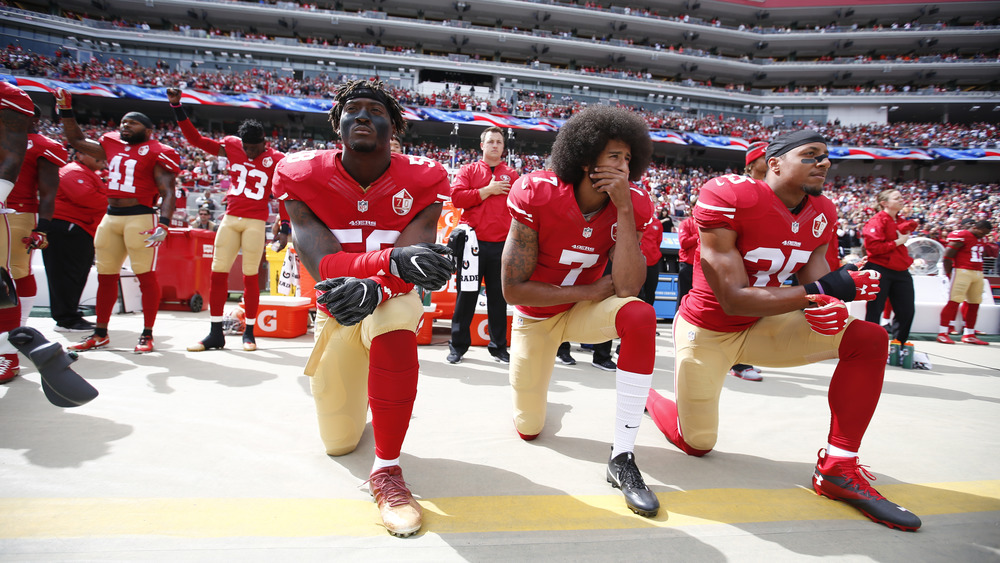 Michael Zagaris/Getty Images
In less than 24 hours, Carey's tweet has received over 450,000 likes and nearly 67,000 retweets.
As reported by The New York Post, a source close to the Inspire Change initiative told NFL.com in June 2020 that they hoped to collaborate with Kaepernick as the program took off.
"We wouldn't be where we are today without the work Colin and other players have led off," the source said. "That is a key point here. We listened to our players. We needed to listen more, we needed to move faster. We heard them and launched a social justice platform because of what Colin was protesting about." They added that "It would be awesome to engage Colin on some of the work we are doing."
Eight months later, Kaepernick remains a free agent and plenty of people made clear during the Super Bowl that they aren't here for the NFL's hypocrisy. "In that Inspire Change commercial, the NFL forgot to show the part where they blackballed Colin Kaepernick, have only 3 black NFL head coaches and no majority black ownership," Atlantic writer Jemele Hill tweeted.
"Just saw a commercial that the NFL is committing $250 Million to end systemic racism yet they can't even commit a couple million to get Colin Kaepernick signed to a team..." writer and comedian Cyrus McQueen tweeted.
The NFL has yet to comment on the backlash.