Why Travis Kelce's Girlfriend Is Furious With The Super Bowl Refs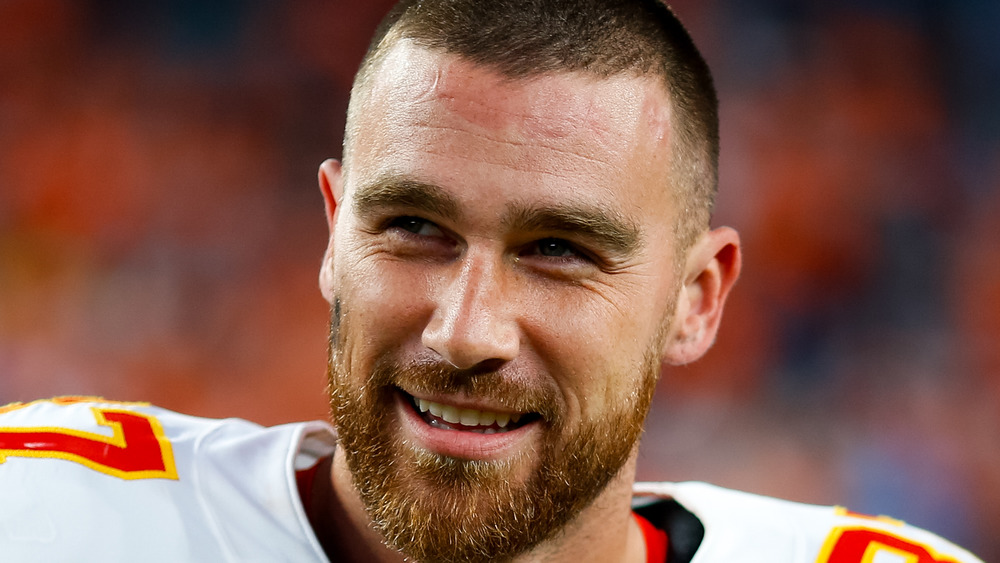 Justin Edmonds/Getty Images
Kansas City Chiefs' tight end Travis Kelce is one of the NFL's brightest stars, but it's safe to say that his girlfriend was absolutely fuming about his most recent game. Yep, Kayla Nicole, who has been dating Travis Kelce since 2017 had a lot to say about Sunday's Super Bowl referees. 
"Y'ALL FORGET WTH A HOLDING CALL IS!?!!!!!!! @NFL," Kayla tweeted Sunday (via Twitter), following up with, "If y'all wanted to see the Chiefs vs. the refs just say that." And it seems it was all to do with what she perceived was a no-call.
Explaining her fury in a now deleted Instagram caption (via Yahoo!), she wrote, "Holding: the illegal restraining of another player who is not in possession of the ball." She went on, "Holding is prohibited in most football leagues, unless you're playing against Tom Brady," taking a dig at the world famous Tampa Bay Buccaneers quarterback.
Kayla Nicole thought the Super Bowl was a 'tough game to watch'
She later changed the caption to read "go team" and by the end of the game, the host and model seemed to have calmed down, congratulating the Bucs on Twitter. "Congrats to the @Buccaneers," she wrote. "Tough game to watch but y'all got it." 
You can hardly blame Nicole for showing every ounce of support for her man — and rooting for the rest of the Kansas City Chiefs team. After all, the couple seem to be stronger than ever (after a brief split in 2020), and according to the New York Post, she's ready and waiting for a ring. Asked if she had a desire to be a mom anytime soon during a round of True or False with her fans on Instagram, she replied, "False. I am ready to be a wife though. COUGH COUGH COUGH COUGH (via NY Post)."
Fingers crossed there's a wedding in their future!