Here's How Much Travis Kelce Is Really Worth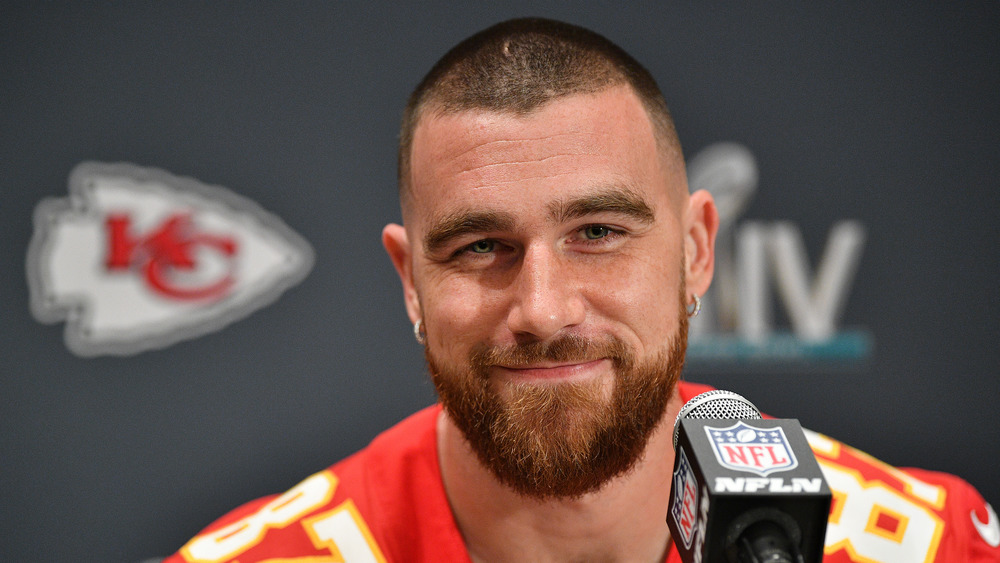 Mark Brown/Getty Images
Travis Kelce is on his way to another Super Bowl this year as the tight end for the Kansas City Chiefs. The 31-year-old from Cleveland Heights, Ohio, also recently set the record for the most receiving yards in a single-season for a tight end, according to Sports Illustrated, and continues to be one of the best in NFL history. For someone that great, you would expect him to be worth a lot, and according to Celebrity Net Worth, Kelce has a total net worth of $20 million. 
Kelce was drafted by the Kansas City Chiefs back in 2013, where he signed a four-year deal for $3.12 million. After proving his worth, Kelce later signed a five-year extension with the team in 2016 for $46 million, and later, another four-year extension for $57.25 million in 2020, according to CBS Sports. His new contract averages out to be a little more than $14 million a year, which made him the second highest-paid tight end in 2020 (via Pro Football Network). The only tight end to top Kelce is George Kittle of the San Francisco 49ers, who signed a five-year extension for $75 million in 2020 (via CBS Sports). 

Travis Kelce nearly went broke his rookie year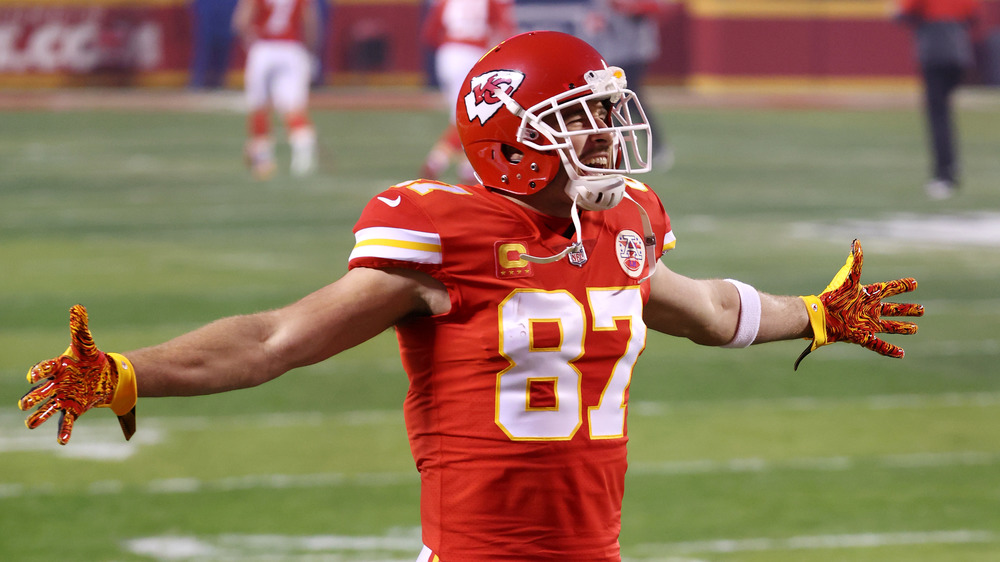 Jamie Squire/Getty Images
Despite being one of the best tight ends in the NFL, Kelce has faced a bit of controversy in his career. According to The Street, Kelce's scholarship at the University of Cincinnati was revoked after he failed to pass a marijuana test, and in 2019, he was caught on camera shoving Kansas City Chiefs offensive coordinator Eric Bieniemy after arguing on the sidelines (via CBS Sports). Kelce also revealed that he spent all the money he got in his rookie contract, according to Sportscasting. In an interview on Shannon Sharpe's Club Shay Shay, the tight end confessed that he almost went broke buying things like the Marty McFly Back to the Future shoes and a Rolex (via YouTube).
"I spent it all, Shannon," Kelce told Sharpe during the episode. "I should have been on the 30 for 30 Broke the way I was spending my money," he said (via Sportscasting). "All the young guys in the league, all the guys that have the opportunity to get that big first check from the NFL — save it. I was searching around for car deals after my first year trying to just pay rent."
If he had saved some of that rookie money, Kelce's net worth might be a bit more impressive, though $20 million is still nothing to sneeze at. And now that he is heading for another potential Super Bowl win, Kelce could be making more with sponsorships in the future. Back in 2019, Kelce starred in a McDonald's commercial where he celebrated their mix-and-match deal by dancing (via The Kansas City Star). With more endorsement deals like that, Kelce could be finding himself dancing all the way to the bank.