Britney Spears' Boyfriend Opens Up About Their Life Together
Following the release of the heartbreaking documentary, The New York Times Presents: Framing Britney Spears, the singer's boyfriend is speaking out. Sam Asghari, a personal trainer and actor who stars in BET's Family Business, spoke with People to discuss his thoughts on the #FreeBritney movement.
"I have always wanted nothing but the best for my better half, and will continue to support her following her dreams and creating the future she wants and deserves," Asghari said. "I am thankful for all of the love and support she is receiving from her fans all over the world, and I am looking forward to a normal, amazing future together."
The two met while filming a music video for her single, Slumber Party, in 2016 and have kept things relatively private since that time. With rare glimpses into their life coming from social media, Spears revealed that she spent her 39th birthday with Asghari last year and that the two have spent their time quarantining together, People reports. 
According to the outlet, the new documentary did not have the approval of the pop star, but her conservatorship makes it difficult to know whether or not she could even voice her thoughts. Today reports that the documentary chronicles the pop star's conservatorship that she's been under for over a decade, with her family controlling her life and her finances.
The #FreeBritney movement is gaining steam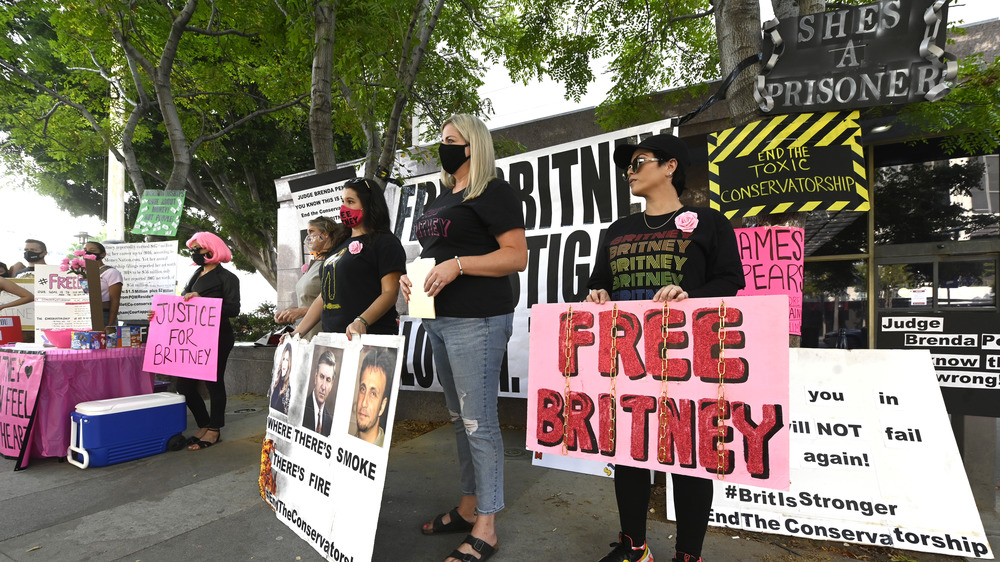 Frazer Harrison/Getty Images
The recent debut of The New York Times documentary has spurred intense discussion around Spears' conservatorship and questioned its ethicality. The singer has expressed her desire to regain control over her life and finances, and effectively remove her father from his role as conservator of her estate (via Vanity Fair).
Today reports that, while the #FreeBritney movement is mostly fan-based at the moment, other celebrities are joining the effort to help the singer get her life back and find retribution for the abuse she received at the hands of the press. Sarah Jessica Parker, Bette Midler and Courtney Love have all expressed their support with the hashtag on various social media platforms, the outlet reports.
Andy Cohen tweeted, "Good morning! Have a great day! And: #FreeBritney." Hayley Williams, the lead singer of Paramour expressed her sympathy, posting, "No artist today would have to endure the literal torture that media/society/utter misogynists inflicted upon her. The mental health awareness conversation, culturally, could never be where it is without the awful price she has paid."
As the movement gains steam, more celebrities and fans have voiced their support for Spears as she seeks to end her conservatorship. With her boyfriend voicing his desire to have a "normal life" with Spears, hopefully she will get the freedom she seeks soon.