This Is How Pink Got Her Stage Name
This is how Pink got her stage name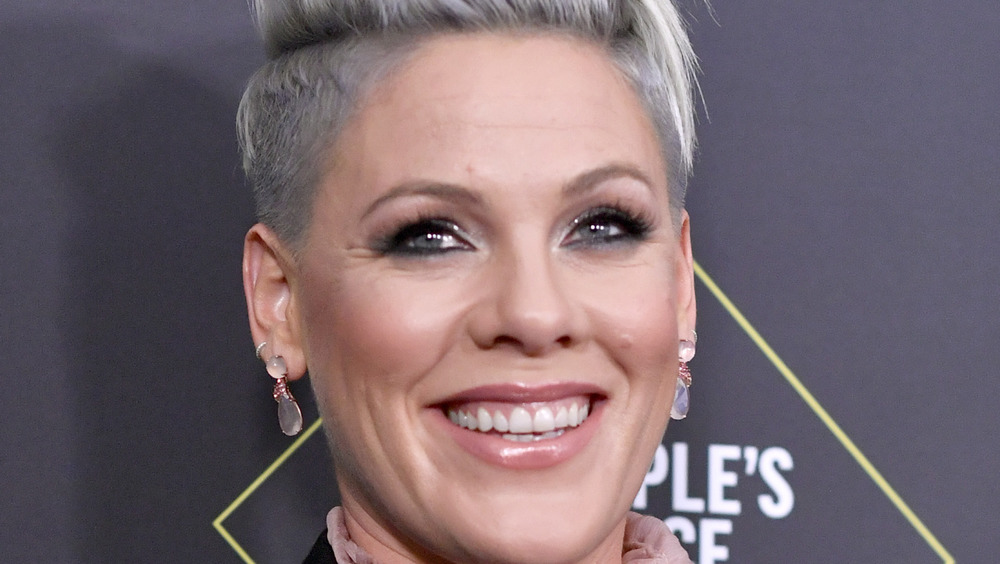 Frazer Harrison/Getty Images
When you think about Alecia Beth Moore's stage name Pink (stylized as P!nk), the first thing that may come to mind is her hair. I mean, the singer made it pretty easy with her vibrantly colored pixie cut and corresponding outfits. But there's actually a completely different meaning behind the musician's name, and it's something that Quentin Tarantino fans will relate to.
In an interview with CNN (via Hollywood.com), the Pennsylvania native explained that it was a childhood nickname that stuck, which was solidified further with the release of Tarantino's Reservoir Dogs in 1992. In the classic crime drama, actor Steve Buscemi plays a criminal with the alias Mr. Pink, which the star was inspired by. Just before the release of her first album Can't Take Me Home in 2000, Pink happened to come across Buscemi in New York City. "I had these big f***ing Elton John sunglasses on, pink hair, and carried a Pink Panther toy," she told Q magazine (via IOL). 
She preceded to call out the actor, telling him, "Steve! Mr. Pink! I'm Pink! Because of you! I'm going to have an album and you're going to know who I am," to which Buscemi allegedly replied, "What the f**k lady?" and ran away. "I've never met him since, he was scared s***less of me. Sorry, Steve!"
Steve Buscemi vividly recalls his awkward encounter with Pink
Steve Buscemi certainly remembers the encounter with the then rising star. During a February 2020 appearance on The Tonight Show with Jimmy Fallon (via ET Canada), the Pulp Fiction star recounted meeting a young Pink. He noted walking down 57th street with his wife in New York City when a young lady stopped him. "I'm pretty sure she had pink hair, and she was wearing a pink dress, but I remember she did say her name was Pink [and that she] had an album coming out soon," he recalled. "This was 20 years ago, but I had no idea who she was."
At the time, the actor was on his way to a party, which Paul McCartney was rumored to be attending. "But I was so anxious about meeting Paul McCartney that I don't even know if I said anything to [Pink]. I think I just, like, looked at her," he said. Buscemi then offered the "So What" singer an apology while looking directly into the camera. He also wished her a happy Valentine's Day after Fallon noted she often watched the late-night show.
And Pink certainly did that night, as the singer took to Twitter to respond, "Aaaahhhhh for 20 YEARS I WAS CONVINCED I SCARED THE S***T OUT OF HIM!!!!! Yaye [sic] I can sleep now, I love you still xoxoxo."