Carrie Underwood Has A Surprising Celeb Crush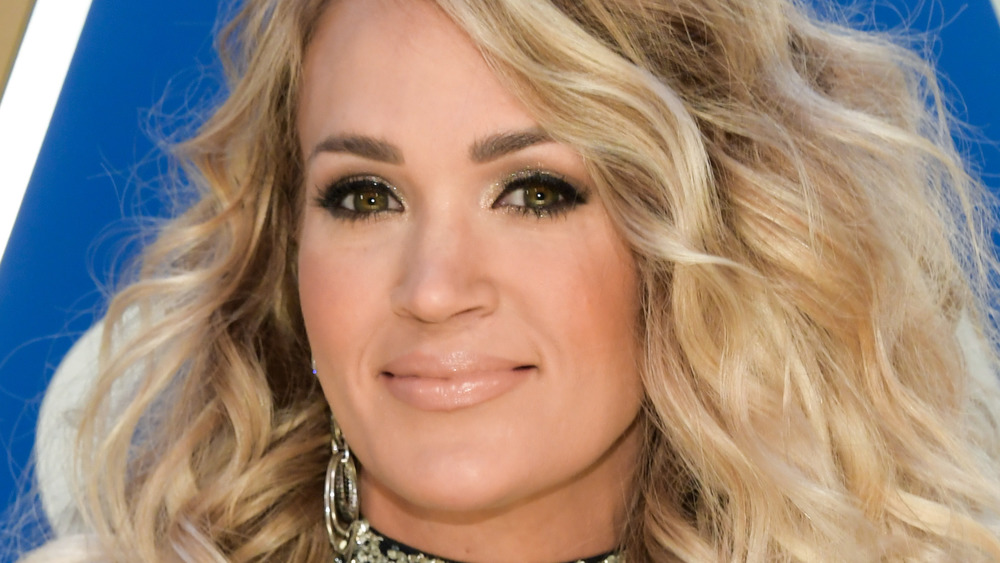 Jason Kempin/Getty Images
Country superstar Carrie Underwood has been linked to many eligible bachelors over the years, from NFL legend Tony Romo to TV personality Travis Lane Stork and even Gossip Girl star Chace Crawford, as per Ranker. These days, Underwood is happily settled down with husband Mike Fisher. The Canadian hockey star and singer-songwriter started seeing each other all the way back in 2008, according to Bustle, and their love story has only become more swoon-worthy ever since. 
The Nashville-based couple is blissfully happy after welcoming two sons together, with Underwood sharing how much fun quarantine with "[her] boys" is on Instagram in April 2020. Fisher even works alongside Underwood on her super popular fitness platform, Fit52. However, although the country star has evidently found the right man for her, she revealed in an interview that her longtime celebrity crush couldn't be further from a Canadian hockey star. He is a bona fide legend though. 
The country superstar lusts after this Star Trek actor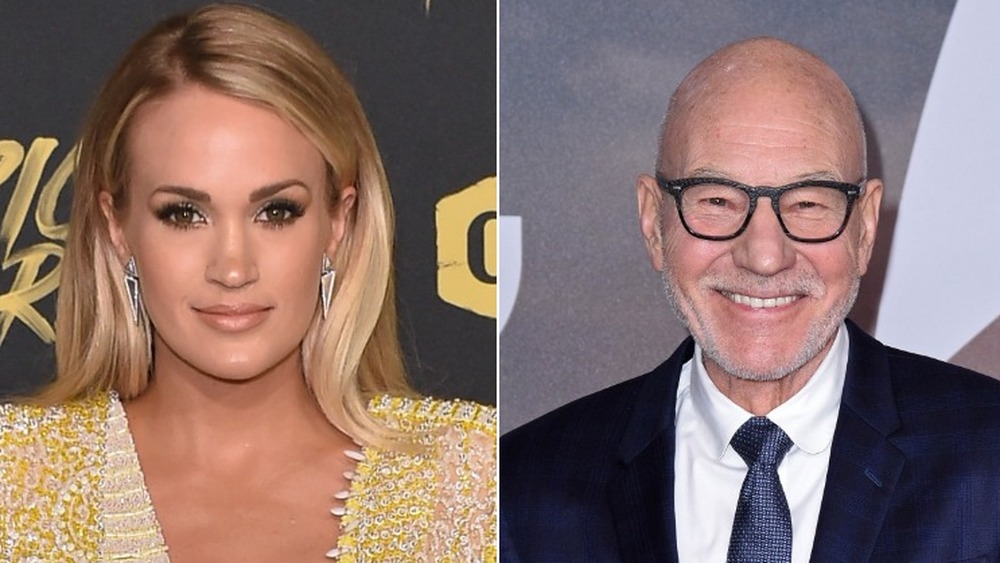 Mike Coppola, Tristar Media/Getty Images
In a 2015 interview with Us Weekly, Underwood revealed she was lusting over none other than Sir Patrick Stewart, the iconic star of Star Trek: The Next Generation, Green Room, X-Men, Logan, and plenty more. "I have a massive crush on Patrick Stewart. Always have, always will," the country superstar revealed without a shred of shame (to be fair, Stewart is a good looking guy, even in his twilight years). Her confession didn't go unnoticed, either by fans or, indeed, the man himself. 
Stewart tweeted a screengrab of the interview, quipping alongside it, "@carrieunderwood's words excite me more than the solid results of my recent bone density scan." Underwood subsequently lost it in the manner of a teenager realizing their crush might actually know they exist, gushing, "FREAKING OUT RIGHT NOW!!! HE KNOWS I'M ALIVE!!!!!!!! Play it cool, Carrie...play it cool..." If Fisher hadn't come along, who knows? This bizarre celebrity pairing might have really happened.